You can easily say that the cricket in Pakistan is as old as cricket in India exists, obviously because both the countries were undivided before 1947. So when the first test match between India and Pakistan played on 16th October, 1952 after Pakistan getting the official Test status, many of the past team mates must have competed against each other in it for sure. But, the fierce rivalry between these two major test playing nations was also begun with this test series only and it is still lasting even today. The main reason for this is more political rather than cricketing for sure. We must although not forget here that it was India, as a full ICC member recommended Pakistan to become the full member with a test status in 1952 during the Imperial Cricket Conference at Lord's cricket ground.
Pakistan has produced some of the best international cricketers over the years, especially fast and swing bowlers, although there are many legendary Pakistani batsman as well. Imran Khan, Wasim Akram, Mushtaq Muhammad, Hanif Muhammad, Zaheer Abbas, Waqar Younus, Javed Miandad, Inzamam – Ul – Haq, Abdul Qadir, Sarfaraz Nawas and Mohammad Yousuf are some of the legends which Pakistan cricket has produced. You can even add Shoaib Akhtar in this list if you ignore his off the field antics.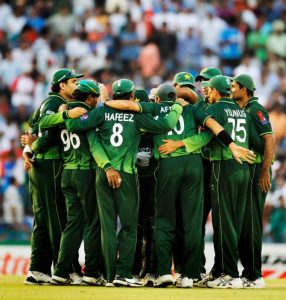 Pakistan has been a champion team over the years, but at the same time it is also criticized as one of the most inconsistent cricket team one has ever seen. On its day Pakistan can beat a champion team, but the very next day it can be defeated by a minnow team as well. It has always been marred with internal team fights which still continue even now.
Despite all these the Pakistan team has won both the limited overs world cups. In 1992 under the able leadership of Imran Khan and against all odds Pakistan won the ICC Cricket World Cup which was hosted by Australia and New Zealand jointly. Then in 2009 it won the ICC World T20 tournament under Shahid Afridi after they came near to win in 2007.
The Pakistan Cricket Board or PCB, is the authority which runs the Pakistan team and the President of Pakistan is the patron of it. Pakistan is well equipped with cricketing facilities and Gaddafi Stadium in Lahore is one of the world class stadiums of the world. It even hosted the ICC World Cup Finals in 1996 which was played between Sri Lanka and Australia.
Because of insurgency in the country, many teams refused to play in Pakistan during mid 2000s, and after a terrorist attack on the visiting Sri Lankan team in Lahore, the Pakistan cricket team has to shift its base to the UAE and since then it has played its 'home' games in Dubai, Sharjah and Abu Dhabi respectively.
To know about other cricket teams, click here.