Nestled in the heart of Russia's capital city, Moscow, Dynamo Central Stadium stands as an imposing testament to the country's rich sporting history. Established in 1928, this iconic stadium has borne witness to a multitude of sporting achievements and historic moments.
Located in Petrovsky Park, one of the city's popular leisure spots, the stadium's surroundings offer a serene ambience that contrasts sharply with the vibrant energy within its walls. Easily accessible from the city center, the stadium serves as a focal point for Moscow's vibrant sporting culture.
From its inception, Dynamo Central Stadium was destined to play a significant role in the Russian, and indeed, the world's sporting landscape. Named after Dynamo Moscow, one of the oldest football clubs in Russia, the stadium has become synonymous with the club's ups and downs and is inextricably linked to its successes.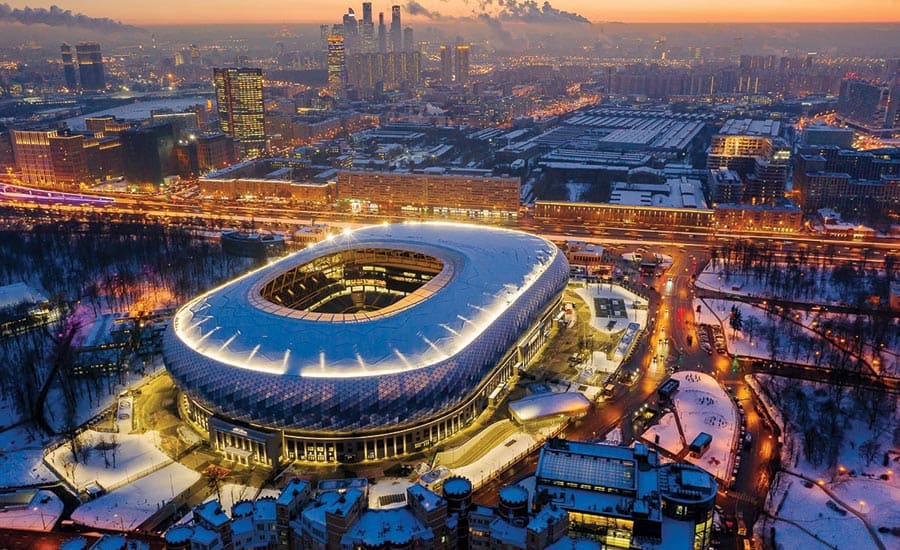 In the local community, the stadium is not just a sporting arena, but a place of gathering, celebration, and a symbol of civic pride. It transcends the world of sports, becoming a cultural touchstone and a significant part of the community's social fabric.
From hosting domestic football matches to international athletics events, Dynamo Central Stadium embodies Moscow's love for sports. It has seen legends being made, records broken, and emotions stirred – making it a hallowed ground for athletes and fans alike.
In the annals of Moscow's sporting legacy, Dynamo Central Stadium continues to occupy a place of distinction, cherished by locals and admired by visitors. Its towering presence is not just a tribute to sporting excellence but also a vibrant chapter in Moscow's illustrious cultural tapestry.
Architecture and Design of Dynamo Central Stadium
Dynamo Central Stadium stands as a testament to innovative design and architectural prowess. Built-in the late 1920s, the stadium's design was a pioneering effort, combining functionality with aesthetics, an idea ahead of its time. Its primary designers, the Le Corbusier-influenced architects Aleksandr Langman and Leonid Cherikover, played a crucial role in shaping the stadium's distinctive architectural style.
The Influence of Modernism and Functionalism:
The stadium is a celebration of Modernism and Functionalism, two design movements that dominated the early 20th century. Emphasis on functionality, clean lines, and absence of unnecessary ornamentation mark the stadium's design. This is particularly noticeable in the symmetrical and geometric form of the structure, and the vast, open spaces within the stadium aimed at accommodating maximum spectators comfortably.
Notable Design Features
One of the defining features of Dynamo Central Stadium is its clock tower, standing tall at the entrance. This iconic structure serves both a decorative and functional role, marking the stadium's entrance and acting as a meeting point for spectators.
The stadium also exhibits the thoughtful incorporation of natural elements. Large, open spaces allow for the free flow of air, and the efficient use of natural light reduces the need for artificial lighting during day games. Additionally, the stadium's orientation ensures that the spectators are not inconvenienced by the sun's glare during afternoon matches.
Dynamo Central Stadium, with its architectural ingenuity and design foresight, serves as a perfect blend of art, science, and sport. The iconic structure stands as a tribute to Moscow's architectural heritage, while its ongoing use illustrates its enduring functionality and adaptability.
Embracing the Crowd: Seating Capacity and Facilities of Dynamo Central Stadium
Dynamo Central Stadium, with a seating capacity of about 26,000 spectators, stands as a testament to Moscow's deep-rooted love for sports. With diverse seating options, including general seats, premium areas, and exclusive VIP suites, the stadium caters to every spectator's preference. Complemented by extensive facilities like food concessions, merchandise shops, and wheelchair-accessible areas, it ensures a seamless and inclusive experience. This iconic arena doesn't just host sporting events; it creates memorable experiences for all who step through its gates.
The Stadium's Impressive Seating Capacity:
Dynamo Central Stadium is a mammoth structure, capable of welcoming an impressive crowd. With a seating capacity of approximately 26,000 spectators, the stadium ensures a thrilling atmosphere during any event. The enormity of the arena amplifies the collective roars of the crowd, creating a captivating ambience that has become synonymous with this iconic venue.
Diverse Seating and Viewing Options:
The stadium offers a variety of seating and viewing options to cater to different preferences and budgets. In addition to the general admission seats, there are premium seating areas that provide an unrivalled view of the action. For those seeking a more exclusive experience, luxury boxes and VIP suites are available. These come with added perks like private entrances, gourmet dining options, and personal attendants.
State-of-the-Art Facilities:
Dynamo Central Stadium is not just a sports arena, but a modern facility designed for the complete spectator experience. Concession stands serving a variety of food and beverages are strategically located throughout the stadium. Clean and spacious restrooms, a well-stocked merchandise shop, and several ATMs make it convenient for the spectators.
Accessibility Features for All Spectators
Committed to providing an inclusive environment, the stadium ensures easy access for differently-abled spectators. Wheelchair-accessible entrances, seating areas with unobstructed views, and specially equipped restrooms are part of the stadium's design. In addition, trained staff members are available to provide assistance as needed.
As one steps into Dynamo Central Stadium, it becomes evident that it's not just about the game. It's about creating a memorable, inclusive, and comfortable experience for every single spectator.
Echoes of the Past: Notable Events at Dynamo Central Stadium, Moscow
Dynamo Central Stadium, a remarkable arena deeply intertwined with Moscow's vibrant sporting culture, has been the backdrop for a series of notable events and unforgettable performances.
Staging Ground for Significant Sports Events
With its long-standing history, Dynamo Central Stadium has played host to an array of significant sports events, etching its mark on the global sports landscape.
A Home to Dynamo Moscow Football Club
This emblematic arena, Dynamo Central Stadium, has proudly served as the home turf for Dynamo Moscow football club. Over the years, it has been the backdrop for many adrenaline-charged domestic and international matches reminiscent of the greatest football rivalries. These contests have played a pivotal role in shaping the trajectory of the club's storied history. Among such riveting fixtures, the intensity can be likened to that seen in legendary matches like the Merseyside Derby, affirming football's capacity to thrill and captivate audiences time and again.
Hosting Prestigious Athletics Championships
Beyond football, Dynamo Central Stadium has been a favored venue for athletics, showcasing world-class talent during significant events like the USSR Athletics Championships.
Unforgettable Performances and Record-Breaking Moments
Dynamo Central Stadium is steeped in memories of awe-inspiring performances and record-breaking moments that have thrilled spectators and shaped sports history.
The Epic Clash: Dynamo Moscow vs FC Bayern Munich
One such riveting moment was the dramatic 1989 football match between Dynamo Moscow and FC Bayern Munich, a clash that echoed through the annals of football history.
A Platform for Cultural Events
Beyond sports, Dynamo Central Stadium has been a stage for cultural occasions, hosting memorable performances from prominent music artists and contributing to Moscow's vibrant cultural scene.
Planning Your Visit to Dynamo Central Stadium, Moscow
For sports enthusiasts or cultural explorers, a visit to Dynamo Central Stadium in Moscow is an unforgettable experience. Here's a handy guide to help you plan your visit.
Getting Your Tickets
Tickets for matches or events at Dynamo Central Stadium can typically be purchased online through the official website of the hosting organization. It's advisable to book in advance, especially for high-demand matches or popular events.
Directions and Parking
Situated in Petrovsky Park, Dynamo Central Stadium is easily accessible via public transportation. The nearest metro station is Dynamo, on the green line, a short walk away from the stadium. For those driving, there are several public parking lots in the vicinity. However, due to the high demand during event days, public transport is usually the most hassle-free way to reach the stadium.
Tips for First-Time Visitors
If you're visiting for the first time, remember to arrive early to soak in the atmosphere and avoid last-minute crowds. Also, the stadium has a clear bag policy for security reasons, so pack accordingly. Lastly, don't forget to explore the surrounding Petrovsky Park before or after your event for a complete experience.
A visit to Dynamo Central Stadium is more than just attending a sports match or a concert; it's about experiencing a piece of Moscow's sporting history and vibrant cultural scene. So, plan your visit and get ready to create some unforgettable memories.
Dynamo Central Stadium, Moscow: A Sporting Icon
Reflecting on the significance of Dynamo Central Stadium, it's clear that this monument is much more than a sporting arena. It's a symbol of Moscow's historical, cultural, and athletic heritage that holds a special place in the hearts of the local community.
Dynamo Central Stadium: More than a Sports Venue
The grandeur of Dynamo Central Stadium extends beyond its physical structure and innovative design. It's an arena filled with remarkable stories, unforgettable performances, and an undeniable sense of community spirit. Every game, every cheer, every historic moment contributes to its legacy, making it a vibrant part of Moscow's cultural tapestry.
Dynamo Central Stadium's Impact on the Sport and the Community
Dynamo Central Stadium's influence on sports, particularly soccer, and the local community is incredibly significant. This hallowed ground, often echoed with the sound of soccer cleats hitting the pitch, serves as the home to Dynamo Moscow football club. Alongside hosting international athletic championships, it's also a showcase for a range of memorable cultural events. The stadium, enriched by the frequent sight of football equipment being hauled onto its green expanse, has become more than just a sporting venue. It's a vibrant hub where the local community comes together, a place where they unite to cheer, celebrate victories, lament losses, and create shared memories that extend beyond the boundaries of sport.
In the cityscape of Moscow, Dynamo Central Stadium finds its peers in other notable stadiums such as the Luzhniki Stadium and the Otkritie Arena, which also boast large seating capacities and are rich in history. These venues collectively contribute to Moscow's reputation as a city that truly embraces and celebrates sports.
As we conclude this exploration of Dynamo Central Stadium, it's clear that it is not just a physical structure but a living, breathing entity that continues to contribute to the city's culture, sports, and community life. Its legacy is etched not just in the records it has hosted, but in the hearts of spectators and athletes who've experienced the unique atmosphere it provides. In essence, Dynamo Central Stadium is not just a location on a map, but a significant chapter in Moscow's vibrant story.