Wimbledon – The Championships is the oldest and grandest tennis tournament in the world. Winning the world cup is the best thing that can happen in any tennis players' life. Even fans look at the Wimbledon champions with extra honor. There are few players who have dominated even this greatest and the grandest tournament of the world over the year and there are few who ranked 'greats' otherwise were not able to win the tournament even ones.
Have a look at those players who have been legends both inside and outside Wimbledon.
Greatest Wimbledon Male Players:
Rod Laver (Australia)
Wimbledon Record:
Singles Champion: 1961, 1962, 1968, 1969
Singles Runner-up: 1959, 1960
Doubles Champion: 1971
Doubles Runner-up: 1959
Mixed Doubles Champion: 1959, 1960
Rod Laver even when played as a junior, he won the championships at the age of 17 in the age of 1956. Winning the senior championship for four times certainly proves his dominated playing style. Along with singles Rod Laver has won other titles like doubles and mixed doubles as well at the Wimbledon.
Bjorn Borg (Netherlands)
Wimbledon Record:
Singles Champion: 1976, 1977, 1978, 1979, 1980
Singles Runner-up: 1981
Bjorn Borg always regarded as one of the outstanding tennis players world has ever seen. Because of injury problems he had to retire early else he would have added few more titles in his bag. One can easily agree with his dominance at Wimbledon with his 5 titles in a row from 1976 to 1980.
John McEnroe (USA)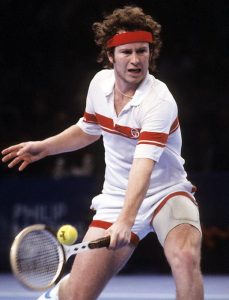 Wimbledon Record:
Singles Champion: 1981, 1983, 1984
Singles Runner-up: 1980, 1982
Doubles Champion: 1979, 1981, 1983, 1984, 1992
Doubles Runner-up: 1978, 1982
Without any doubt John McEnroe is the legend. He was known for his frequent outbursts inside the court, but that does not make him anything less as a legend. His duels with Bjorn Borg and fellow countryman Jimmy Connors at Wimbledon are epics. McEnroe was even a master in doubles as he has won the doubles title at Wimbledon five times and the last one came at a very late age in the year 1992 and that too after a gap of 8 years.
Pete Sampras (USA)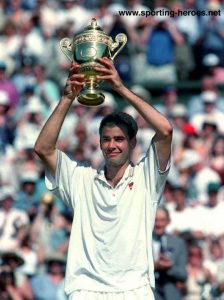 Wimbledon Record:
Singles Champion: 1993, 1994, 1995, 1997, 1998, 1999, 2000
Pete Sampras is one of those tennis players who were regarded as classic player of the game. He has won the championship 7 times. He was one of the most dominant tennis players at Wimbledon. He is the co- leading title holder at Wimbledon.
Roger Federer (Switzerland)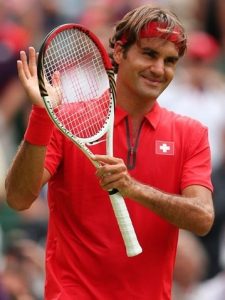 Wimbledon Record:
Singles Champion: 2003, 2004, 2005, 2006, 2007, 2009, 2012
Certainly a legend and he is the only player in this list who is still playing the game. Roger Federer is just one title away from becoming the only player to win the title 8 times. Although he was not able to win the Wimbledon in 2013 and this year he has another chance to break it.