This is the player profile of Felipe Contepomi the professional rugby union player from Argentina.
Player Profile – Felipe Contepomi
Basic Details about Felipe Contepomi
Full Name: Felipe Contepomi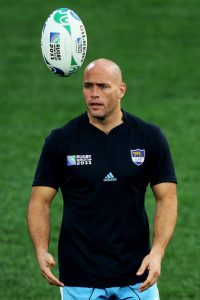 Date of Birth: 20th August 1977
Place of Birth: Buenos Aires, Argentina
Nationality: Argentina
Height: 6ft (1.84 m)
Weight: 92 kg (14 st 7 lb)
Professional Details about Felipe Contepomi
Position: Fly Half, Centre
Clubs: Bristol (2001 – 2003) | Leinster (2003 – 2009) | Toulon (2009 – 2011) | Stade Francais (2011 – 2013) | Club Newman (2013 – 2015)
National Team: Argentina (1998 – 2013)
More about Felipe Contempomi
Felipe Contempomi is one of the most important rugby union players of the Argentina Rugby Union team, not only because he has been there for 15 years but also because of his position in the team as a fly-half or center. Felipe Contempomi's twin brother Manuel Contempomi was also an Argentine Rugby union player but was not as successful as Felipe is.
Felipe Contempomi was born in Buenos Aires and started playing rugby since he was in the secondary school called Colegio Cardenal Newman. After school, he started to play for the Club Newman in his home city Buenos Aires. In 2003 Felipe Contempomi joined the Leinster club from Bristol with a four-year contract after the club was relegated during the 2002-03 Zurich Premiership of Rugby.
After giving a major role to the Leinster's good run in the 2005-2006 Heineken Cup, Felipe Contempomi also became the top scorer in the Celtic League the same year. In 2006 after getting the news that his girlfriend Paula has given to a baby girl a few hours later Felipe Contempomi scored 22 points in a game against Border Reivers in the Magners League match.
The Royal College of Surgeons in Ireland, Dublin conferred Felipe Contempomi with the medical degrees of MB BCh BAO (NUI) LRCP&SI and then he worked with Beaumont Hospital in Dublin. In 2007 Contempomi also won the Rugby Writers of Ireland Player of the Year Award.
Felipe Contempomi is one of the international stars without a doubt and he also became the captain of the Argentina Rugby Union team in the year 2008. Felipe Contempomi was also part of the 1999 IRB Rugby Union World Cup team of Argentina which made to the quarterfinals for the first time.
But the best moment that came in the professional life of Felipe Contempomi was in the 2007 IRB Rugby Union World Cup when the Argentina team for the first time won 7 matches and Contempomi was one of the key players who made it possible for Argentina to gain 3rd position overall in the same tournament. Felipe Contepomi is an Argentina rugby coach who is currently the backs coach at Leinster Rugby. He was an established rugby union footballer who played fly-half or center; Club Newman was his last club, in the first division of the URBA championship. He was a key player for Argentina, having played 15 years for the national team. His twin brother Manuel was also a Puma. He was appointed as coach of Argentina XV in June 2015. In November 2017, Contepomi was inducted into the World Rugby Hall of Fame. Contepomi's Net Worth in 2020 is around $1 Million – $5 Million. Felipe Contepomi got married to Paula Rodriguez, they have a daughter together named Catalina Contepomi.
Awards & Achievements:
Leinster
Heineken Cup 2008-09
Celtic League 2007-08
Individual
IRB Player of the Year 2007 – Finalist
Argentina national team all-time top scorer (651 points)