This is the player profile of Sam Warburton the Wales Rugby Union player and the current captain.
Player Profile – Sam Warburton
Basic Information about Sam Warburton
Full Name: Sam Kennedy Warburton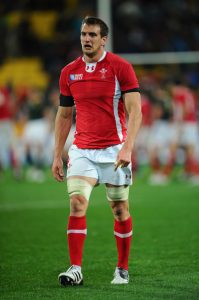 Date of Birth: 5th October 1988
Place of Birth: Cardiff, Wales, United Kingdom
Height: 6ft 2in (188cm)
Weight: 103 Kg (16 st and 3 lb)
Professional Career Details of Sam Warburton
Position: Flanker
Amateur: Glamorgan Wanderers 2006 – 2009
Professional: Cardiff Blues – Since 2009
National: Wales – Since 2009
British and Irish Lions 2013, 2017
Early and Personal Life of Sam Warburton
Sam Warburton's parents are English, but he was born in Wales so he is considered to be both British and Wales national. He is one of the twins and his twin brother Ben who is bit elder to him, has also played at a semi-professional level with the Glamorgan Wanderers for which Sam Warburton too started his amateur career. Sam Warburton went to the Whitchurch High School and left it with 3 A levels.
As a kid,  Sam Warburton always wanted to be a footballer and was a big fan of Real Madrid. He even tried his luck with football with the Cardiff City Club at the age of 14 but then decided that he will concentrate on Rugby instead. Sam Warburton briefly played for the Rhiwbina RFC as a youngster and then for the Glamorgan Wanderers RFC before joining the professional Rugby Football Club, the Cardiff Blues.
Sam Warburton is married to his longtime partner Rachel Thomas and the marriage was organized on 5th July 2014.
Professional Career of Sam Warburton
Sam Warburton has represented his country of birth, Wales at all levels of rugby which makes him a bit unique as not many players can achieve that feat. He had been captain of Wales' U18, U19, and U20 teams as well. He led the Wales U19 and U20 rugby union team into the Youth Rugby World Cup semi-finals as well. On 6th June 2009, Sam Warburton made his international debut for Wales against the USA.
But the professional career of Sam Warburton got established only when he was named in the 2010 Six Nations Tournament for Wales National Squad. His first international try came in the 2011 Six Nations Tournament against Italy. On 4th June at the age of 22 years and 242 days,  Sam Warburton became the second-youngest captain for Wales by captaining the side against the Barbarians. It was a world cup warm-up match against England when Sam Warburton was adjudged man of the match. Sam Warburton also captained Wales in the 2011 IRB Rugby World Cup in New Zealand when the original captain Matthew Rees was injured.
Warburton had to face a lot of challenges in 2012 due to his injuries in all the Six Nations campaign. But he still stood out as a great player in the Grand Slam. It was the same match where he won France in Cardiff. Post this, it became utterly difficult for Warburton to hold his position, and again he found himself struggling in the field.
There came a time when he was sidelined due to injury. But he is a true blue fighter, Warburton made a comeback as a captain and won over a whopping Six Nations with a run of four wins. In the same year he worked on himself and came up as a captain of the Lions tour to Australia. Interestingly, he is the captain after Phil Bennett in 1977 who became the Welsh Lions captain.
Warburton made an amazing start at the Tests with Australia. Not only that, but he was also quite impressive in the second test. Soon he again got injured and was out of the final Test in Sydney as the Lions wrapped up a 2-1 series victory. Last but not least, he also became the first tour captain to taste victory since Martin Johnson in 1997.