The Major League Soccer is the premier soccer league in the USA and Canada. Let us know all the facts about the Major League Soccer teams and their formation.
The Facts about Major League Soccer Teams
There are total 19 MLS clubs in USA and Canada which are divided into two conferences, Eastern Conference and Western Conference. Each club is allowed to keep 30 players in its roster. These 30 players then are allowed to be the part of 18 members playing team on the game day. MLS started with 10 teams and was expanded to 19 teams in 2005. There will be 4 more teams added in future. Here is the detail about all the MLS teams in brief.
All the Information about the Major League Soccer (MLS) Teams
Eastern Conference – MLS
Chicago Fire (1998) | City: Bridgeview, IL | Stadium: Toyota Park | Sponsor: Quaker
Columbus Crew (1996) | City: Columbus, OH | Stadium: Columbus Crew Stadium | Sponsor: Barbasol
DC United (1996) | City: Washington, DC | Stadium: RFK Stadium | Sponsor: Leidos
Houston Dynamo (2006) | City: Huston, TX | Stadium: BBVA Compass Stadium | Sponsor: BHP Billiton
Montreal Impact (2012) | City: Montreal, QC | Stadium: Saputo Stadium | Sponsor: Bank of Montreal
New England Revolution (1996) | City: Foxborough, MA | Stadium: Gillette Stadium | Sponsor: United Healthcare
New York Red Bulls (1996) | City: Harrison, NJ | Stadium: Red Bull Arena | Sponsor: Red Bulls
Philadelphia Union (2010) | City: Chester, PA | Stadium: PPL Park | Sponsor: Bimbo
Sporting Kansas City (1996) | City: Kansas City, KS | Stadium: Sporting Park | Sponsor: Ivy Funds
Toronto FC (2007) | City: Toronto, ON | Stadium: BMO Field | Sponsor: Bank of Montreal
Western Conference – MLS
Chivas USA (2005) | City: Carson, CA | Stadium: StubHub Center | Sponsor: No Sponsor
Colorado Rapids (1996) | City: Commerce City, CO | Stadium: Dick's Sporting Goods Park | Sponsor: Ciao Telecom
FC Dallas (1996) | City: Frisco, TX | Stadium: Toyota Stadium | Sponsor: AdvoCare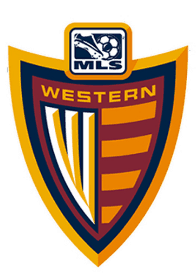 LA Galaxy (1996) | City: Carson, CA | Stadium:  StubHub Center | Sponsor: Herbalife
Portland Timbers (2011) | City: Portland, OR | Stadium: Providence Park | Sponsor: Alaska Airlines
Real Salt Lake (2005) | City: Sandy, UT | Stadium: Rio Tinto Stadium | Sponsor: LifeVantage
San Jose Earthquakes (1996) | City: Santa Clara, CA | Stadium: Buck Shaw Stadium | Sponsor: No Sponsors
Seattle Sounders FC (2009) | City: Seattle, WA | Stadium: CenturyLink Field | Sponsor: Xbox
Vancouver Whitecaps FC (2011) | City: Vancouver, BC | Stadium: BC Place | Sponsor: Bell Canada
Future Teams of MLS
New York City FC (2013) | City: New York, NY | Stadium: Yankee Stadium | Joining in 2015
Orlando City SC (2013) | City: Orlando, FL | Stadium: Florida Citrus Bowl Stadium | Joining in 2015
Atlanta (2014) | City: Atlanta, GA | Stadium: New Atlanta Stadium | Joining in 2017
Miami (2014) | City: Miami, FL | Stadium: Miami MLS Stadium | Joining in – Yet to be decided