Brief Information about Rory Mcilroy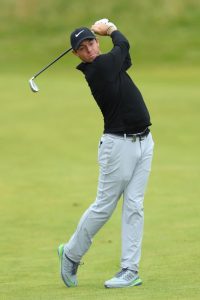 Nickname: 'Rors' or 'Wee-Mac'
Date of Birth: 4

th

May 1989
Place of Birth: Holywood, County Down, Northern Ireland
Height: 5ft 9 in (1.75 m)
Nationality: Northern Ireland
Residences: Moneyreagh, Northern Ireland and Palm Beach Gardens, Florida, USA.
Rory Mcilroy's Professional Career at a Glance
Turned Pro: in 2007
Tours Plays for: European Tour and PGA Tour
Professional Wins till date: 5
Performance in Major Tournaments:
Masters: T8 – 2014
US Open: Champion 2011
The Open Championship: Champion 2014
PGA Championship: Champion – 2012 and 2014
Number of Tour Title Wins
PGA: 9
European Tour: 9
Asian Tour: 1
PGA Tour of Australasia:1
Others: 1
Notable Awards and Achievements:
2012 – PGA Tour Leading Money Winner, PGA Player of the Year, PGA Tour Player of the Year, Vordon Trophy Winner, Byron Nelson Award, European Tour Order of Merit Winner, European Tour Golfer of the Year Award and Mark H McCormack Award Winner.
Early Life of Rory Mcilroy
Born to Gerry and Rosie Mcilroy, Rory is the only child of the couple. He was born in a small county town of Holywood in Northern Ireland. He was introduced to golf at a very young age of 2 where it is said that he used to hit a 40-yard drive! Continued to his journey of golf, Rory hit his first-ever hole in one at the age of 9. By 16 Rory was totally focused on golf.
Professional Career of Rory Mcilroy
Rosie Mcilroy went pro in the year 2007 and became the youngest player to rank among the Top 50 golfers of the year. The first major win for Mcilroy came in the year 2011 when he won the US Open. Not only that he even broke the record of the great golfers like Tiger Woods and Jack Nicklaus by scoring 268. The winning of the 2012 PGA Championship made him the youngest ever to win a PGA Tour playoff to date.
2014 is probably the best year for Rosie Mcilroy despite having troubled personal life. Rosie Mcilroy has won the 143rd Open Championship and came shoulder to shoulder with Tiger Woods and Jack Nicklaus to win 3rd Major by the age of 25. Then Rosie Mcilroy won the next major tournament of the year the PGA Championship, which is his fourth career major title.
Personal Life of Rory Mcilroy
Rory Mcilroy started dating Caroline Wozniacki in 2011 and both of them used to be spotted at each other's match as well. After sending emails of their engagement which was scheduled on the New Year's Eve of 2013 and later they decided to break up in 2014 just before their wedding was planned in November that year.
Endorsements by Rory Mcilroy
In the year 2013, Rory Mcilroy has agreed to reach a deal of US$ 250 million, which immediately put Rory McIlroy on the list of highest-earning golfers in the world. This figure is estimated but not far from the actual amount. From head to toe, Rory Mcilroy wears Nike brands which probably is the major clause of the said contract.