Basic Information
Full Name: Eldrick Tont Woods
Nick Name: Tiger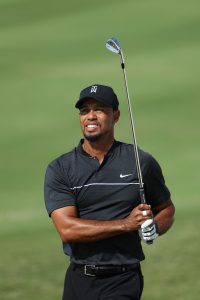 Date of Birth: 30th December, 1975
Place of Birth: Cypress, California, USA
Height: 6 ft 1 in (1.85 meters)
Residence: Jupiter Island, Florida
Turned Professional: 1996
Major Championship Wins
Masters: 1997, 2001, 2002, 2005
US Open: 2000, 2002, 2008
The Open Championship: 2000, 2005, 2006
PGA Championship: 1999, 2000, 2006, 2007
Awards and Achievements
PGA Tour Rookie of the Year: 1996
PGA Player of the Year: 1997, 1999, 2000, 2001, 2002, 2003, 2005, 2006, 2007, 2009, 2013
PGA Tour Leading Money Winner: 1997, 1999, 2000, 2001, 2002, 2003, 2005, 2006, 2007, 2009, 2013
Brief Information
Eldrick Tont Woods, fondly known as 'Tiger' Woods is an American Professional golfer and is part of the greatest golfers who have played the game. He has been one of the highest paid sportsman as well. He turned professional in the year 1996 and won his first major in next year itself. That also enabled him to reach the No.1 position in the PGA ranking in just one year of the professional career. Throughout the decade of 2000 Tiger Woods was the force in the golfing world until in the year 2010 when a personal affair hit his married life and he had to concentrate on his family. Since then he has lost the form, but shines some times like winning the Arnold Palmer Invitational last year.
Personal Life
Born in Cypress,California, Tiger Woods was born to Earl and Kultida (Tilda) Woods. He is the only child of his parents. Although he has two half brothers and a half sister. His father, Earl is a Vietnam War veteran and retired as lieutenant colonel. Tiger Woods married to Elin Nordegern on 5th October 2004 had a wonderful married life till the infidelity scandal hit in the year 2009. A tabloid The National Enquirer published a story about Tiger's extramarital affair with Rachel Uchitel a New York City nightclub manager and his married life started facing trouble. Following repeated allegations of such affairs Tiger Wood gone through a 45 day therapy program. Woods and Nordegern got divorced in August 2010. Tiger has two kids, Sam Alexis and Charile Axle.
Commercial Endorsements
Tiger Woods is one of the world's 'most marketable athlete.' The products he has endorsed till now are.
General Motors
Titleist
General Mills
American Express
Accenture
Nike
Buick's Rendezvous SUV
TAG Heuer
EA Sports Tiger Woods PGA game
Gillette Champions Series
Gatorade 'Tiger'
The Vantelin Kowa Rub (Japan)

Fuse

Science
Some more updates about Tiger Woods
[feed url="https://sportycious.com/golf/feed/" number="9″ ]