Lionel Messi age, Net Worth, Height, Wife, House
Full Name: Lionel Andres Messi
Date of Birth: 24th June 1987
Place of Birth: Rosario, Argentina
Lionel Messi Height: 5 ft 7 in (1.69 m)
Current Club: Barcelona
National Team: Argentina
Jersey Number: 10
Turned Pro: 2005
Club Information:
Youth Career:
Newell's Old Boys (1995 – 2000)
Barcelona (2000 – 2003)
Senior Career:
Barcelona C (2003 – 2004)
Barcelona B (2004 – 2005)
Barcelona (Since 2005)
National Teams:
Argentina U20 (2004 – 2005)
Argentina U23 (2007 – 2008)
Argentina (2005)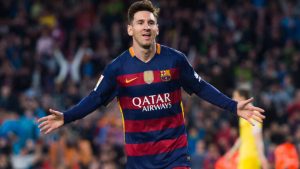 Early Life
Born to Jorge and Ceclia Messi, Lionel got a chance to get training at the Spain's soccer powerhouse FC Barcelona's youth academy. Because of earlier problems with hormone deficiency Messi's entire expenses of the treatment was taken over by Barcelona. After some time his entire family too moved to a new home in Spain. During his early days in Spain, he used to feel homesickness, but yet at the age of 16 he made his debut for Barcelona and on 1st May 2005 he became the youngest ever player to score a goal for Barcelona as well. The same year he even lead the Argentine Under 20 World Cup team and won the title as well.
Messi Professional Life
Because having short stature Messi is gifted with unmatched speed and a relentlessly attacking style. In no time he drew the attention of the legendary Argentine footballer Diego Maradona. Lionel Messi has been instrumental in the victories of Barcelona in Champions League, La Liga, and Spanish Super Cup titles. He has even won the FIFA 'World Player of the Year' for the record four times. In an interview given to the BBC, Diego Maradona said about Messi, "I see him as very similar to me. He is a leader and is offering lessons in beautiful football. He has something different to any other player in the world." Messi has been the all-time leading goal scorer for Barcelona.
In 2012, Messi acclaimed a whopping total of 91 goals. It was one of the higher numbers of goals in a single year after Gerd Muller in 1972. While talking about breaking records, Messi also broke another record by being named FIFA Ballon d'Or in January 2013.
Post this year Messi succumbed to a lot of injuries and had to rest for some time. But, once he was back on the field all recovered, he became the all-time leading scorer in La Liga and Champions League play in late 2014.
In 2015, he made Barcelona win in a historic manner that no one could have thought of. Again for the fifth time, he was conferred with the FIFA Ballon d'Or trophy.
In 2016, Messi ended his cooperation with his national team. After two long years, In 2018 he was a part of the World Cup. The hopes were quite high for him, but he didn't meet up to the expectations.
Last but not least, In 2019 he won another La Liga title and also won his sixth Ballon d'Or. These things make him a class apart.
Charity
Messi is involved in private charities as well. He has founded the Leo Messi Foundation, which provides opportunities to disadvantaged youths. He has also been a UNICEF's goodwill ambassador for the year 2012. Messi has been focused on children's rights across the globe.
Endorsements
Turkish Airways
EA Sports
Pepsi
Adidas
Head & Shoulders
Konami
Audemars Piguet
Dolce and Gabbana
Gatorade

Huawei

Lay's

Mastercard

Hawkers

Ooredoo
The Lionel Messi Quote
Whether it is a friendly match, or for points, or a final, or any game – I play the same. I am always trying to be my best, first for my team, for myself, for the fans, to try and win.