This is a player profile of the French rugby union player Thierry Dusautoir. You will get all the important details about this player in this profile.
Player Profile – Thierry Dusautoir
Basic Information about Thierry Dusautoir
Full Name: Thierry Dusautoir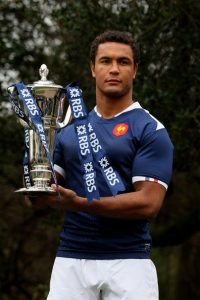 Date of Birth: 18th November, 1981
Place of Birth: Abidjan, Ivory Coast
Nationality: France
Height: 6ft 2in (188 cm)
Weight: 100 kg (220 lb i.e. 15st and 10lb)
Professional Career Details about Thierry Dusautoir
Position: Flanker
Club Career:
Bordeux – Begles 2001 – 2003
US Colomiers 2003 – 2004
Biarritz 2004 -2006
Toulouse Since 2006
International Career:
France since 2006
Personal and Early Life of Thierry Dusautoir
Thierry Dusautoir was born to a French father and an Ivorian mother in Abidjan. Thierry Dusautoir is an chemical engineering degree holder. He did not like Rugby until he was 16 and till that age his favorite sport was Rugby. Thierry Dusautoir was first played for the French rugby league team Bordeaux-Begles and then moved to the US Colomiers for a single season after that he was signed by the Biarritz. Thierry Dusautoir played for Biarritz in the Heineken Cup final of the 2005-06 in the Millennium Stadium in Cardiff. Despite on the losing side Thierry Dusautoir's performance was recognized and appreciated by one and all. Since 2006, Thierry Dusautoir is playing for the Toulouse which is part of the French Top 14 club competition and is known for his strong ball carrying capacity with good speed and possession capabilities as well.
International Career of Thierry Dusautoir
In June 2006, Thierry Dusautoir made his International Rugby Union debut by playing for France against Romania first and later against the South African Springboks. His first international game against Romania was played at the Cotroceni Stadium in Bucharest the capital city of Romania. The French team came out victorious in that game and Thierry Dusautoir scored a try on his debut as well. With impressive performance in the next game against the Springboks at Cape Town's Newlands Stadium Thierry Dusautoir was immediately signed by the Toulouse Club in the year 2006.
The best career moment for Thierry Dusautoir was came when he was called for a replacement for the injured Elvis Vermeulen in the 2007 IRB Rugby World Cup. In the quarterfinal game against the tournament favorites Thierry Dusautoir scored a try by making 38 tackles which were two tackles more than the entire All Blacks team. The French team defeated the All Blacks by 20-18 and Thierry Dusautoir was nominated as world player of the year.