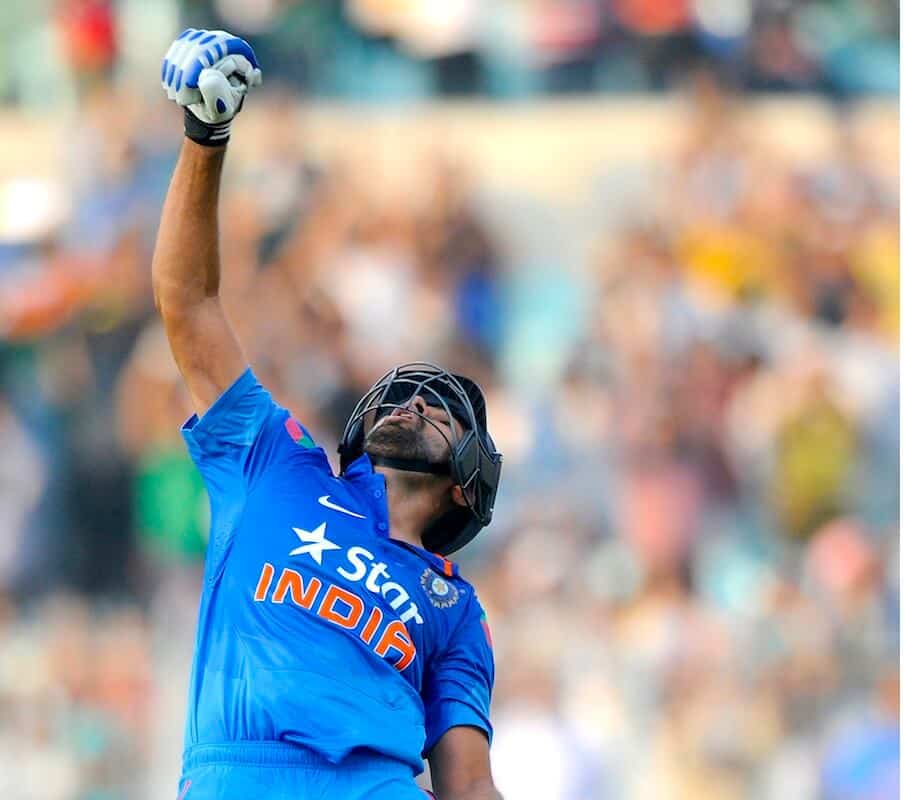 Nobody could expect this to happen. Rohit Sharma, who was not even the part of the first three ODI playing XIs as he was serving an injury for last 10 weeks, but in today's game he replaced Shikhar Dhawan as an opener, and what a replacement it proved to be.
Rohit Sharma was dropped by Thisara Perera when he was on 4 runs only scored out of 16 deliveries. Rohit Sharma, was watchful as he always is at the start of his innings and scored his first half century after his return to the international arena from 72 balls. But then he literary launched himself to the orbit. His 100 came from exactly 100 balls and took just 25 more balls to reach 150! His second double century in ODI came off just 151 balls and yet he kept on going and became the first ever batsman to score 250 runs in any form of one day cricket in just 166 balls!! That only means that his 5th fifty came in just 15 deliveries.
With this heroic Rohit Sharma has become the only international cricketer who has scored 200 runs in an ODI twice. He also is the highest run getters in ODI as he broke Virender Sehwag's 219 runs score. When Rohit Sharma surpassed 250 runs he broke the record of his fellow teammate Shikhar Dhawan's highest score in any form of One Day match which was 250.
This is how Rohit Sharma went about towards his second double hundred after his century.
4111.64.141.144.64.11111141.11161.1.21..611444141144.
Although Rohit Sharma did get out of the very last delivery of the Indian innings, but that hardly mattered for his teammates as they lined up on the boundary line to give Rohit Sharma a 'guard of honor!'
While talking with the official broadcaster of the match, Star Sports, Rohit Sharma said, "I was ready to bat another 50 overs. Once I got 50, I knew I had to come good. It was a good batting wicket. We know even 350 is chaseable under lights here. I converted 100 into 150 and 200, then 250. It is important to look at team score, you need to know how the team stands. It is really important to think while batting. That's what I did. I made my Ranji debut here. I got hundred on my test debut here, I scored an Indian T20 League hundred here as well."
We at Sportycious congratulate Rohit Sharma on achieving this enormous feat!
Pic Courtesy: ESPN Cricinfo