This is the player profile of Paul O'Connell, the Irish rugby union team player.
Player Profile – Paul O'Connell
Basic Details about Paul O'Connell
Full Name: Paul Jeremiah O'Connell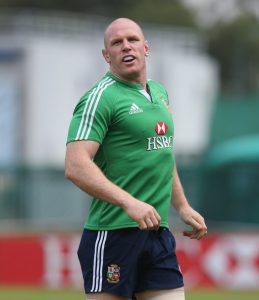 Date of Birth: 20th October, 1979
Place of Birth: Limerick, Republic of Ireland
Height: 6 ft 6 in (1.98 m)
Weight: 114 Kg (17 st and 4 lb, 242 lb)
Professional Details about Paul O'Connell
Position: Lock
Young Career: Young Munster
Senior Career: Munster – Since 2001
National Teams: Ireland – Since 2002 | British Lions – 2005, 2009 and 2013
Early and Personal Life of Paul O'Connell
You will be surprised to know that during his young age Paul O'Connell was a champion swimmer and he has nothing to do with rugby. He also took training at the Seal Swimming Club under the guidance of his swim coach John Dempsey and Jerry Ryan before he shifted to Limerick Squad. At the Ardscoil Ris and Model School at Limerick, Paul O'Connell had his first taste of Rugby under Des Harty's able guidance. In 1997-98 Paul O'Connell represented the Irish Schools as well. After schooling Paul O'Connell attended the University of Limerick and completed only 3 out of 4 years of Computer Engineering degree. Because now the game of rugby was his passion he left the studies in the middle and decided to concentrate on rugby only.
On 29th January 2010 on the Late Show, Paul O'Connell announced that his girlfriend Emily O'Leary whom he is dating since they were in their early 20s is already six months pregnant with their first child. Just before the midnight of their first child Paddy O'Connell's birth the couple got married at the Mid-Western Regional Maternity in Limerick.
Professional Details about Paul O'Connell
Paul O'Connell made his domestic rugby union debut for Munster on 17th August 2001. In a game against Edinburgh in Celtic League he first played his domestic rugby and since then he has been an integral part of the Munster team. Paul O'Connell was part of the Munster team of 2002-03 Celtic League winning team and 2005-06 Heineken Cup winning team. Paul O'Connell became the captain of Munster in July 2007.
Paul O'Connell made his debut for Ireland against Wales in the 2002 Six Nations Championship and scored a try. Soon he was part of the 2003 IRB Rugby World Cup team from Ireland. In March 2004 O'Connell became the part of Ireland's first ever Triple Crown win in 19 years. This feat was repeated in 2006 also and Paul O'Connell was also part of that team also. In 2007 Paul O'Connell became the captain of Ireland rugby union team for the first time ever.