When it comes to Rugby Union, you are certain about the intense, tough and rough sport to be played on the ground. What about when two of the most consistent Rugby Union teams like the New Zealand All Blacks and Australian Wallabies fight it out regularly for a trophy? Well then this is what Bledisloe Cup all about. All you want to know about Bledisloe Cup is here in this article.
What is Bledisloe Cup?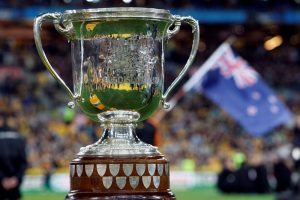 Bledisloe Cup is a Rugby Union's bi-nation tournament which is played between the national Rugby Union teams of New Zealand (All Blacks) and Australia (the Wallabies). The tournament was started in the year 1931 and it is named after Lord Bledisloe the then Governor-General of New Zealand. The Bledisloe Cup, the trophy was designed in New Zealand by Nelson Isaac and was crafted by Walker and Hall in London. The Bledisloe Cup is considered to be the largest trophy in the world of Rugby.
What are Bledisloe Cup Matches?
The bilateral Bledisloe Cup matches were initially played with the gap of a few years in between but now it has become an annual event. Even the matches played between New Zealand and Australia in the Rugby Championship (or Tri Nations) are considered as Bledisloe Cup matches. But, when New Zealand and Australia play for World Cup those matches are not considered as Bledisloe Cup matches. In the year 2008 the first ever Bledisloe Cup match outside Australia or New Zealand was played in Hong Kong and next year it was played in Tokyo, Japan. The New Zealand All Blacks  won the last 12 Bledisloe Cup in a row (From 2013 to 2014).
History of the Bledisloe Cup
Although the Australian Rugby Union (ARU) is claiming that first ever Bledisloe Cup match was played in 1931 when the two involved teams played in a one off match at the Eden Park, but there is no such evidence to support their claims. It was after that match that Lord Bledisloe announced his desire to present a trophy for all the New Zealand Vs Australia Rugby Union matches and then from the next year that is in 1932 the actual Bledisloe Cup was started.
Bledisloe Cup normally has 3 matches over the years, but in 2008 it was felt that there is a need to promote Rugby Union in Asia so an extra game was organized in Hong Kong and it was attended by 39, 000 people. This was the first time that these two nations were meeting for a Bledisloe Cup outside Australia or New Zealand. New Zealand who had already won the trophy won this match too by 19-14.
Some of the Interesting Records of the Bledisloe Cup
New Zealand has won the Bledisloe Cup 43 times, whereas Australia has won it 12 times.

New Zealand's longest streak

of winning the Bledisloe Cup is 28 years!! (1951 to 1978)
Australia's longest streak of winning the Bledisloe Cup is 5 years. (1998 to 2002)