Are you bored of playing the same sports?
Then why don't you give it a try to this trending sport named "Axe Throwing."
Axe Throwing is not a new sport altogether. Surprisingly, it's an old sport which is forgotten entirely. Axe Throwing has been existing since the prehistoric times. The Franks evolved it as Francisca in the 3rd century AD. Furthermore, Germans used it, followed by the  Anglo-Saxons.
But Canada is the country that gave a new lease of life to this game. Well, the concept is a bit different as the axe throwing is now performed in an urban environment. With it's growing popularity in Canada, even the United states thought of picking up this game, and now it has become a rage over there.
Axe throwing is thriving in Canada and some other places too. According to a recent study by National Axe Throwing Federation (NATF),  people have tossed almost 20 million axes to date. 
Now let's know what Axe Throwing is actually.
What is Axe Throwing?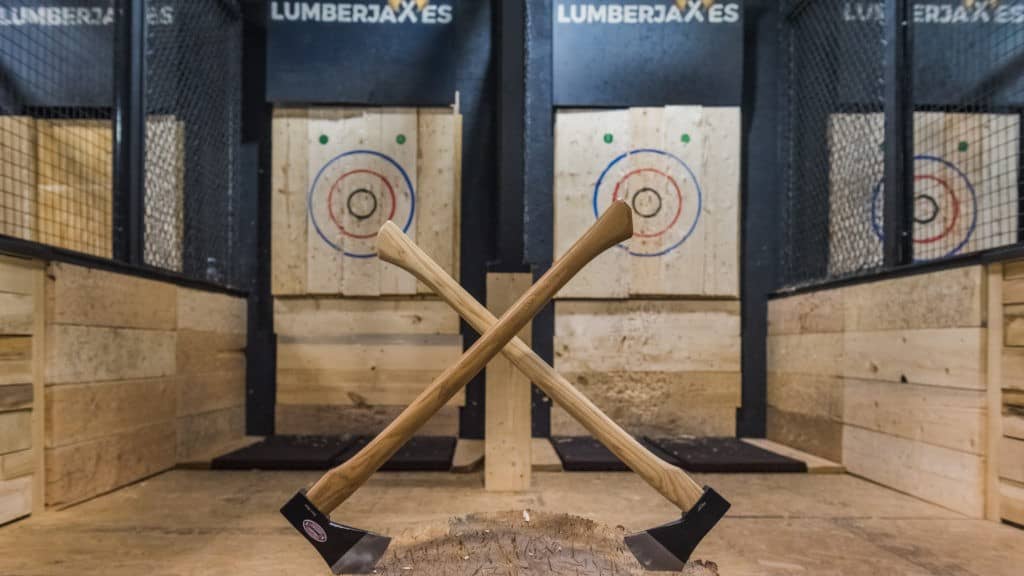 Axe Throwing is a sport that started back in 2006. It is nearly similar to dart throwing and is performed in a backyard where the participant has to throw an axe at the target. Here, the attempt is to hit as near as possible to the bullseye. It has also been listed as an event in most of the lumberjack competitions.
In recent times, the most popular Axe Throwing leagues are:
WATL (World Axe Throwing League)
IATF (International Axe Throwing Federation, formerly NATF) 
With the changing times, Axe Throwing is now commercialized in various locations such as Canada, New Zealand, Australia, the United States, and the United Kingdom. Axe throwing can now be found in multiple festivals and theme parks too. 
Reasons to attempt Axe Throwing 
Stress- Relieving
It's utterly bizarre to say, but axe throwing is a soothing and therapeutic process. No matter what's troubling you, be it your conflicts, any failures, or family issues. It can almost solve all your issues and that too at a lower cost than a Therapist. So, the next time you feel stressed out, you know what to do. 
Physical Activity
Axe Throwing can be to be apt for toning your body. Here, You'll be working out, but you'll not feel like you're doing it. Axe throwing is one of the safest and amusing ways of getting some exercise done. Furthermore, it will also get your blood pumping with lots of endorphins releasing.
Connects you to primitive roots
When compared to ancient times, Axe throwing may not hold that much importance today. But back in time, it was considered as a skill on which every single person survived. Experiencing axe throwing will lessen the distance between you and your past, it will help in boosting your confidence, last but not least, it will keep you prepared for the unseen situations.
Axe Throwing Rules
The most common rules of Axe Throwing are as follows:
The thrower should not step over the throwing line prior to axe hitting or missing the target.
While throwing the axe, the player's one foot must be on the floor.
If a player steps over the line, they directly get 0 points.
Until both players have thrown their axes, the player's feet should not cross the 12ft line.
How safe is Axe Throwing?
According to a report by BATL, there have been just five or six injuries over a long period of nine years. Interestingly, these accidents were also a result of mishandling the axes – Something like picking up the axe by the head instead of the handle.
Some Axe throwing venues allow drinking, but they also make sure that situations don't get out of hand. Furthermore, the axe throwing coach also keeps an eye on people who are drunk to ensure that they aren't getting involved in the game. Until you follow the rules, Axe Throwing is as safe as darts or bowling.
What is an Axe Throwing Bar?
An Axe Throwing Bar refers to an indoor space where people can throw axes or hatches at a wooden target. Interestingly, These bars also offer drinks while you're enjoying the game.
Axe Throwing is one of such sports that is trying to make its place in the Olympics. AN organization named  National Axe Throwing Federation (NATF)  organizes an annual National Axe Throwing Championship. It works on standardized rules and regulations. 
Some of the Axe Throwing venues in America are relatively similar to bowling alleys, whereas others have some recreational Axe throwing leagues. Besides, some of the bars or restaurants have axe throwing as an added attraction to their menus.
Who can visit an Axe Throwing Bar?
Anyone can visit these Axe throwing bars, but only a few can participate in this game. Every bar has its separate rules for the same. For example, a bar named Detroit Axe lets a 14-year-old try this sport but only with proper adult supervision; otherwise, the age limit is 18 plus.
Whereas an Axe throwing bar called Kick Axe, situated in Brooklyn lets someone who is just seven years old to participate in this game but again with proper adult supervision. Besides, there are some places where they have an age limit of 21 years.
These Axe throwing venues are becoming utterly popular among people for various occasions such as bachelor parties, Birthday parties, or a corporate retreat. 
Where can one experience these Axe Throwing Bars?
There are several places where one can experience these Axe throwing bars. One such venue is the Bad Axe Throwing; it has several branches across various locations like Canada, the USA, and the UK.
Besides, new Axe throwing venues are coming up in places like Philadelphia, Las Vegas, North Carolina, and Brooklyn to name a few. 
Axe Throwing Venue
Presently, Axe Throwing takes place in a space that resembles an old warehouse. Generally, it has high ceilings with heavy-duty walls and fencing around the targets on the top and sides. There is a wooden target on the jacked-up wall that comes in varying sizes, colors, and concentric circles.
A person has to aim at the nearest position to the bullseye and earn points based on the positions where their axes land. If you're lucky enough to hit the bull's eyes, you'll get five points. Furthermore, if you manage to hit the circle's surroundings, you'll get three points. And if you're just a beginner and hit within the outer circle, you'll get only one point.
Each of these Axe throwing venues has axe throwing coaches to teach newcomers how to use the correct technique for playing this sport. You can also learn the formal rules of this sport if you wish to compete in the standardized axe throwing leagues
Wrapping Up
Axe Throwing is an utterly tempting sport. But it is advised not to take up this sport until your sure about safety. Axe Throwing is not just throwing an axe as hard you can; it's much more about the technique. 
All you have to do is practice, and in no time you'll be accurate and confident about it. So, try this sport, throw some axes and have a great time.
If you think we have missed any of the points, then feel free to share in the comments. Also, if you have any feedback, drop them in the comments.