Basic Information about Virat Kohli
Full Name: Virat Kohli
Nick Name: Cheeku
Date of Birth: 5th November, 1988
Virat Kohli Height: 5ft 9in (1.75 m)
Virat Kohli Age: 31 Years
Batting Style: Right Hand
Bowling Style: Right arm medium
Shirt Number: 18
Major Teams Played for: India, India U19, India Red, Delhi, and Royal Challengers Bangalore
Test Debut: Vs West Indies on 20th June 2011
ODI Debut: Vs Sri Lanka on 18th August, 2008
T20I Debut: Vs Zimbabwe on 12th June 2010
No.of Centuries by Virat Kohli
43 Centuries in ODI.
27 Centuries in Test Cricket.
5 Centuries in IPL.
Virat Kohli Biography:
Virat Kohli who was born on 5th November 1988 in Delhi is the third child of Prem and Saroj Kohli. Virat Kohli has a brother named Vikash and a sister Bhavna. Virat Kohli has studied till school. He has attended Vishal Bharti and Savier Convent School. Virat Kohli is known for his love for the cars and tattoos. Virat Kohli show his mental strength when he continued his overnight innings for Delhi in a Ranji Trophy game against Karnataka despite losing his father on the night between in December 2006. After completing his duties by scoring 90 runs, he came back home and attended his father's funeral.
Virat Kohli Domestic Career:
Virat Kohli was one of the first attainders of the then newly found West Delhi Cricket Academy and he first played for the Delhi U-15 team in October 2002. He kept on piling runs and then was selected for India's U-19 tour of England in 2006.He made his first class debut for Delhi in November 2006 against Tamil Nadu. But his big thing came two years later when he became the captain of the ICC U19 World Cup, which was played in Malaysia, and won it. This opened the doors for Virat Kohli in the national side.
International Career of Virat Kohli:
ODI Career
Virat Kohli scored a century in the Emerging Players Tournament in Australia in 2008 and then he got the call to join the National side playing in Sri Lanka as both Virender Sehwag and Sachin Tendulkar were injured. Though did not get many opportunities to score heavily, two of his important knocks helped India to win the series there. 
Till 2011 Virat Kohli had to wait for his place in the playing XI as there were big names in the team who were performing well. He used to get a chance to play occasionally though. But then came the 2011 World Cup and in the very first game of his in a World Cup, Virat Kohli scored a century against Bangladesh. Then, during the rest of the tournament, he just became instrumental and helped India to win the finals too and lift the cup. Today Virat Kohli has become the most successful player in ODIs when it comes to chasing.
Test Career
In test matches, Virat Kohli has been satisfactory till now and has at a good average of 50+ till now. He has been India's vice-Captain in all three forms of the game. Virat Kohli is a complete package for not only the Indian cricket team but also for the game of Cricket in general. Virat Kohli has also surpassed Saurav Ganguly in leading 50 test matches as a captain in 2019. While Dhoni still tops this list with a total of 60 matches.
T20I Career
Virat Kohli is one of the captions that has crossed the mark of 1000 runs in T20 Internationals. He is one of the quickest to do so in terms of innings. It just took him 30 innings to reach this landmark. Furthermore, he also listed his name in the players to score 11,000 runs in International Cricket (All the formats – Tests, One-Day Internationals and T20 Internationals) as a captain.
IPL Career
Virat Kohli has been an integral part of the Royal Challengers Bangalore franchise in the Indian Premier League since 2008. Virat Kohli was the only player to be retained in the 2011 auction. With passing time, Kohli's performance started getting better and in 2013, he finished the IPL as the highest run-getter with a score of 634 runs. 
In 2015, RCB managed to reach the playoffs with the help of Kohli's unabashed performance. In 2016, Virat got the orange cap. Prior to the 2018 season, Kohli was again retained by RCB at a whopping price of Rs. 17 crore. Last but not least, in 2019  he scored almost 5000 runs and became the second player to do so.
Virat Kohli Awards:
Sir Garfield Sobers Trophy for ICC Men's Cricketer of the Year (2017,2018)
ICC Men's Test Cricketer of the Year (2018)
ICC Men's ODI Cricketer of the Year (2012, 2017, 2018)
ICC ODI Team of the Year (2012, 2014, 2016 (captain), 2017 (captain), 2018 (captain), 2019 (captain)
ICC Test Team of the Year: 2017 (captain), 2018 (captain), 2019 (captain)
Polly Umrigar Award for International Cricketer of the Year (2011–12, 2014–15, 2015–16, 2016–17, 2017–18)
Padma Shri (2017)
Arjuna Award (2013)
Wisden Leading Cricketer in the World (2016, 2017)
CEAT International Cricketer of the Year (2011–12, 2013–14, 2018-19)
Barmy Army – International Player of Year (2017, 2018)
Rajiv Gandhi Khel Ratna (2018)
Spirit of Cricket Award (2019)
Sir Garfield Sobers Trophy (ICC Men's Cricketer of the Decade): 2011–2020
ICC Men's ODI Team of the Decade: 2011–2020
ICC Men's ODI Cricketer of the Decade: 2011–2020
ICC Men's T20I Team of the Decade: 2011–2020
ICC Men's Test Team of the Decade: 2011–2020 (captain)
Virat Kohli Personal Life
Virat Kohli is the youngest of all his siblings. He has an elder brother (Vikash) and an elder sister (Bhavna). Kohli's father (Prem) was a criminal lawyer whereas his mother (Saroj) is a homemaker. He lost his father in 2008 due to a stroke.
Virat married Anushka after their successful relationship of 5 years. They met each other for the first time in 2013, where they were both featured in a TV commercial. After that, they became good friends, and in no time there were rumors of them dating each other. In the early stages of their relationship, both of them denied being in a relationship with each other, but finally in November in 2014 Virat made it official in an interview and said: "Whatever is there is out in the open, I have nothing to hide."
They had many difficulties with their relationship, and even kind of confirmed their breakup in 2016, as they unfollowed each other on Instagram. But, later in the same year, on December 2016, the couple were spotted together as they walked hand-in-hand for Yuvraj and Hazel's wedding.
On August 27, 2020, both Virat and Anushka announced that they are soon going to become parents and are awaiting the baby in January 2021.
And the day finally arrived where the couple was blessed with a baby girl on 11 January 2021. Virat and Anushka's daughter is named Vamika Kohli. Soon after the arrival of their daughter, the couple send a note with the gift, thanking for all the love and blessings showered upon them, also appealed the paparazzi to refrain clicking pictures of their daughter. They agreed on giving the paps pictures of themselves for the content but a humble request was made to keep their child away from the media.
Virat made his place at number 66 on the Forbes list of The World's Highest-Paid Athletes with whopping earnings of $26 million.
Virat Kohli & Anushka Sharma Marriage Date
After a year, later on 11 December, 2017, Virat and Anushka got married in Italy.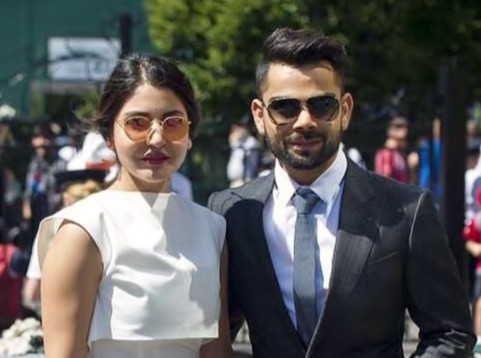 Virat Kohli Record as a Captain (2013-2020)
Total Matches: 89
Won: 62
Lost: 24
Tied: 1
NR: 2
Total Percentage: 71.83%
Endorsements by Virat Kohli
Manyavar

Tissot

Audi

Puma

Wrogn

Uber

MuveAcoustics

MRF Tyres

Too Yumm

Gionee

Colgate

Hero MotoCorp

American Tourister

Philips India

Sun Pharma

Vicks India

Royal Challenge Alcohol

Remit 2

Valvoline

Great Learning

Blue Star

iQOO

Himalaya

Wellman

Google Duo 

Myntra

Mobile Premier League (MPL)

Amaze Inverter Batteries

Shyam Steel

Boost Energy Drink
Virat Kohli and Sachin Tendulkar Statistics
This is the comparison between Virat Kohli and Sachin Tendulkar after 205 innings
Sachin Tendulkar after 205 Innings:
Runs: 7829
Average: 42.31
Strike Rate: 86.52
Hundreds: 21
Fifties: 43
Percentage of Team Runs: 17.64%
Man of the Match (for batting): 30
Virat Kohli after 205 Innings:
Runs: 10076
Average: 59.62
Strike Rate: 92.85
Hundreds: 37
Fifties: 48
Percentage of Team Runs: 16.93%
Man of the Match (for batting): 30
Top 5 Virat Kohli Images
1. 
2. 
3. 
4. 
5.