The latest ban on Pakistan's premier bowler Saeed Ajmal has brought back the issue of chucking in cricket in contention and hence we are remembering those bowlers who are banned for chucking or illegal bowling action in recent years.
As per the ICC rule which came after a huge controversy over Muttiah Muralitharan's bowling action in the mid 1990s, no bowler can bend his elbow more than 15 degrees actually the rate of chucking suspects have increased. Previously, there was no such rule and the simple interpretation was that there should be no bending of an elbow but to accommodate Muralitharan since he was having a defect in his right arm which was his bowling arm, ICC brought this rule. But even then we are seeing that more and more bowlers are bending their elbows beyond the tolerate limits and thus bending the rule itself as well.
Muttiah Muralitharan was called for chucking and given no ball for not less than 7 times by the Australian umpire Darrel Hair. Ten days later another Australian umpire Ross Emerson too called Muralitharan for the same reasons and the Australian captain was so livid that he threatened to take his team out of the ground in Adelaide. Murali then went for a biomechanical test and the result was that his elbow is naturally bend and thus it just an illusion which suggests that he is chucking or throwing.
During the next few years, bowlers like Grant Flower, Shoaib Mallik, Kumar Dharmasena and even Brett Lee too were called for having an illegal action, but they all were cleared by ICC without even asking them to go through the tests. Pakistan has been the major contributor ,apart from Sri Lanka in this matter. Its bowlers like Mohammad Hafeez, Shoaib Malik, Shabbir Ahmed, Shoaib Akhtar and now Saeed Ajmal have been called for throwing the ball. Shoaib Akhtar was even banned for six months in 1999 but his ban was revoked soon.
Surprisingly, there are very few Indians who were suspected if you compare them with Sri Lankans and Pakistanis. First such bowler comes to mind is Rajesh Chouhan the offy and then Harbhajan Singh but neither of them were banned. Just a month or so back Sri Lanka's Sachitra Senanayake too was banned in England for the same reason. Part time bowlers like Marlon Samuels of West Indies too was banned in 2013.
So the list is endless. In case of Saeed Ajmal he is bending his elbow by 35 degrees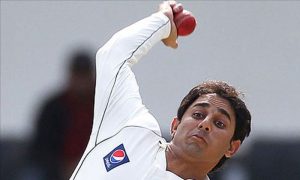 which is huge! Not only his normal or 'doosra' most of his deliveries are illegal as per the test conducted by ICC's team of experts at the National Cricket Centre in Brisbane.
Either ICC should abolish the rule of 15 degrees and allow a 'free chucking' or else it should get back to the original law of no elbow bending will be allowed. It is as simple as that!