There have been plenty of intense rivalries on the tennis courts. From McEnroe-Borg to Samprass-Agassi to Federer-Nadal. All these rivalries can be called epic and there is one more addition to this rivalries or should we call the epic rivalries is the Federer – Djokovic rivalry. Probably in the modern era the Federer – Nadal rivalry is the best and perhaps it's the best one of all time, but if you go through the statistics and go,  especially to their head to head equation, you will probably find it one sided. So to find or to declare a rivalry more intense than the Federer – Nadal rivalry, one has to look at head to head wins and over there the Federer – Djokovic rivalry claims the top spot.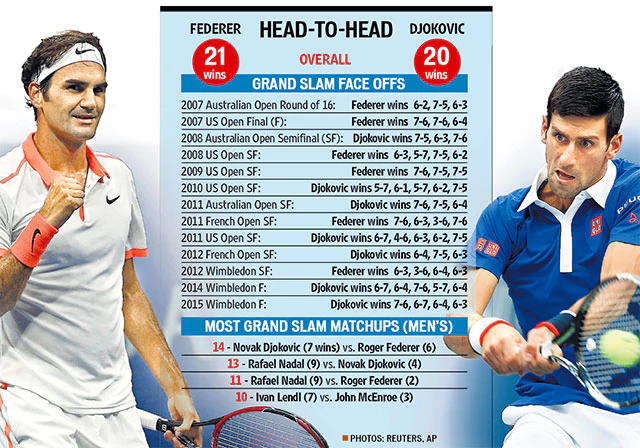 Even Nadal – Djokovic rivalry was scrutinized. They too have come against each other several times in fact, more than 40 times these two champions have locked  horns, but at the same time, if we look at the poor games played by both of them, the intensity against is on the loosing side. Both of these two players have played many games against each other very poorly and have handed over easy wins many times.
But when you take on Federer Vs Djokovic games, the scenario differs. The head to head winning margin is very pale between them to say the least. Till now Federer and Djokovic have played against each other for 36 times and the winning ratio of 19-17 is in favor of Federer, despite the walk over Roger gave to Novak in the finals of the ATP World Tour Finals this year. But the overall difference is just of 2 games, which shows how these two players play their game against each other with too much intensity.
Not only this the statisticians have found out that since 1968 the Federer – Djokovic meetings on the ATP circuit is more frequent than of Lendle – McEnroe and Nadal – Federer. 20 out of their (Federer – Djokovic) 36 meetings have come in the tournament finals, which is just outstanding. While withdrawing from the ATP World Tour Finals last week, Federer admitted that he loved playing against Djokovic because he founds Djoker very similar to him.
What more one can say about this intense rivalry because none of them can be claimed to be a leader of it. They gave their best when they are up against each other. We may have plenty of luck remain in our tanks to see more Federer – Djokovic matches in future.