Sometimes few records are not aimed at and yet you register yourself in the record books by an accident without your fault or even without any credit to you either. These Tennis Records are called the unusual records and today we are going to know about such unusual records that happened in the game of tennis.
Interesting Tennis Records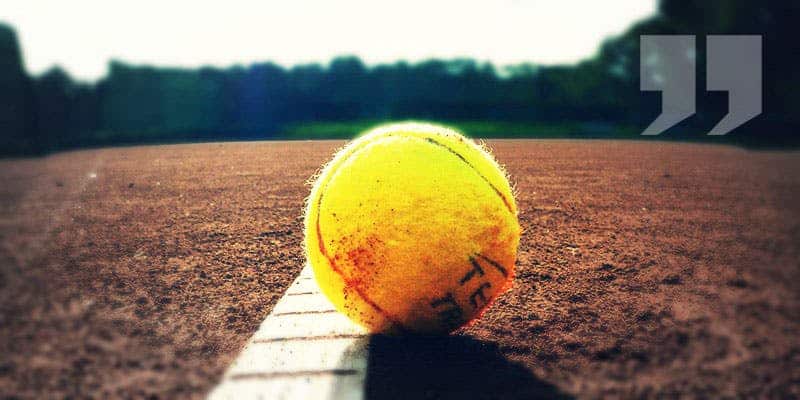 Fastest serve ever:
Samuel Groth holds the record for serving the fastest serve ever in the game of tennis. He achieved this feat during the ATP Tour game in Busan Challenger Tournament in 2012. Groth clocked his serve at 163MPH which is 263 KPH.
Winner of both Olympic Gold Medals:
Nicolas Massu of France was involved in winning both the singles and the doubles Olympic Gold Medals in the 2004 Athens Olympics. He has ever won a grand slam and his highest ATP rank is 9. But that should not take away from his amazing feat.
The shortest and the tallest Tennis player:
Oliver Rochus has been identified as the shortest player ever played in ATP Tour history. Oliver Rochus stands at 5'4" height and despite of this he was able to break into Top 25 tennis players of the world in 2005. Ivo Karlovic is the tallest recorded player in the ATP tour. He stands tall at 6'10" and it is highly surprising that his best weapon is Ace.
Most losses by a Tennis player:
Rainer Schuettler, who is also known as the last German player to reach a grand slam final holds this rather unwanted record of losing 337 matches in ATP Tour, which is the most by any player in the history of the game.
Most Appearances in Grand Slams:
Fabrice Santoro holds this record with 70 Grand Slam tournament appearances of which 46 were consecutive ones. He is the only player who appeared for four different decades in Grand slams.
Most double faults in a match:
Marc Rosset holds this feat with 26 double faults against Michael Joyce in the 1995 Wimbledon game.
Consecutive grand slam appearance:
A 56 consecutive grand slam appearance between 1991 and 2004 makes Wayne Ferreira the most consecutive player to appear in grand slams.
Youngest player to be in Top 25:
Aaron Krickstein when he was 16 years old in the year 1983 became the youngest player to be in the Top 25.
The longest match ever played:
Can you believe a tennis game would last for 11 hours and five minutes? Ask Nicolas Mahut and John Isner, who was involved in this epic game of tennis at Wimbledon in 2010 when Isner won the game with the scoreline of 6-4, 3-6, 6-7, 7-6, 70-68. No wonder Isner also holds the record of most aces in a single game.
Maximum Successive aces hit in a Game:
In July 2007, Sam Querrey, a Two-time Grand Slam semi-finalist hit 10 aces and won over James Blake at the Indianapolis Tennis Championships. Some people consider it to be an Open Era record.

Golden Set:
The term "Golden Set" refers to a situation in Tennis where the player wins the set without dropping a single point. The only man to do this is none other than the former US Open semi-finalist and the former World No.9 Bill Scanlon.

Most Successive Points Won on Serve:
Roger Federer is the man who actually owns all the records that exist in the sphere of Tennis. One such record that many of his fans wouldn't know about is the US Open held in 2007. While playing against Feliciano Lopez, he did something nobody could even imagine. Federer lost the opening set, but after that, he won the next 35 points on his first and second delivery. He won the match without dropping any single point.

Most Racquets Smashed in a Season:
Marat Safin, a two-time Grand Slam champion is to be credited for smashing the highest number of racquets in a single season. Back in 1999, he broke a whopping of 48 racquets in a single season, and surprisingly, his record remains intact even after 2 decades.

A streak of Successive Wins:
By tasting success in successive 74 individual matches, Martina Navratilova broke all the records in the Open Era. Even today, nobody in the world of tennis ( both men and women) has the power to do what Navratilova had done in 1984.

Maximum Grand Slam titles for a Tournament:
There are players who wait their whole lives to win that one Grand Slam tournament. But, then there are those like Rafael Nadal who won the same tournament a whopping 12 times. Isn't that crazy? But, that's true. In the last 15 years, he has won 12 times in Roland Garros.

Maximum Individual WTA Titles:
Martina Navratilova is one of the greatest tennis players with 167 crowns in the WTA. It is not an easy task to achieve this feat where there are great players like Serena Williams with 72 WTA titles.

Longest Run As No.1:
Roger Federer is the player with the record of the largest number of consecutive weeks at the top of the men's world ranking. He spent a whopping 237 consecutive weeks as the No. 1 in the world. This race began on February 2, 2004, and ended on August 17, 2008, a span of 1,659 days.

Maximum Grand Slam Wins As a Team:
Martina Navratilova and Pam Shriver hold the record of the most grand slam wins as doubles partners. Out of 104 tournaments, they won almost 79 of them.
Most aces in a single season:
The now-retired Goran Ivanisevic has held the record for most aces in tennis for more than 2 decades now; with a whopping 1,466 in the 1996 season. Ivo Karlovic (now 40 years old) holds the second-place record of 1,318 aces in 2007, it is highly unlikely he will be breaking the all-time record because of his age. American John Isner is behind Karlovic with 1,048 aces he had back in 2010.
Total weeks at No. 1:
Well, there has been a lot of debate as to which WTA player deserves the title of 'GOAT,' many has said it should be Steffi Graf because she has spent more weeks at world No.1 than any tennis player in history – 377, to be exact. To top Graf's record, Williams would first have to get back to No. 1 and stay there for over 58 weeks! Also, Roger Federer would need to step up his game to squeeze in 68 more weeks to be in the top spot!
Longest match:
In 2010, Wimbledon served as the venue for the longest game in the history of tennis. Frenchman Nicolas Mahut was defeated by American John Isner in an epic five-set battle that took 11 hours and five minutes to complete over a span of three days. Isner lost in the next round, however, could be because of the exhaustion from the previous marathon. With the changes that have taken place in Grand Slam tournaments regarding the length of games and tiebreaks and such, it is highly unlikely that this record will ever be broken.
out of this all which are your favourite Tennis records? Share as a comment