Basic Information of Serena Williams
Full Name: Serena Jameka Williams
Date of Birth: 26

th

September 1981 (Age: 37)
Place of Birth: Saginaw, Michigan, USA
Height: 5 ft 9 inches (1.75 meters)
Playing Style: Right-handed
Turned Pro: 24

th

September 1995
Career WTA titles: 58 (As

of

27

th

March 2014)
Highest WTA Ranking: 1 (First

on

8

th

July 2002)
Official Website: serenawilliams.com
Australian Open: 2003, 2005, 2007, 2009, 2010, 2015, 2017
French Open: 2002, 2013, 2015
Wimbledon: 2002, 2003, 2009, 2010, 2012, 2015, 2016
US Open: 1999, 2002, 2008, 2012, 2013, 2014
WTA Championship Titles: 2001, 2009, 2012, 2013, 2014
Other Achievements:
Olympics (Doubles): 2000, 2008, 2012
Olympics (Singles): 2012
Grand Slam Cup:  1999
Tour finals:  2001, 2009, 2012, 2013, 2014
Mixed Doubles:
Wimbledon: 1998
US Open: 1998
Team Competitions
Fed Cup: 1999
Hopman Cup: 2003, 2008
Serena Williams Biography: Personal and Professional Life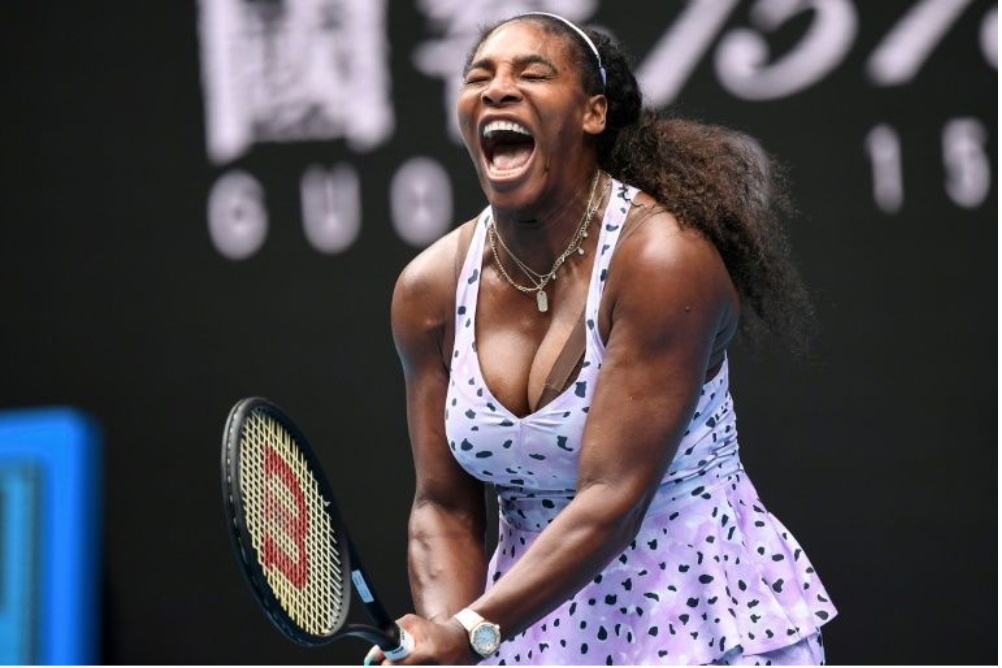 Born to Richard and Oracene Williams, Serena is the youngest of their five daughters. Serena and her elder sister Venus took on the game of tennis. Serena's father who is a former sharecropper from Louisiana was determined to make Venus and Serena rule the women's Tennis. Both Serena and Venus used to get two hours of rigorous training from their father in a court not so far from their home. Williams got married to the Reddit co-founder, Alexis Ohanian on November 16th,2017 in New Orleans; with the presence of guests like Beyonce, Kim Kardashian West, Anna Wintour, and Kelly Rowland. Williams made her pregnancy public with a sideway picture of herself, focusing the midsection, on Snapchat, captioning '20 weeks'. In Sept 2017, Williams gave birth to a daughter, Olympia. She had an emergency C-section as her daughter's heart rate was dropping during labour. Also, Williams has a history of pulmonary embolism.
Professional Life:
Serena Williams turned pro in the year 1995 and just in 12 months, the ranking jumped from 304 to 99 in the WTA Tour Rankings. In the year 1999 family rivalry came on the Tennis court and Serena Williams beat her sister Venus in the US Open finals that year. By the end of the next decade, Serena Williams has won 23 Grand Slam titles, including 10 doubles with her sister Venus Williams. She was ranked number 1 by the Women's tennis association (WTA) in singles on eight separate occasions between 2002 and 2017. She was ranked number 1 for the first time on July 8th, 2002. In the year 2012, when Serena Williams was 30 years old, she beat Poland's Agnieszka Radwanska by 6-1, 5-7, 6-2 in the Wimbledon final and thus she became the first woman to win a Grand Slam title at the age of 30 or more. Previously  Martina Navratilova won the 1990 title at the age of 33.
Other activities:
Serena Williams has also developed some interesting activities. She is also into fashion and has her own brand called 'Aneres'. Serena Williams has also appeared for The Simpsons show along with her sister, Pete Sampras and Andre Agassi. Serena Williams is also attached with Miami Dolphins Venture, Writing, and loads of Charity Work. She was also chosen as one of the 25 Most Intriguing People by the 'People' magazine in the year 2002. The 'Essence' magazine has also called her one of the 50 most Inspiring African-Americans of the USA.
Serena Williams Rivalries
Serena Williams vs Venus Williams
Martina Hingis vs Serena Williams
Serena Williams vs Jennifer Capriati
Justine Henin vs Serena Williams
Serena Williams vs Victoria Azarenka

Williams v/s Sharaporva
Endorsements:
Nike
Wilson
Gatorade
OPI
HSN

Sleep

Sheets
Mission
Miami Dolphins
"Do Not Disturb" for Apple iPhones.
Puma
Delta Airlines
Audemars Piguet
Aston Martin
Pepsi
Beats
Mission athlete care
Berlie
One piece
IBM
Mini
Intel
Tempur
Chase bank