Lance Armstrong's Doping Controversy is as interesting as his entire life story is. Born on 18th September 1971 in Dallas, Texas Lance Armstrong is probably the biggest 'fallen hero' of the world's sports history. He became the US national amateur cycling champion at the age of 20 with Subaru-Montgomery. Then he signed with the Motorola team and played in the US Olympics team in Barcelona and finished second in the year 1992. The next year he was crowned as the US National and became champion at the World Championships by beating Miguel Indurain but failed to finish at the top during that year's Tour de France.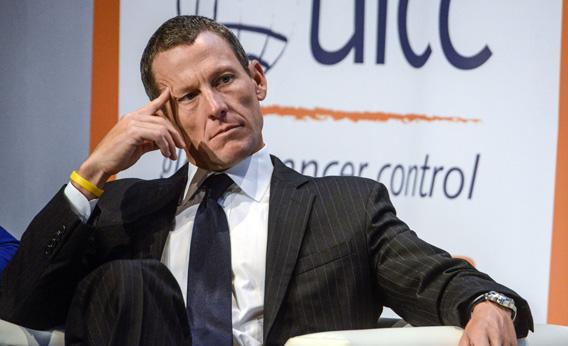 The next two years too he failed to achieve anything in the Tour de France but wins Leige-Bastogne-Leige spring classic in 1994. Hell fell on Armstrong when he was diagnosed with testicular cancer in 1996. Cancer was spreading all over his body, but Armstrong remained strong and founded the Lance Armstrong Foundation for Cancer during the same year. Over the next one year more Armstrong was getting treatment for cancer like brain surgery and chemotherapy. He was dropped by Cofidis and was signed by the US Postal Service team. Two years later in 1999 Lance Armstrong won the first ever Tour de France title by winning four stages. By 2002 Armstrong became the fifth rider to win Tour de France three times in a row and added three more in 2003, 2004 and in 2005 as well.
On the podium in 2005 he declared retirement from the professional cycling, which he overturned three years later. In a significant development during the 2010 Tour de France Lance's former teammate at the US Postal team  Floyd Landis was stripped off his 2006 Tour de France due to doping. Landis announced same allegations against Armstrong as well. A year Armstrong declared his second retirement, but the doping issue was kept on haunting him. In 2012 June, the United States Anti-Doping Agency (USADA) initiated legal proceedings over allegations of doping against Lance Armstrong.
In response,  Armstrong filed a lawsuit in a US Federal Court claiming that USADA had offered corrupt incentives to other cyclists to testify against him and hence he must get a temporary restraining order against the agency. The USADA stripped off all his seven Tour de France titles according to WADA rules and they admitted that Armstrong was involved in the most sophisticated, professionalized and successful doping program that sports have ever seen!
Lance Armstrong was kept on denying the charges till January 2013 when admitted of doping in a television show chaired by Oprah Winfrey. Soon after the show UCI's president Brian Cookson, asked Armstrong to testify completely about his doping. Armstrong asked for a 'total amnesty' which Cookson refused.