Old Trafford is one of the most famous and also the best football stadiums in the world. The primary reason for this is that football's most popular club Manchester United plays all its home games here, for over 100 years now. Isn't it an interesting fact in itself? There are many more interesting facts as well about this Old Trafford stadium, so let us have a look at them in this article, which is especially dedicated to Old Trafford.
Basic Information about Old Trafford
Address: Sir Matt Busby Way, Old Trafford, Greater Manchester, England, UK.
Nearest Transit Point: The Old Trafford Tram Station
Owner and Operator: Manchester United F. C
Capacity: 75, 635 fans
Record Attendance: 76, 962 fans during Wolverhampton Wanderers Vs Grimsby Town
Surface: Desso GrassMaster
Size: 105 x 68 meters
Construction Started: 1909
Stadium Opened on: 19th February, 1910
Tenants: Manchester United F. C – since 1910
Brief History of Old Trafford
When the Manchester United team used to be known as Newton Heath before the year 1902, they used to play their matches at the North Road and then switched to Bank Street in Clayton. But both the grounds were not in sound conditions. So After winning the FA Cup and the First Division competition, the then chairman of the club John Henry Davies decided to have a new stadium for the club despite having some serious financial situation. He donated the funds for the stadium and found a place to build the stadium near the Bridgewater Canal which is just off the north end of the Warwick Road in Old Trafford. The estimated cost for the stadium was decided as GBP 60, 000 at that time but in the end, it was increased to further GBP 30,000.
More about Old Trafford
With the capacity of hosting 75, 635 fans, the Old Trafford stadium is the second-largest stadium in the United Kingdom after of course, Wembley Stadium of London. Old Trafford is the ninth-largest stadium in entire Europe. The stadium is adjacent to the famous Old Trafford Cricket Ground and it is near to the Old Trafford Tram Station as well. Old Trafford was nicknamed 'Theater of Dreams' by the legendary English and Manchester United Footballer Sir Bobby Charlton.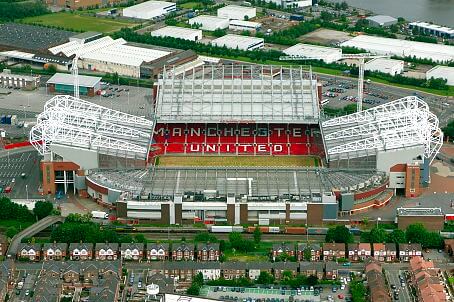 Since its expansion in 2006, the stadium now has four new stands which are, Sir Alex Ferguson Stand, South Stand, West Stand, and East Stand. Apart from hosting all the home games of Manchester United, the Old Trafford stadium has also hosted the FA Cup Semi-final between Wolverhampton Wanderers and Grimsby Town, which attracted the highest crowd to date. It has hosted FA Cup semi-finals, many England football team matches for the 1966 FIFA World Cup, Euro 96, and the 2003 Champions League Final as well. The stadium has also witnessed a Super League Grand Final of Rugby and also Two Rugby League World Cup matches as well.