History and Description of Otkrytiye Arena
Otkrytiye Arena is a multi-purpose stadium in Moscow, Russia. The Arena is used for football matches, hosting homes games for Spartak Moscow and occasionally of the Russian National team.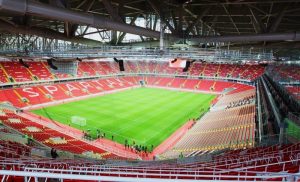 It is also called as Spartak Stadium and it also has hosted some matches of 2017 FIFA Confederations Cup and is also going to held some matches of 2018 FIFA Wold Cup. The stadium has a capacity of 45,360 people.
The groundbreaking ceremony held on July 2nd, 2007 delayed multiple times due to different reasons.
Construction scheduled to complete between 2009 and 2010. In 2009 the stadium was still in the design stage. And in 2010 the stadium project faced revision because the architectural council found that project too ordinary.
The main financing of the construction came from the club's owner Leonid Fedun through affiliated companies like Lukoil and IFD Kapital. With the construction of the stadium in 2015, the metro station Spartak, which had completed in 1975, opened for passenger traffic. On 19 February 2013, announcement made that the new stadium be call as "Otkrytiye Arena" for six years under the terms of the contract with Otkrytiye Bank.

On 21 August 2014, a monument to the Starostin brothers is near the north stands inside the stadium.
The stadium officially opened on 5 September 2014. Spartak played against Red Star Belgrade and drew 1–1, where Dmitry Kombarov scoring a first goal for Spartak at the new stadium followed by a free-kick.
2017 Confederations Cup
The matches of the 2017 confederations cup that played in the Otkrytiye Stadium are:
Cameroon 0-2 Chile
Russia 0-1 Portugal
Chile 1-1 Australia
Portugal 2-1 Mexico