Basic Info
Full Name: Henrik Stenson
Date of Birth: 5th April 197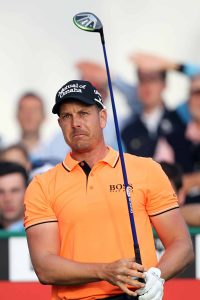 Place of Birth: Gothenburg, Sweden
Height: 6 ft 1 inch (1.85 m)
Nationality: Sweden
Current Residence: Orlando, Florida, USA.
Spouse: Emma Lofgren
Children: Lisa and Karl
Turned Pro In: 1998
Tours Play for: PGA Tour, Since 2007 and European Tour since 2001
Titles won till now: PGA Tour, European Tour, Asian Tour, Sunshine Tour, Challenge Tour
Major Titles Won: None
Other Achievements of Henrik Stenson
Challenge Tour and Rankings Winner: 2000
FedEx Cup Champion: 2013
Race to Dubai Champion: 2013
European Tour Golfer of the Year: 2013
Personal Life of Henrik Stenson
Henrik Stenson married his fellow country girl Emma Lofgren in 2007 in Dubai after he first met her a decade ago at the University of South Carolina least a decade ago. After three years of their marriage, Emma gave birth to a baby girl Lisa and two years later a baby boy Karl. Has a third child, Alice. Emma Löfgren's sister Sarah Skönby, has worked as Stenson's manager since 2008. In 2014, Henrik Stenson announced that he had invested in PGA Sweden National, his first venture in golf course ownership.
Professional Career 
Stenson turned professional in 1999 and the next year he topped the money rankings on the second tier of the European Tour. In 2001, Henrik Stenson joined the main European Tour and then won 7 European Tour Titles. From 2005 to 2008 Stenson was invariably in the top 10 of the European Order of Merit.
The first time in 2006 he came in the Top 10 golfer's list and remained for the next two years. In February 2007 Stenson became the first golfer from Sweden to win World Golf Championships in the WGC-Accenture Match Play Championship and then jumped into the top 5 Golfers Rankings. He kept on doing the good work and currently he is the No. 3 golfer in the PGA Tour Rankings.
Henrik Stenson has also represented Europe in the Ryder Cup twice in 2006 and then in 2008 where he was part of the winning team in 2006.
The only missing thing in the illustrious career of Henrik Stenson is not winning any major golfing championship, despite being on the golfing circuit for almost 15 years now as a professional golfer. Hope he will soon break this jinx and win a major title soon.
Endorsements
Hugo Boss
Mutual of Omaha
Callaway
Audemars Piguet
Delwood
FootJoy
NetJets
Titleist
Greens+
Qlik
Net Worth:
Achievements/Awards:
The open championship: 2016
Wyndham Championship: 2017
 Henrik Stenson Quote
Golf is a game where you are never going to get finished. You are never going to get kind of the end result. SO there is always room for improvement.