Basic Information about Richie McCaw
Full Name: Richard Hugh McCaw
Date of Birth: 31st October 1980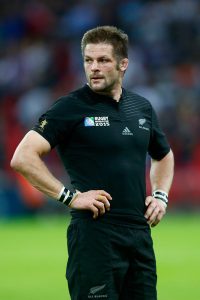 Place of Birth: Oamaru, North Otago, New Zealand
Height: 6 ft 2 in (1.88 m)
Position: Flanker
Current Team: Crusaders/Canterbury/New Zealand All Blacks
New Zealand All Blacks Player No.: 1014
Achievements:
New Zealand Player of the year: 2003, 2006, 2009, 2011
IRB International Player of the year: 2006, 2009, 2010
New Zealand Sportsman of the year: 2010, 2011
Personal Life
Born to a farmer father and a mother Richie McCaw started playing Rugby for the local rugby in South Canterbury called Kurow. But only in the year 1994, he started taking the game of Rugby seriously when he boarded the Otago Boy's High School in Dunedin. He has been linked with dancer Hayley Hold, Nicola Grigg, and Gemma Flynn. Richie McCaw's other sporting passing is 'flying' and he has been honored by the Royal New Zealand Air Force as 'Honorary Squadron Leader' as well. McCaw also has a passion for gliding and he has also shown his gliding skills in the extreme sports Television series 'Sports star Insider' which was hosted by the former Australian Rugby player Andrew Ettingshausen.
In the year 2010 along with Dan Carter, Richie McCaw was signed by the All Blacks team at a price of NZ$ 750, 000 till then end of the IRB Rugby World Cup of 2011 and became the highest-paid Rugby players in the history of New Zealand.
Professional Career
In the year 1999, McCaw was selected in the New Zealand Under-19 squad and became a part of the world championship played in Wales. Next year he also became the part of New Zealand Under-21 squad and debuted for Canterbury in the National Provincial Championship. On 31st March he made his professional debut by playing for Crusaders in Super Rugby. Same year McCaw played his first-ever international test for All Blacks against Ireland at the Lansdowne Road.
Back in 2000, McCaw was selected for the New Zealand Under-21 side where he also played the role of captain. In the same year, he was named the Under-21 Player of the Year at the 2001 Steinlager Rugby Awards.
He also made his debut for Canterbury in New Zealand's National Provincial Championship (NPC) and was named the NPC Division One Player of the Year. Post that, McCaw made his debut for the Crusaders (formerly the Canterbury Crusaders) in Super Rugby, the principal professional rugby competition in the Southern Hemisphere in 2001.
In 2004, He made almost 34 appearances for Canterbury, leading it to the NPC title. Lastly, McCaw played 145 times for the Crusaders in 2015 and helped the team in winning three times as captain.
Playing Style
Richie McCaw plays as an openside flanker predominantly. He has also played as a 'loose forward' and 'blindside flanker' along with 'number eight' as well for his club Crusaders. IRB has quoted McCaw saying that "My main role as a flanker is, defensively, to tie in with the backline to ensure that the defense works well."