Brief Information about Stacy Lewis
Full Name: Stacy Lewis
Date of Birth: 16th February, 1985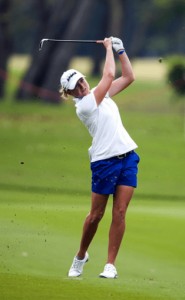 Place of Birth: Toledo, Ohio
Height: 5ft 5in (1.65m)
Residence: Palm Beach Gardens, Florida
Nationality: United States of America
Professional Career of Stacy Lewis
Turned Pro: in 2008
Current Tour Played in: LPGA
Stacy Lewis' Performance in the LPGA Major Championships
Kraft Nabisco Championship: Winner – 2011
LPGA Championship: T2 – 2012
US Women's Open: 2nd – 2014
Women's British Open: Winner – 2013
The Evian Championship: T6 – 2013
Other Achievements and Awards for Stacy Lewis
LPGA Player of the Year: 2012
GWAA Female Player of the Year: 2012
LPGA Vare Trophy: 2013
Golf Digest Amateur of the Year: 2007
Dinah Shore Trophy: 2007
Early Life and Amateur Career of Stacy Lewis
Stacy Lewis was born in Toledo in Ohio but grew up in the Woodlands, Texas just outskirts of Houston. She was graduated from the Woodlands High School in the year 2003. When she was 11 she was diagnosed with scoliosis, dieses relates to the human spine. Because of that she missed her first ever collegiate golf season as well as she was recovering from a surgery.
Stacy Lewis was honored with four time All American amateur at the University of Arkansas. She won the Women's Western Amateur golf tournament in the year 2006. In 2007 she also qualified for the US Open in North Carolina and finished at 93rd position. But in the same year she won the LPGA NW Arkansas Championship, although being a shortened tournament due to rain, Stacy Lewis's win is counted unofficial. Stacy Lewis was a member of the US Curtis Cup team in the year 2008 and became the first player ever to go 5-0 in a single Curtis Cup. Following this performance Stacy Lewis turned professional during the same year.
Professional Career of Stacy Lewis
Because of her performance in the Curtis Cup, Stacy Lewis got qualified for the US Women's Open and won medalist honors in the tournament played in Garland in Texas. She struggled to get the membership of the LPGA till that year end and her first major came in the year 2011 when she won the Kraft Nabisco Championship.
Next year Stacy won four tournaments and became the first American player to win the LPGA Player of the Year since Beth Daniel did it in the year 1994. On March 17th 2013 Stacy Lewis became the World No. 1 golfer and won her second major the Women's British Open at St. Andrews.
Endorsements by Stacy Lewis
FILA Golf Apparels
Mizuno Corp. Golf Clubs
KPMG