This is the player profile of Tiago Mendes the Portuguese and Atletico Madrid professional footballer. You will know some of his most important professional career details in this article.
Players Profile – Tiago Mendes
Basic Details about Tiago Mendes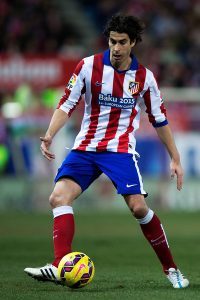 Full Name: Tiago Cardoso Mendes
Date of Birth: 2nd May 1981
Place of Birth: Viana do Castelo, Portugal
Height: 6 ft (1.83 m)
Biography Of Tiago Mendes:
Tiago Cardoso Mendes was born on 2 May 1981, simply known as Tiago is a Portuguese professional footballer who plays as a midfielder for the Spanish club Atlético Madrid. He played in four of Europe's major leagues: England, France, Italy, and Spain. Tiago notably spent six seasons with Atlético Madrid, winning five major titles. including the 2014 national championship and the 2012 Europa League. A Portuguese international on over 60 occasions, Tiago represented the nation in two World Cups and Euro 2004.
Professional Details about Tiago Mendes
Playing Position: Midfielder
Jersey Number: 5
Teams Played for
Youth Career
1995 – 19996 Vianense
1997 – 1998  Ancora Praia
1998 – 1999 Braga
Senior Career
1999 – 2002  Braga
2002 – 2004  Benfica
2004 – 2005 Chelsea
2005 – 2007 Lyon
2007 – 2011 Juventus
2010 – 2011 Atletico Madrid (On loan)
2011 –  2017 Atletico Madrid
National Teams
2000– 2002 Portugal U21
2002 – 2015 Portugal
More about Tiago Mendes
Tiago Cardoso Mendes, who is popularly known as Tiago is born a national of Portugal. Currently, he is on loan to Spain's premier football club Atletico Madrid. Known as a versatile midfielder Tiago Mendes is very well adopted with both central and defensive unit of the team and has great football skills. As a matter of fact, Tiago Mendes has played about five professional football clubs across Europe till now. He has played in professional leagues of England, France, Italy, Portugal, and now in Spain. His role with his current team Atletico Madrid has been stupendous as he has been part of the team's winning of five major titles including the 2014 national championship and 2012 Europa League.
Tiago Mendes shows his talent the first time while playing for the Sporting de Braga when he was just 19. He helped his team winning 27 games and finished fourth in 2001. After this, he moved to the big team called Sports Lisboa e Benfica and spent a full season there. He was part of the Benfica winning the Portuguese Cup that year.
Since then Tiago Mendes has been moving around the various football clubs across Europe and he has played for Chelsea in the EPL, Lyon in the French Premier League, Juventus in the Serie A of Italy and currently he is with Atletico da Madrid.
Tiago Mendes played for the Portuguese U21 team and the first time he played for his national team against Scotland in 2002. He played a crucial role in Portugal's qualification for the 2006 FIFA World Cup. Tiago Mendes part of the Portuguese team of the 2010 FIFA World Cup which lost badly. After that Tiago voluntarily quit International football but was recalled by the new manager Fernando Santos to play a friendly with France and a Euro 2016 qualifying game against Denmark.
Journey to Chelsea:
In the summer of 2004, the original saga of Steven Gerrard's possibly moved from Liverpool to Chelsea ended with the England man agreeing to stay at Anfield, Chelsea's Portuguese manager, Jose Mourinho, moved swiftly to sign Benfica's Tiago Mendes for £8m. Fresh from duty primarily as a bench-warmer in Portugal's squad for that summer's European Championships, Tiago was at the time an unknown quantity in England.
He was certainly highly-valued by Benfica, though, and the Lisbon club's chairman could barely conceal his fury that the 23-year-old should wish to leave his homeland to play in London, but Tiago rose above the criticism to make an impressive full debut at Crystal Palace in August, culminating in a fine strike which clinched a 2-0 win. However, with players such as Alexei Smertin, Scott Parker, and Joe Cole also vying for the one available spot alongside the outstanding Frank Lampard and Claude Makelele in the middle of the pitch, Tiago found himself a frequent spectator. When he did play, his discipline and work-rate could not be faulted, but often have done the hard work, his distribution would leave a little to be desired.
An occasional reluctance to put his foot in also frustrated the supporters, although his 48 appearances in all competitions throughout Chelsea's magnificent 2004/05 campaign indicate clearly his importance to Mourinho's plans. His four goals – the midfielder also scored in a draw with Bolton and in wins at Fulham and Manchester United – were all fine efforts, with the latter strike being particularly memorable, as he silenced the Stretford End with a magnificent 30-yard curling shot into the top corner. However, despite the triumphs of the season, it was clear to all observers that nobody had sufficiently tied down that third midfield spot, and in August 2005 Chelsea paid £25m to take Lyon's tough-tackling schemer, Michael Essien, to the Bridge.
A few weeks later, Tiago made an opposite journey, with the French side by paying 10m euros, roughly £7m, to capture the services of the Portuguese international. (Kelvin Barker).
CLUB CAREER:

1999–2001 Braga B 13 (0)
1999–2002 Braga 62 (3)
2002–2004 Benfica 75 (19)
2004–2005 Chelsea 34 (4)
2005–2007 Lyon 56 (9)
2007–2011 Juventus 42 (0)
2010–2011 Atlético Madrid (loan) 49 (6)
2011–2017 Atlético Madrid 126 (11)
Total 457 games (52 goals)

Honors:

Benfica


Taça de Portugal: 2003–04
Chelsea
Premier League: 2004–05
Football League Cup: 2004–05
FA Community Shield: 2005
Lyon
Ligue 1: 2005–06, 2006–07
Coupe de la Ligue runner-up: 2006–07
Atlético Madrid
La Liga: 2013–14
Copa del Rey: 2012–13
Supercopa de España: 2014
UEFA Europa League: 2011–12
UEFA Champions League runner-up: 2013–14, 2015–16
Portugal
UEFA European Championship runner-up: 2004
Orders
Medal of Merit, Order of the Immaculate Conception of Vila Viçosa (House of Braganza)