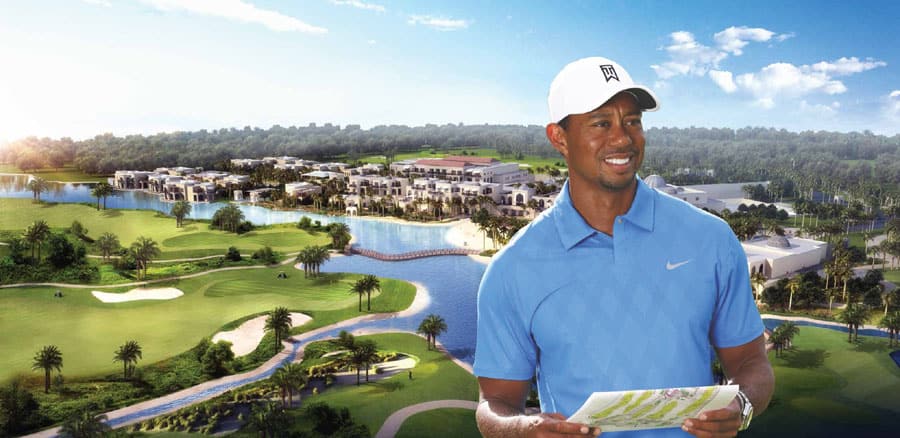 A new 18-hole golf course will soon come up in Dubai and it will be designed by none other than the former World No. 1 Tiger Woods! The promoters for this future golf course are DAMAC Properties which are one of the leading luxury real estate developers in the UAE.
The golf club under the name this golf course will come up will be called the 'Trump World Golf Club, Dubai' and it will be set in the 55 million square feet master community of the AKOYA Oxygen. The golf club will be having a 'state of the art clubhouse', a world class restaurant and pro shop. The place where this golf club coming up will have some of the premium and highest paid sky high residential flats around it.
The managing director of the DAMAC Properties Ziad El Chaar said that involving Tiger Woods in the project will help them to bring the best golf course design expertise and from that the golfers will have a worldwide playing experience. Tiger Woods is one of the most famous and iconic sportsmen in the world, he added.
El Chaar also said that the skills of The Trump Organization will meet the golfing expertise of Tiger Woods and the Trump World Golf Club Dubai will be a market leader and it will be then become the best golf course in the world.
Tiger Woods these days has marked his name when it comes to designing the golf courses. He is already involved in building or designing two golf courses where one is in the USA and the other is in Mexico. The El Cardonal Golf Course in Mexico is all set to open before the end of 2015.
When asked about The Trump World Golf Club Dubai, Tiger Woods said that he has been fortunate to play on various golf courses across the world. From original links courses of Scotland to the send belt of Australia to the parkland courses of USA. He will bring some of the elements of those great golf courses and few others around and then The Trump World Golf Club Dubai will be resulting in being the greatest golf course that most of the golfers would want to play time and again.
The preparation work for the said golf course is already underway and the due date for the opening of it is set by the end of 2017.