This is the player profile of Julio Baptista the Brazilian and Cruzeiro Esporte Clube professional football player. He was nicknamed 'the beast' due to his size and physical presence on the football field.
Basic Details about Julio Baptista
Full Name: Julio Cesar Clemente Baptista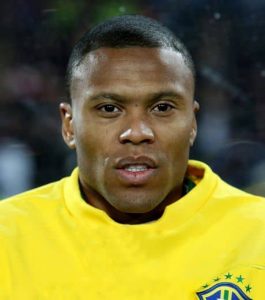 Date of Birth: 1st October 1981
Place of Birth: Sao Paulo, Brazil
Height: 6 ft 1 in (1.85 m)
Professional Details about Julio Baptista
Position: Attacking Midfielder and Forward
Jersey No: 10
Club Career:
Sao Paulo (Youth)
Sao Paulo (Senior – 2000/03)
Sevilla (2003-05)
Real Madrid (2005-08)
Arsenal (On Loan – 2006/07)
Roma (2008-2011)
Malaga (2011-2013)
Cruzeiro (Since 2013)
National Teams:
Brazil U20 (2003) | Brazil 2001 – 2010
Awards And Achievements:
Copa America winner (2003/2004) (2006/2007)
Spanish champion cup ( 2007/2008)
Spanish Super Cup winner(2007/2008)
Romanian champion ( 2018/2019)
Brazil championship cup (2013) (2014)
More about Julio Baptista
The attacking midfielder in both the Cruzeiro and in the Brazilian team, Julio Baptista is known as 'The Beast' because of his physique mainly. But when Julio Baptista began his career he was a defensive midfielder but after a big performance after another, for his hometown football club Sao Paulo FC, Julio Baptista was signed by Sevilla FC in the year 2003, which was his first big career jump. In Sevilla, the defensive midfielder in Julio Baptista was converted into an attacker or a forward. For those two seasons with Sevilla FC, Julio Baptista scored 50 goals and that impressed the Real Madrid bosses and he was signed to play for the club.
But sadly Julio Baptista's two seasons with Real Madrid was highly unsuccessful and thus he was loaned to Arsenal and later to Roma in Italy. In 2011 finally, Julio Baptista got is due when he was signed by one more Spanish football club Malaga for the next three and a half years. But in just two years, in July 2013 Julio Baptista was signed by the first division Brazilian football club Cruzeiro Esporte Clube where he was teamed up with some of the famous names like Dagoberto, Dede and Fabio. Although the contract period and amount were not released officially unofficially it is for 2 years and the said amount is around Euro 170, 000 per month salary.
Julio Baptista has played 47 games for his national team Brazil and has scored 5 goals. He played his first game for his country against Japan in the FIFA Confederations Cup and also took part in the 2005 competition as well.