We now know most of the basic things about Freeskiing and now its time to know where exactly the events related to the Freeskiing take place and what kind of equipments the Freeskiiers need. So let us know about all of it now.
Surface and Equipments used in Freeskiing
The Surfaces used for Freeskiing
There are three different kinds of surfaces used mainly for Freeskiing which are Backcountry, Park and Street. Let us know about each of them in detail.
Backcountry
Any outdoor Freeskiing which is prepared and is with the mark trails is called Backcountry Freeskiing. The backcountry fresskiing is also known as off-piste skiing as well. It is also known as the most fatally dangerous style of freeskiing although it depends on how you do it. It carries large drops, high speeds and sometimes the freeskiier doesn't know whether he or she is gonna land on hard rock or not. This variant is take place on snow filled mountains.
Park
As the name suggests itself, this is a human made surface for freeskiing and it provides the freeskiiers the areas such as rails, jumps, halfpipes and boxes. According to the 2010 Travel Guide for the Freeskiiers, Breckenridge, Mammoth, Aspen/Snowmass, Park City, Poley Mountain, Mount Snow, Whistler Blaccomb are the best places for this variant.
Street
This is a much more risky variant of Freeskiing as it is performed on the hard surface such as ledges, rails and walls. It is performed on the streets as the name suggests.
Equipments Used for Freeskiing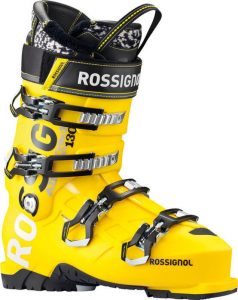 Different kinds of equipments are required for Freeskiing but generally for the newschool skiers All Mountain, Park and Powder are the main skis needed.
The All Mountain Skis is the common skie category because the majority of the skiers does not have the facility of dragging around several sets of skis to match the conditions on the day. However the narrower all mountain skis are the preferred ones.
The most symmetrical shaped skis are Park skis. These skis make the skiing much easier as it has the reinforced edges which can withstand the rails. It is known that Eric Pollard has designed these skies.
With a wide waist width, the Powder skis has a unique look and can be easily recognized. Although it helps the skiers a lot with an extra surface area, but it is also difficult to use on the slops which has less snow or groomed trails.
The big brands are also involved in the apparel part of Freeskiing and fashion has been given a major thrust in it as well. Many independent manufacturers of freeskiing apparel are now getting popular.