This is the player profile of Serbian professional woman tennis player, Ana Ivanovic. Know all the details about her personal life and her professional career in this article.
Player Profile – Ana Ivanovic
Basic Details about Ana Ivanovic
Full Name: Ana Ivanovic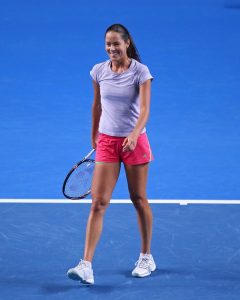 Date of Birth: 6th November, 1987
Place of Birth: Belgrade, the then Yugoslavia
Height: 6 ft 0 in (1.84 m)
Residence: Chicago, Illinois
Nationality: Serbia
Professional Details about Ana Ivanovic
Turned Pro: 2003
Playing Style: Right-Handed
Highest WTA Ranking: 1 (Achieved on 9th June 2008)
Retired: 28 December 2016
Grand Slam Singles Performances of Ana Ivanovic
Australian Open: Final – 2008
French Open: Winner – 2008
Wimbledon: SF – 2007
US Open: QF – 2012
Other Tournaments: WTA Tour Finals – SF (2007) | Olympics – R3 (2012)
Grand Slam Doubles Performances of Ana Ivanovic
French Open: 1R – 2005, 2007
Wimbledon: 3R – 2005
US Open: 3R – 2006
Grand Slam Mixed Doubles Performance of Ana Ivanovic
Australian Open: 2R – 2006
French Open: 2R – 2005
US Open: 1R – 2011
Other Mixed Doubles Tournaments: Olympics 1R (2012)
Team Tournaments Performance of Ana Ivanovic
Fed Cup: F – 2012
Hopman Cup: F – 2013
Official Website: anaivanovic.com
More about Ana Ivanovic
Ana Ivanovic was born to Miroslav and Dragana Ivanovic in the former country of Yugoslavia. Her mother is a lawyer, whereas her father is a self-employed businessman. Ana has a younger brother called Milos. Ana Ivanovic was a huge fan of Monica Seles, who also hailed from Yugoslavia and took up the tennis racket at the age of 5. During the insurgency period in Yugoslavia Ana Ivanovic had to go for training during early morning hours to avoid bombings by the NATO Forces. After overcoming so many difficulties in life and otherwise, Ana Ivanovic was firm to become a tennis player only.
In 2004 Ana Ivanovic reached the Junior Wimbledon final and gained the attention of the tennis fans. A year later in 2005, Ana Ivanovic won her first-ever WTA title by winning the Canberra International. By 2007 Ana Ivanovic was already known as the rising star of women's tennis and she proved everyone right by winning her first-ever Grand Slam tournament a year after which was the French Open. But due to bad health and repeated injuries by 2009 Ana Ivanovic was out of the Top 20 list of WTA Rankings. After a year Ana Ivanovic made a comeback to tennis and not only that she returned to the Top 20 list again. Because of some of the inconstant performances, Ana Ivanovic could not enter into the Top 10 and in 2013 she couldn't even win a single WTA tournament!! But in 2014 she made a resurgence and broke into the Top 5 women tennis players of the world.
In 2015, Ana made an impactful appearance in Paris but soon after that injuries took over her health. It was an utterly difficult period for Ana, but she managed to hold her position among her fans and the brands associated with her.
In 2016, Ana got married to the famous German footballer Bastian Schweinsteiger. In the same year, on 28th December 2016, Ivanovic ended her 13-year memorable and inspiring journey with a Facebook post and announced her retirement from tennis.
Two-years back in 2018, Ana and Bastian announced the arrival of their first child – a boy. Currently, Ivanovic resides in Chicago with her family. With her extremely good looks and amazing personality, she is highly popular among the endorsement markets. Not only that, she also enjoys huge popularity on social media
Endorsements by Ana Ivanovic
Nike
Adidas
Wilson
Yonex
Rolex

Armani

Casadei

Dubai Duty Free

Got Milk