The 'captain cool' of the Indian cricket team, Mahendra Singh Dhoni, is also known as one of the best finishers of limited over cricket. Be it One Day International or be it Twenty20 cricket, until and unless Mahendra Singh Dhoni is not out than no team in the world can guarantee its victory and take a rest. Before Mahendra Singh Dhoni, it was Australia's Michael Bevan, who used to have this best finisher's tag. With due respect to Michael Bevan's capability and also achievements, Dhoni is even one step further when it comes to finishing the game on his own. Not to forget that he has been a wicket-keeper and a captain also which Bevan was not and captaining an Indian cricket side is no joke.
 We at the 'Sportycious' have carved out five of the best innings Mahendra Singh Dhoni has ever played in the One Day International cricket. Take a look at those innings and give your views.
Check out now, Click on Next
91* Vs Sri Lanka at Mumbai (2011 World Cup Final)
Chasing a total of 277 was never going to be easy and that too in a World Cup
final. As soon as the Indian openers took guard the statement looked correct. Both the Indian openers, Sachin Tendulkar and Virender Sehwag got out cheaply by the Sri Lankan speedster Lasith Malinga in the early overs. Gautam Gambhir and Virat Kohli then joined to gather and put on 81 runs partnership as well, but that wasn't enough. After the departure of Virat Kohli, with everyone's surprise, Dhoni came out to bat and not the inform Yuvraj Singh, who later adjudged Man of the series. First with Gambhir and later with Yuvraj, Dhoni build up two big partnerships. He was very slow to start with but later put on his foot on the accelerator and started taking runs at his will. By hitting Nuwan Kulasekara with a huge six over long-on Dhoni sealed the world cup for India after the wait of 28 long years.
 183* Vs Sri Lanka at Jaipur
Sri Lanka had put on 298 runs on the board and it was really going to be a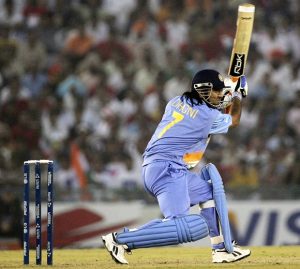 tough task for the Indians even on the placid track of the Sawai Mansingh Stadium. Dhoni was still new to the international cricket scene and this innings was really a turning point in his career. Sri Lanka tried every weapon they had like speedsters, off spinners, left armers or even wrist spinners but no one could take Dhoni off from the wickets. He was in full mood to kill the game at the soonest. All started when Dhoni hit two SIXES over extra cover on Chaminda Vaas' bowling and then he never stopped. He made 183* which became the highest ODI score ever made by a wicketkeeper. Previously this record was held by none other than Adam Gilchrist. Dhoni also came close to break the highest score by an Indian in an ODI, held by Sachin Tendulkar (186) but probably the Lankans were few runs short in giving the target to India. Dhoni bludgeoned 15 FOURS and 10 SIXES, one short of Shahid Afridi and Sanath Jayasuriya's record of 11 SIXES. India romped pass the score with four overs to spare. The surprising thing was that the next highest score after Dhoni was 39 runs by Virender Sehwag in a chase of 299 runs!!
75* Vs Pakistan
at

Lahore

It is always tough to play against Pakistan, especially when you are playing in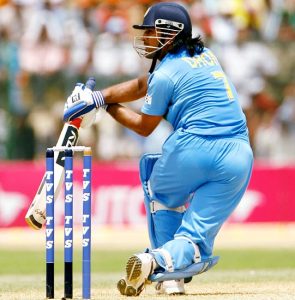 your archrival's den. Pakistan had a bumpy start, but then Shoaib Malik made a century and Abdul Razzaq remained unbeaten with 64 runs to propel Pakistan to 288 for 8. India too had a bad start with Gambhir and Irfan Pathan went back to the dressing room soon. It was all depending on Sachin Tendulkar, who did not disappoint and made 94 runs out of 104 balls he faced. But that was also not enough. India still needed 102 runs and Dhoni and Yuvraj joined hands at that point of time. They added those 102 runs in just 13 overs with Dhoni was the senior partner by scoring almost 73% of those required runs. Without taking any risk Dhoni scored 73 runs off just 46 deliveries, which had 13 FOURS! Yuvraj, who is known aggressor chose to remain silent and watch this run feast from the other end.
44* Vs Australia at Adelaide
India was given a target of 270 which they never chased in the past. India had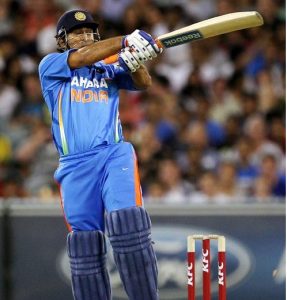 already lost four games at Adelaide hence the history was also not supporting them. Gambhir and Sehwag started well, but when Sehwag got out the only in-form batsman Virat Kohli too got out cheaply. But still Gambhir and Rohit Sharma kept the momentum going by rotating the strike. But as it has been seen before, Rohit Sharma threw away his wicket and Gambhir too got out at his personal score of 92. Australia started to tighten the noose and Dhoni too struggled to score. Even while playing in a powerplay it took 13 balls for Dhoni to score his first run. India needed 40 runs in the final five overs and 12 runs from the last over. In the previous over India could manage only four runs and lost the wicket of Ravindra Jadeja. Clint McKay gave away only one run in the first two balls of the last over. Hence India now needed 12 runs from last four balls. Dhoni picked up a delivery from McKay which was pitched outside of his off stump and stroked it to long-on for a huge SIX!! Panicked McKay bowled a waist high full toss next though given no ball, Dhoni got caught by Warner at the boundary but he took two runs out of it and then got three more runs in the end to give India a famous victory down under.
45* Vs Sri Lanka at Port of Spain
The entire Tri-nation Series in the West Indies in 2013 was a low scoring one.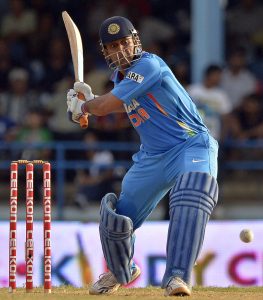 Dhoni was not feeling well, hence his deputy Virat Kohli took over the captaincy. But when India reached the final, despite being injured Dhoni took a risk and played the game. Sri Lanka could put only 201 in 48.5 overs, but knowing the nature of the wicket everyone knew that it is not going to be easy for India as well and that exactly what happened. India was not looking good at all and it all came down to the final two overs when India needed 17 runs out of those two overs. Angelo Mathews bowled a decent 49th over to the 11th man Ishant Sharma by giving away only two runs. Although Dhoni denied a single as well during that over as he wanted the strike for the full over. Last over, in which India needed 15 runs, was to bowl by Eranga and Dhoni ordered new bat which was a bit heavier than the one he used till now. First ball of Eranga was a bit wide of the off stump and Dhoni tried to reach with a flash of his bat but failed. Second ball and Whack! Dhoni hit the ball straight over the bowler's head and sent it on the roof! 9 needed off 4. Third ball and Dhoni dispatched it to the point boundary for a FOUR! Now only 5 needed of 3 and just a short of the full pitch ball from Eranga was sent to the cleaners for a SIX! By Dhoni over extra cover boundary. 45* from 52 balls may not look handsome, but Dhoni kept cool till the last over and wrote his own script.