In simple words, Scuba Diving is an activity who offers the adventurous people to see what kind of life it is there deep inside the lakes, rivers, sea and oceans. The word 'scuba' actually means the "self contained underwater breathing equipment" so in simple words the scuba divers have to wear equipment which allows them to stay below the water level for a longer period of the time. The majority of people vouch for scuba diving only for leisure purposes. These people want to get knowledge of what kind of life is there below the sea level or the ocean level. Scuba Diving is also used for commercial, scientific and military purposes as well.
Most of us always think about the sea whenever we hear Scuba Diving but the matter of fact is that many divers around the world actually like to dive in the lakes or want to explore the river waters. Those people who want to be bit of adventurous and want Scuba Diving to start with must take the beginner's diving class. Such classes will help you to learn the skills which are required the most in the Scuba Diving.
The Scuba Diving classes will teach you on the usage of equipment usage, techniques on how to defend yourself when such a situation arises, and they will also teach you the ocean awareness as well. These classes have up to date equipments and technology so that they can provide the latest knowledge to their students. These classes are there in the most of the countries where adventure sports are being part of the life.
Scuba Diving Equipments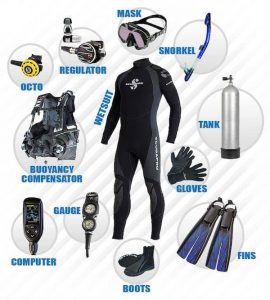 Scuba Gear contents Mask, Dive Regulator and a wetsuit. A Scuba Diver must choose a Scuba Diving Equipment which is comfortable to him/her, fits him/her well and even if you agree with this or not, it should look good as well. Remember, purchasing a Scuba Diving Equipment is a long term investment for the type of Scuba Diving you want to do.
Top Scuba Diving Locations
The Red Sea, Egypt – Dahab, Hurghada, Marsa, Alam
Turks and Caicos, Caribbean Islands
Thailand – Mu KohSimilanNationalMarinPark
Hawaii – The Big Island, Lanai
Belize – Blue Hole
The Great Barrier Reef, Australia
Mexico – Cozumel
Honduras – Roatan and the

BayIslands

Southern Caribbean – Bonaire
USA – Florida Keys