The West Indies Cricket team is a team of teams. Yes, the West Indies cricket team who plays its international cricket under this name is actually a confederation of 15 English-speaking Caribbean Countries. Most of them were British dependencies in the old time. The team has seen its high and low since it played its first test match against England in on 23rd June 1928 till now. Currently, the West Indies cricket team is going through a low in all three categories of cricket. Two support the statement the team has three different captains for the tests, ODIs and the T20I games.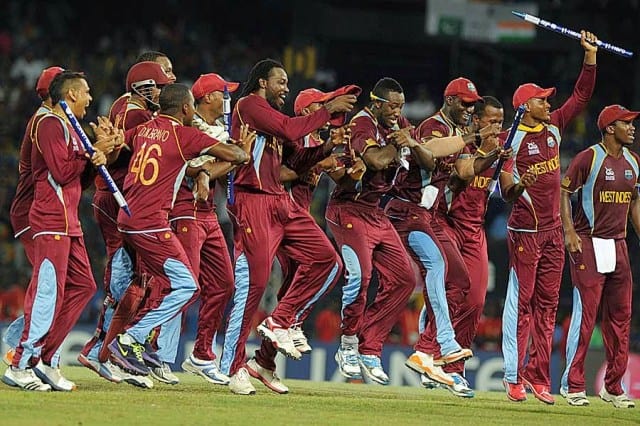 But it wasn't like that from the better part between 1970s to 1990s when the West Indies cricket team was the most feared competitors on the cricket field, mainly because of their fast bowlers like Malcolm Marshall, Andy Roberts, Joel Garner, Michael Holding, Curtly Ambrose and Courtney Walsh and batsmen like Sir Garfield Sobers, Gorddon Greenidge, Clive Lloyd, Alvin Kallicharran, Rohan Kanhai, Sir Issac Vivian Richards and of course Brian Lara.
Apart from above the West Indies has given more legends like George Headley, Sir Frank Worrel, Sir Clyde Walcott, Sir Everton Weekes and Wesley Hall. The history of West Indies cricket is so rich that it can make any team feel jealous about it. The team has won three ICC Cricket World Cups of 1975 and 1979. They have also won the ICC World Twenty20 in 2012 and the ICC Champions Trophy in 2004. They are the first team to win back to back World Cups as well.
The West Indies Cricket team shares a healthy rivalry with the English Cricket team under Wisden Trophy and against Australian Cricket Team under the banner of the 'Sir Frank Warrel Trophy'. West Indies is among the three teams which have been involved in a tied test match. The other two are Australia and India.
The Caribbean Nations which makes the West Indies Cricket team are…
Antigua and Barbuda
Barbados
Dominica
Grenada
Guyana
Jamaica
Saint Lucia
Saint Vincent and the Grenadines
Trinidad and Tobago
Saint Kitts and Nevis
Anguilla
Montserrat
The British Virgin Islands
Sint Maarten
US Virgin Islands
All the nations mentioned above construct a common body called West Indies Cricket Board WICB and play under its constitution and flag for the international games.