Surfing is an adventure sport which is primarily found in the ocean where the waves are suitable for the surfing. It is basically a water sport where 'a surfer' rides on board in a deep face of a moving wave by moving forward. The term 'Surfing' itself means an act of riding a wave. Many surfers are also experts on riding without a surfboard as well.
Surfing equipment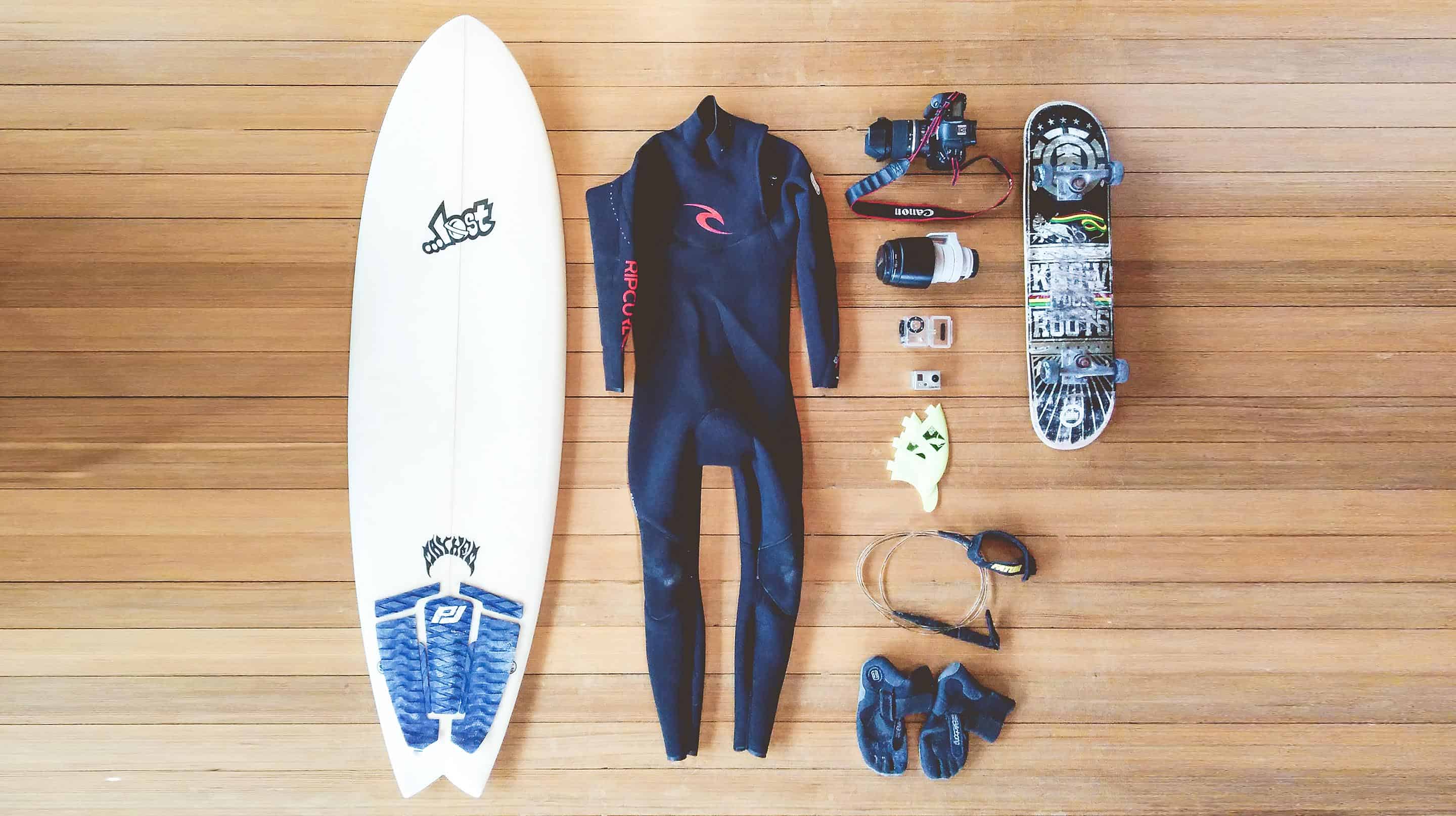 Surfboards: There are different kinds of surfboards to manage different kinds of waves. Here are the main surfboards generally used for surfing.

Short board or Thruster

:

A ripping sized Surfboard between 5'8" and 6'10"
Long Board or Malibu: Used for cruising

Mini-Mal

between 7'2" to 9' and

Mals

9' plus
Fish: Similar to short board, but bit shorter and wider than it, between 4'8" and 6'
Gun: It is a big wave board between 7'10" to 12" plus
Stand Up Paddle board: It is for standing up and paddling the waves with a paddle comes between 9' to 12'

Wetsuits: You can't find a suitable weather in every part of the world when you are out there for surfing. Wetsuit helps you to remain comfortable in any weather because you will not get warm

weather

every time and you can't stop yourself from surfing.
Rash Vest: It's a protective item which a surfer wears underneath the wetsuit to protect

himself

from irritation from the sea water especially on chest and on

underarms

. The Rash Vest is made from soft neoprene and nylon mix.
Boots, Hood and Gloves:

Boots: It is must so that the cold weather doesn't affect a surfer. It comes in different kind of thickness.
Hood: To be wear on the head to protect it from a splashy wave. Very helpful when there is an extreme weather.
Gloves: Extra protection for your fingers so that they remain loose while you surf.
 Top Surfing Locations of the world
Trestles (South California, USA)
Nazare (Portugal)
Chicama (La Liberted – Peru)
Supertubos (Peniche, Portugal)
ZicatelaBeach (Mexico)
Costa da Caparica (Almada, Portugal)
Pipleline (Hawaii, USA)
Teahupo'o (Tahiti)
Le Libertad (El Salvador)
Mavericks (California, USA)
BellsBeach (Victoria, Australia)
JeffreysBay (Eastern Cape, South Africa)
NorthCoast  (Angourie to Byron Bay, New South Wales, Australia)
ArugamBay, (Ullae, Pottuvil, Sri Lanka)
Snapper Rocks (Queensland, Australia)
Noosa (Point Break, Queensland, Australia)
Northern Beaches (New South Wales, Australia)
Seal Rock and Pacific Palms (New South Wales, Australia)
MargaretRiver (Yallingup and Prevelly Park, Western Australia, Australia)
Crescent Head (New South Wales, Australia)