Young &

Hottest Female Tennis Players
During this year plenty of new faces have come across the women's tennis and some of them have even come at the top as well. Among them, Eugenie Bouchard and Simona Halep are the most convincing to be recognized as top players to be in the future. But along with these two, there are three more players who can do better than in what they have achieved. So let us have a preview of five of the young ladies' tennis players to watch out for.
Top Young Female Tennis Players
Simona Halep
Starting with first thing first. This girl comes with huge potential and has already made her mark in past one year. She has a staggering 46 wins under her belt. Wins in Doha and Bucharest have helped her to capture the World No. 2 Ranking.
Although she failed to win a grand slam this year she certainly gave a run for money to Maria Sharapova in the finals of the French Open and to Serena Williams in the Round Robin match of the WTA Championships. Although Help is best on clay courts if she becomes a little more aggressive then she can add all the surfaces where she can feel comfortable and win.
Eugenie Bouchard: Hottest Female Tennis Players 2018
Whenever there is a talk about the most potential young female player around the circuit, Eugenie Bouchard always finds a place in them. This 20-year-old Canadian has taken the WTA circuit by storm and has become immensely popular among the fans as well. 2014 was although not that good at the end but the major part of it was really good for her.
This year 'Genie' Bouchard has played two grand slam semis in the Australian Open and then in French Open and has played a Wimbledon final as well. On all three occasions, her inability to convert tense moments or important moments in her favor has caused her dearly, so if she can make a rapid workout on this, she can still be in the top 10 of the WTA rankings in 2015.
Belinda Bencic
Switzerland has produced some of the very special tennis players over the years, be it Martina Hingis or Roger Federer, or even Stan Wawrinka. Is Belinda Bencic going to join that league soon? Well probably yes if you look at her giant leap from 212 in January to 33 in December.
She is just 17 and has already been recognized as the best WTA Newcomer of the Year. In the US Open, Belinda Bencic made a quarter-final appearance which made her the youngest to reach that point since 1997. If you watch Belinda Bencic playing you can say that she is a powerful player but then she hardly relies on that, she has a powerful weapon of groundstrokes which help her to win the games.
Gabrine Muguruza
This young girl is not on the list because she had upstaged Serena Williams in the second round of the French Open this year. She is here because of the sheer potential she has to make mends in the coming year.
Apart from Serena Gabrine Muguruza has beaten few more top 10 players in 2014 like Caroline Wozniacki and Simona Halep as well. She has been good at hard courts also but what she needs is consistency.
She won few titles at the beginning of this year but then she lost the momentum. Although she has 41 wins this year and has helped her to keep herself in the Top 20 but what she needs is to be in the Top 10 and she can really do that.
Madison Keys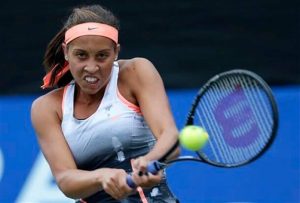 One of the most powerful ladies players currently playing on the WTA circuit is Madison Keys. She has been recognized with the most potent serves on the WTA tour and remembers she is just a teenager!
She has already been called a future star as the aggressive nature of her play is the quality the tennis pundits looking for her to go all the way. She also believes in "I strike first" which always puts her opponents in danger. Powerful shorthands are the main weapon for Madison Keys and have plenty of future in both grass and hard courts. But what she actually needs is to control her power that will make her the most consistent player and thus she will surely live up to the expectations.