Basic Information about Simona Halep
Full Name: Simona Halep
Date of Birth: 27th September, 1991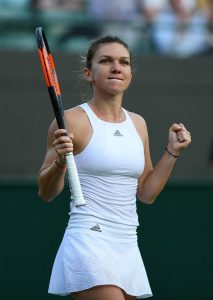 Place of Birth: Constanta, Romania
Height: 5ft 6 in (1.68 m)
Playing Style: Right Handed
Professional Details of Simona Halep
Career Titles: 8 WTA, 6 ITF
Highest WTA Ranking: 2 (Achieved on 11th August, 2014)
Grand Slam Performance by Simona Halep
Australian Open: QF – 2014
French Open: Finalist – 2014
Wimbledon: Semi Finals – 2014
US Open: 4th Round 2013
Doubles Record:
Highest WTA: 146 (Achieved on 11th June 2012)
Grand Slam Doubles Record of Simon Halep
Australian Open: 1st Round – 2011, 2012, 2013 and 2014)
French Open: 2nd Round – 2012
Wimbledon: 1st Round – 2011, 2012 and 2013
US Open: 2nd Round – 2011
Early Years of Simona Halep's Career
Simona Halep was born in a sports playing family where his father Sageata Stejaru used to play in the lower football league of Romania. Her older brother too used to play tennis and Halep used to emulate him always when she was just 4 years old. At the age of 6 Simona Halep started to practice tennis daily and when she was 16 she had to relocate to Bucharest for better training and to establish a tennis career. Justine Henin and Andrei Pavel is Halep's idols since she was young.
Summery of Simona Halep's Tennis Career
Simona Halep a Romanian woman tennis player is the current World No. 2 in the ATP Rankings. She was first broke into the top 50 at the end of the year 2012. Despite not winning any Grand Slam tournament as of now, Halep is at that higher ranking. She was first came into the Top 20 by August in 2013 and entered in World's Top 10 Women Players list in January this year. Yes Halep has not won any Grand Slam title, but she certainly has won 6 WTA titles in a same calendar year of 2013. Previously only Steffi Graf had achieved this feat in the year 1986.
Simona Halep's best performance in a Grand Slam tournament came this year when she fought hard in a 3 set final of the French Open 2014. Halep has been named as 'Most Improved Player' by WTA and also by ESPN.
Endorsements by Simona Halep
Lacoste used to be the product Simona Halep was endorsing, but for sometimes now she is endorsing Adidas.