History Cosmos Arena Stadium
Cosmos Arena is a football stadium in Samara, Russia. It is known as Samara Stadium or Samara Arena. It is currently under construction and is going to be the new home of FC Krylia Sovetov. During the World Cup it will be called as Samara Arena.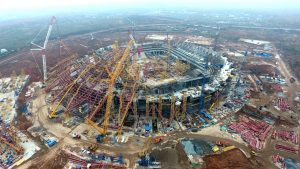 Initially, plans for the new stadium were made around 2010, and in 2012 when the city of Samara got selected as one of the host cities of the World Cup. Works started in the middle of 2014, and are scheduled to be completed in late 2017.
Description of Cosmos Arena Football Stadium
The most characteristic feature of the Cosmos Arena is, its 65.5 meters high dome roof, which is made up out of 32 panels. The arena will boast 44,918 seats, which will be divided into two tiers. The project is expected to come at a cost of $320 million.
The Cosmos Arena was initially planned to be built on the end of a peninsula where the Samara and Volga rivers meet. However, the site was moved to the north of the city due to a lack of infrastructure.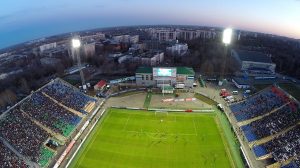 During the World Cup, this Arena is scheduled to host four group matches, one round of 16 match, and one quarter-final. The arena will furthermore become the new home of local side Krylia Sovetov, replacing their current Metallurg Stadium.