Mountaineering is often described as mountain climbing. Even sky mountaineering is also part of the mountaineering. Hiking, Scrambling, Rock Climbing and even crossing glaciers are part of the mountaineering. The main aim of mountaineering is to reach the top or the highest point of undiscovered big mountains. There are different specializations people do in mountaineering but major areas of specialization in mountaineering are Snow-craft, Skiing and Rock-craft. It all depends on what kind of surface you use, whether its rock, snow or ice. Mountaineering can not be anybody's cup of tea, it requires huge experience, training, athletic ability and technical knowledge attached with it. All these things help the mountaineer to climb the mountain with safety.
Mountaineering, all the things you should know.
There is a common term form mountaineering in Europe which is 'Alpinism'. This term is specifically used for the difficult and high mountains which people normally finds in Alps. The mountaineer who possesses great skills of mountaineering is called Aplinist! This word Alpinism came in the 19th century when mountaineering became a recreational or sports activity and it became a different activity altogether than just climbing a mountain or hunting for a religious pilgrimage.
The highest authority who manages the sport of mountaineering is UIAA or Union Internationale des Associations d'Alpinisme. This institution takes care things like medical, mountain protection, safety, access, youth interests and of course ice climbing as well. Prior to the 16th century, there was some superstition about climbing mountains and people used to scare about mountaineering as the peaks of the mountains, as per their beliefs were close to the heavens. Mountains like Mount Olympus in the ancient Greece remained untouched till centuries. But the first mountaineering happened during the Enlightenment era when Richard Pococke and William Windham made the first ever visit the Chamonix in the year 1741 they were the first person to climb the Mount Blanc in France. Although before that in the year 1573 Francesco De Marchi and Francesco Di Domenico did ascend the Corno Grande which is the highest peak in the Apennine Mountains.
But the first ever attempt of the mountaineering as a sport happened in 1854 by Sir Alfred Wills who is responsible for making the mountaineering more fashionable. He started what later became the Golden age of Alpinism as he started the first ever mountaineering club called the Alpine Club in the year 1857.
Mountaineering Expansion
After the Europe, the Mountaineers shifted their focus towards the other mountain ranges around the world and Pyrenees and the Caucasus Mountains were among the first mountain ranges which came under their radar. D. W. Freshfield was the first man who successfully reached the peak of the Mount Kazbek. By late 1880s most of its peaks were sealed my other mountaineers as well. It is an unwritten fact that when any sport reaches and then gets popularized in the North America it gets wider acceptances. Same thing happened with mountaineering as well and when it reached North America in the 1800s with Pikes Peak in the Colorado Rocikes became the first peak to be climbed by Edwin James and two others in 1820, the sport of mountaineering got a much-needed boost.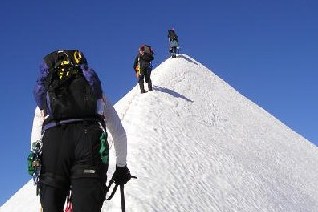 Slowly more and more peaks were started to be conquered the most popular among them were Fremont Peak in Wyoming, Pico de Orizaba in Mexico, Mount Saint Elias on the Alaska-Yukon border, Mount Mckinley and Mount Logan the tallest peak in Canada. Then came turn of South America where The Andes was the target and mountaineering on The Andes was begun in 1879-1880. The first peak which was conquered was Chimborazo in Ecuador and later The Cordillera, Maipo volcano, Aconcagua, The Andes of Bolivia and Tierra del Fuego were also taken care of.
By the turn of 1900s, the Southern Alps in New Zealand was also climbed first by the Reverend Green and Tom Fyfe when they partly climbed Aoraki/Mount Cook. Ludwig Purtscheller and Hans Meyer were the first one to climb Mount Kilimanjaro in Africa and Halford Mackinder and H. J. Moore climbed Mt. Kenya and Ruwenzori respectively. But the peaks of the Himalayas were still not conquered and they had always been the final frontier for most of the mountaineers around that time. The Karakoram was first climbed by Sir William Martin Conway. But Albert Mummery died while trying to the mountain the Nanga Parbat. But later the Gurkha sepoys came in to help and Peaks like Nun Kun were conquered.
Some of the famous conquering of the Himalayas are Oscar Eckenstein and Aleister Crowley's K2 and then a failed attempt by Crowley again for Kanchenjunga. On May 29, 1953, New Zealand's mountaineer Sir Edmund Hillary and an Indian Gorkha Tenzing Norgay climbed the Mount Everest successfully from the south side of Nepal.
Important things to know about Mountaineering
Plenty of things one has to know and remember when he or she goes for mountaineering. It doesn't matter whether the Mountaineer is a pro or first starter these things have to be remembered and taken care of by them. First of all, they need to know on which terrain they are going to perform. If it is a snow then the Mountaineers have to progress on foot because the snow allows them to do so. A mountaineer can even use skies sometimes when ascending or descending to or from a mountain. Plenty of techniques is prescribed to have a successful mountaineering. The other terrain is glaciers and it has curves too so it is dangerous terrain. There can be cracks inside glaciers which are not visible hence the mountaineer has to take extraordinary care about it. Ice climbing is also part of mountaineering. Over here the mountaineering is steep and hence things like anchors are highly recommended.
As we have mentioned about the mountaineering can take an entire day or even more time hence the Mountaineers need some shelter to spend a night or in the case of any difficult natural situation. Base Camp is the safest shelter as it is far away from demanding natural situation. They have filled with facilities also. Huts are another option for shelters at it carries food and blankets, pillows etc. But guests generally bring their own material with them. Bivouac or bivy or bivvy are the makeshift shelters for mountaineers to have a brief rest or sleep. It is not a complete or equipped shelter mind you. A bivvy can protect the mountaineer from outside moist.
Tent is the most popular shelter for mountaineers as they can even carry them while mountaineering. They can put a tent at the middle of their journey where they can take a night's rest. Although the tent doesn't provide any security in case of any natural calamity. There are natural Snow caves and there is man made snow caves also. These are probably the best option for rest as they are made in the mid path of a mountain. Plus they are naturally warm hence mountaineers prefer to take a breather in snow caves.
Mountaineers always have to take care about falling rocks, ice, falls from rocks and avalanches. These hazards will always be there and no one can predict about their actions. So one has to be ready and awake about it always. If you take enough care about these hazards, then you are going to enjoy mountaineering for sure.