Are you ready to delve into the world of pickleball, where the game's essence lies not just in the paddle, but also in the playing field itself? Welcome to our comprehensive guide on pickleball court dimensions, a fundamental aspect of this rapidly growing and exhilarating sport.
Pickleball, a unique fusion of tennis, badminton, and ping pong, has taken the sporting world by storm, captivating players of all ages with its blend of strategy, precision, and agility. While the paddle and the ball are critical components, it's the pickleball court dimensions that form the canvas upon which the game unfolds.
In this exploration, we will leave no stone unturned as we dissect the precise measurements that define a standard pickleball court. We'll answer questions such as, "What size is a pickleball court?" and "How do pickleball court dimensions compare to those of a tennis court?"
But our journey doesn't stop at the sidelines. We'll venture into the realm of backyard pickleball, discussing the space needed for a pickleball court, ensuring that enthusiasts can savor this dynamic sport right at home. Additionally, we'll explore the fascinating process of converting tennis courts into pickleball-sized arenas, offering valuable insights for facility owners and enthusiasts alike.
So, whether you're a seasoned pickleball pro or a curious newcomer, prepare to embark on a quest to understand the very heart and soul of the game – the pickleball court dimensions. Let's dive in and discover the dimensions that define the pickleball experience, one thrilling point at a time.
Dimensions/Measurements
Embarking on the thrilling journey of pickleball entails more than just grasping the basics of the sport – it involves an intricate understanding of the stage upon which the action unfolds. Welcome to our comprehensive exploration of pickleball court dimensions, a crucial facet of this exhilarating pastime.
Dimensions/Measurements: Unveiling the Playing Field
In the realm of pickleball, where precision meets agility, the dimensions of the court lay the foundation for thrilling rallies and strategic maneuvering. Let us meticulously dissect the intricate details that define the size and measurements of a pickleball court.
What Size is a Pickleball Court?
At the heart of every exhilarating pickleball match lies a standardized court size. A regulation pickleball court stretches 20 feet (6.1 meters) in width and extends gracefully to a length of 44 feet (13.4 meters). These meticulously regulated dimensions apply to both singles and doubles play, ensuring a level playing field upheld by official governing bodies.
What are the Dimensions of a Pickleball Court?
A pickleball court, sculpted to perfection, boasts precise measurements of 20 feet by 44 feet. This symmetrical layout serves as the canvas for intense competitive play, maintaining the delicate balance between fairness and strategic brilliance that defines the sport.
How Big is a Pickleball Court?
While the dimensions of a pickleball court may not appear vast compared to those of other sports courts, they are meticulously tailored to suit the game's quick-paced and dynamic nature. The court's size, measuring 20 feet by 44 feet, strikes a harmonious balance between agility and the demand for skillful play.
Length of a Pickleball Court
As we tread deeper into the realm of pickleball court dimensions, the length of this vibrant arena emerges as a vital component. As previously noted, the length of a regulation pickleball court stretches an intriguing 44 feet. This generous span allows players ample room for extended rallies and strategic placement of their shots, fostering intense and memorable gameplay moments.
Width of a Pickleball Court
Complementing the court's length, its width plays a pivotal role in determining the game's dynamics. The width of a pickleball court measures 20 feet, granting players the necessary room to showcase their skills, execute maneuvers, and engage in thrilling rallies.
Pickleball Court Dimensions: A Summary
In conclusion, the official dimensions of a pickleball court paint a vivid picture: 20 feet in width and 44 feet in length. This seemingly compact canvas is where the magic of pickleball unfolds, combining agility, skill, and strategy into a dynamic and action-packed sporting experience. Join us as we continue to explore the multifaceted world of pickleball, where each dimension has a story to tell and every inch of the court is filled with excitement and anticipation.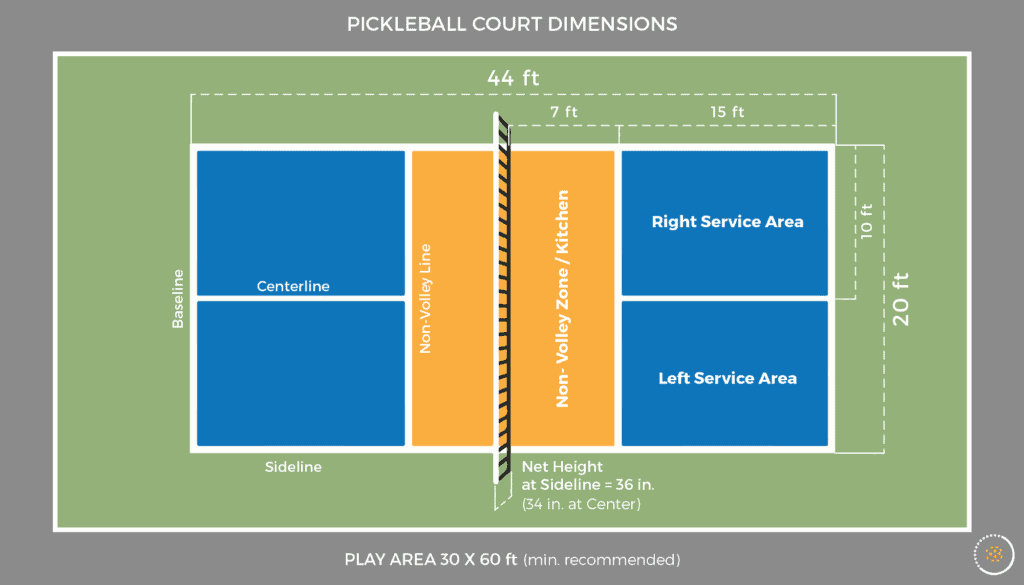 Building/Setting Up Pickleball Court
Now that we've delved into the intricacies of pickleball court dimensions, it's time to explore the fascinating realm of building and setting up pickleball courts. Whether you dream of enjoying spirited matches in your own backyard or envision creating a top-tier facility, understanding the art of construction is essential.
Backyard Pickleball Court Size: Unleashing Your Ambitions
For those with the dream of hosting epic pickleball showdowns in the comfort of their homes, the journey begins with space. A standard backyard pickleball court, designed for optimal play, ideally spans 34 feet in width and extends gracefully to a length of 64 feet. This generous allocation accommodates the court's official dimensions while ensuring additional space for safety margins and out-of-bounds areas, guaranteeing a secure and enjoyable gaming experience.
Space Needed for a Pickleball Court: Tailoring to Your Aspirations
The space required for a pickleball court is a versatile canvas, adaptable to both recreational and competitive desires. For those aspiring to official dimensions, earmarking a minimum area of 30 feet by 60 feet is the starting point. However, for an ideal playing environment that allows players to explore their full potential, the recommended size expands to an enticing 34 feet by 64 feet.
How Much Space for a Pickleball Court? Crafting Comfort
The heart of a pickleball court lies in the space it offers for fluid gameplay. To ensure an uncluttered and enjoyable playing experience, a minimum space of 30 feet by 60 feet is the golden standard. Yet, if you have the luxury of space, embracing the dimensions of 34 feet by 64 feet is a choice that promises thrilling rallies and strategic brilliance.
Pickleball Court Layout Dimensions: Precision in Play
As we dig deeper into the world of pickleball court construction, the layout dimensions come into focus. The net, a focal point of the game, stands at a majestic 36 inches in height at the center and a strategic 34 inches at the sidelines. Furthermore, the kitchen or no-volley zone, extending 7 feet from the net, adds an element of strategy and finesse to every point.
Regulation Pickleball Court Measurements: Nurturing Fair Play
In the realm of competitive pickleball, adherence to regulation dimensions is paramount. A standard pickleball court boasts dimensions of 20 feet in width and 44 feet in length, catering to both singles and doubles play. Building a court that mirrors these measurements is not only a requirement but also an assurance of fairness and consistency in the game, where every point counts.
Constructing a pickleball court, whether it graces your backyard or a designated facility, is a meticulous endeavor. It requires careful planning, precise measurements, and a commitment to delivering an authentic playing experience. As we continue this journey into the world of pickleball, we'll uncover more aspects of this captivating sport, equipping you with the knowledge and enthusiasm to embrace every rally and master every shot.
As we draw the final lines in our exploration of pickleball court dimensions, we find ourselves not just at the conclusion of a blog but at the beginning of a thrilling journey into the world of sports and wellness. Before we part ways, let's revisit the dimensions we've uncovered, both in the context of pickleball and the broader sports landscape, and how they connect to our quest for health, fitness, and sporting excellence.
Pickleball, a sport that rests upon the precise dimensions of its court, epitomizes agility, strategy, and camaraderie. The court dimensions, measuring 20 feet by 44 feet, are a testament to the fusion of skill and space that defines this fast-growing phenomenon. While the sport is celebrated for its accessibility, it's equally cherished for its capacity to challenge players of all levels, fostering a sense of community and competition.
Now, what about those pickleball socks? As seemingly peripheral as they may be, the right pair can enhance your performance on the court, providing support, comfort, and style as you navigate the pickleball terrain.
In the broader sporting universe, we've touched upon the best tennis courts, highlighting the distinct dimensions that make each court unique, much like the diversity of sports itself. Tennis, like pickleball, invites players to explore the nuances of the court dimensions, with its own set of challenges and rewards.
Speaking of challenges, we also briefly explored common tennis injuries, a reminder that even on well-constructed courts, player safety remains paramount. Understanding these risks empowers athletes to take preventative measures and enjoy their chosen sport to the fullest.
Now, let's pivot to another dimension of well-being – hot yoga. We've mentioned the benefits of hot yoga, which extend beyond the pickleball court or the tennis court. The practice of hot yoga offers a holistic approach to physical and mental fitness, promoting flexibility, stress relief, and mindfulness. It's a dimension of wellness that complements the sporting journey, allowing athletes to nurture their bodies and minds.
And what about those towering giants of sports, the most valuable sports teams? In a dimension where economics meet fandom, these teams inspire a global following, uniting people across borders and cultures. They remind us that sports are not just about playing fields but also about the collective passion and unity they generate.
In conclusion, the dimensions we've explored, from pickleball court size to the world of sports and wellness, offer us a tapestry of possibilities. They invite us to step onto the court, whether it's a pickleball court, a tennis court, or the mat in a hot yoga studio, and explore our potential. They remind us that the pursuit of excellence, in sports and in life, is a multidimensional journey that enriches our physical and spiritual selves. So, lace up those pickleball socks, step onto the court, and embrace the dimensions of possibility that await.