Even with the worldwide appeal of Football, building an audience remains as tricky as ever.
If you have ever tried to live stream any event, then you probably will know that attracting an audience is the trickiest part of the entire process. No matter how labor intensive the other components may be, it's still the most exhilarating part. Mainly because all your hard work towards the other parts of the process will go to waste if you don't get it right. After all, there's no point of live streaming if no one is watching and it can be very demotivating.
On this article, we will discuss ways that will help to attract an audience to the football live streams. Mostly, it's going to be all about prior planning and marketing. Don't worry, as daunting it may sound, neither of these is hard to get your head around it. Moreover, it's not much work either but rather that you have to be consistent about it. We are focusing chiefly on Football here and so attracting the Football fans will be the target. However, these methodologies can be applied to any sport or even live streaming of any event for that matter.
There's a saying 'people will watch anything that comes on 'Thevang TV', and it's as true as the circular shaped Earth we reside.There's not the only speculation but solid evidence to illustrate that. While the argument may not be entirely true on its own; surveys have shown that people do tend to watch anything that comes on TV, regardless of their quality or how bizarre it may be. Mostly because they have nothing else better to watch. While the people watching may not be 'many', it is still a fact that is hugely beneficial to keep in mind to attract more audience to a live stream of athletic events.
Football being as widely liked as it is will itself be helping you immensely. Many people will watch any and everything related to football.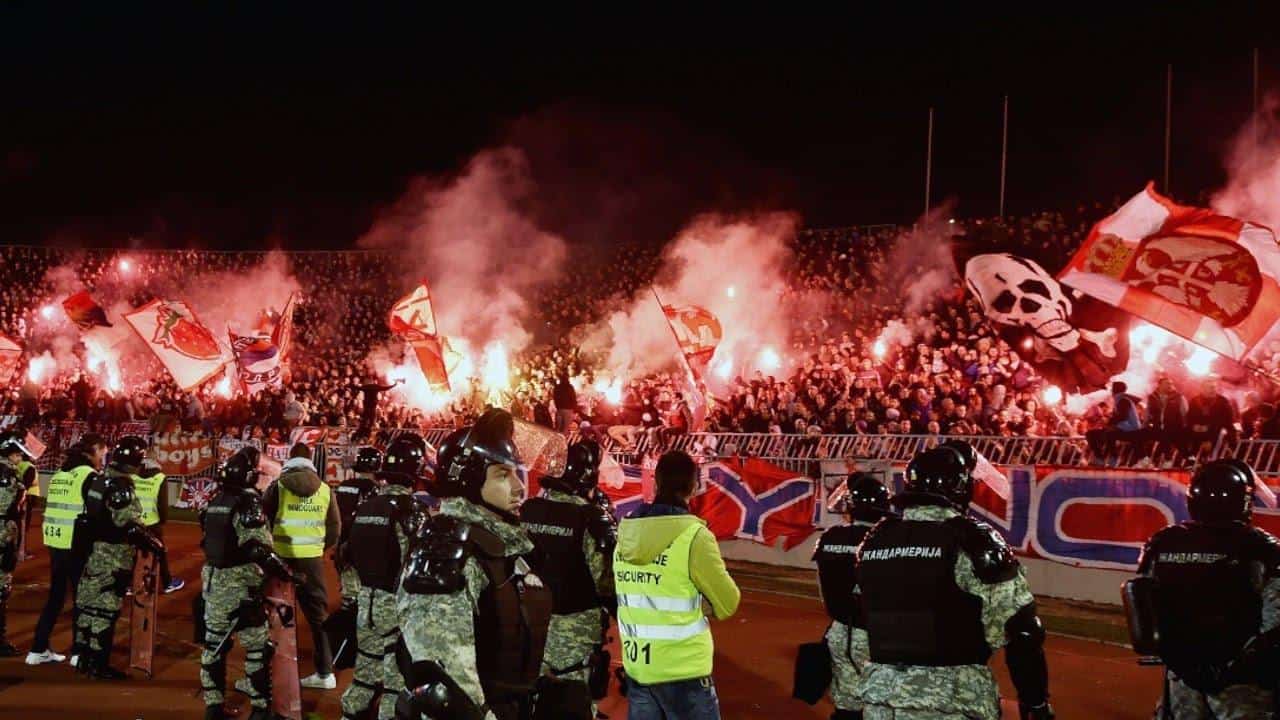 Fans can get pretty wild at times.
What You Need
There's a misconception that goes around that you need to put a lot of effort and money to attract an audience. While the former is true that you do will need to put a considerable amount of energy, the latter is not at all. It's not required for you to invest a lot in marketing, as you have the platform of social media that is mostly free. Of course, you can invest in advertising through social media, and you probably will need to if you desire to grow faster. However, it's not necessary to do that and there are many examples of people who built their audience through solely focusing on the content.
Social media is one of the greatest platforms to advertise.
Don't run after the rabbit in the hole and instead try to catch the ones that take your bait. Use what you have, and instead invest your time in learning more about optimising your content to attract more audience. There are many ways to do that such as active engagement with your audience among others. We will talk about a few of them in the following section.
Lastly, what you will need is the participation of the players in certain things. We will get to that in a moment.
How To Attract Audience
The process mainly consists of three parts – Before the streaming of the game, As the game goes live & After the streaming of the game.
Before the streaming of the game
Let the audience know when the game is: This may sound like a stupid point to make because its common sense that you have to let people know of the timing. However, it's about the way you go about it that can bring considerable change. Promote your event beforehand by two weeks or so, and if it's a big event, then you can make that a month. The first few posts you make about it can be used to build up hype for the game by using phrases like 'something big is coming soon'. Represent the information in a visually appealing manner such as by using customised images and videos on each of your posts. Posts with videos and images achieve around 40% more engagement. After the initial few posts (let's say 2 or 3), reveal the exact date and time of the event by posting a visually appealing countdown timer. Continue to remind people regularly of the game by posting at regular intervals. Don't go overboard though.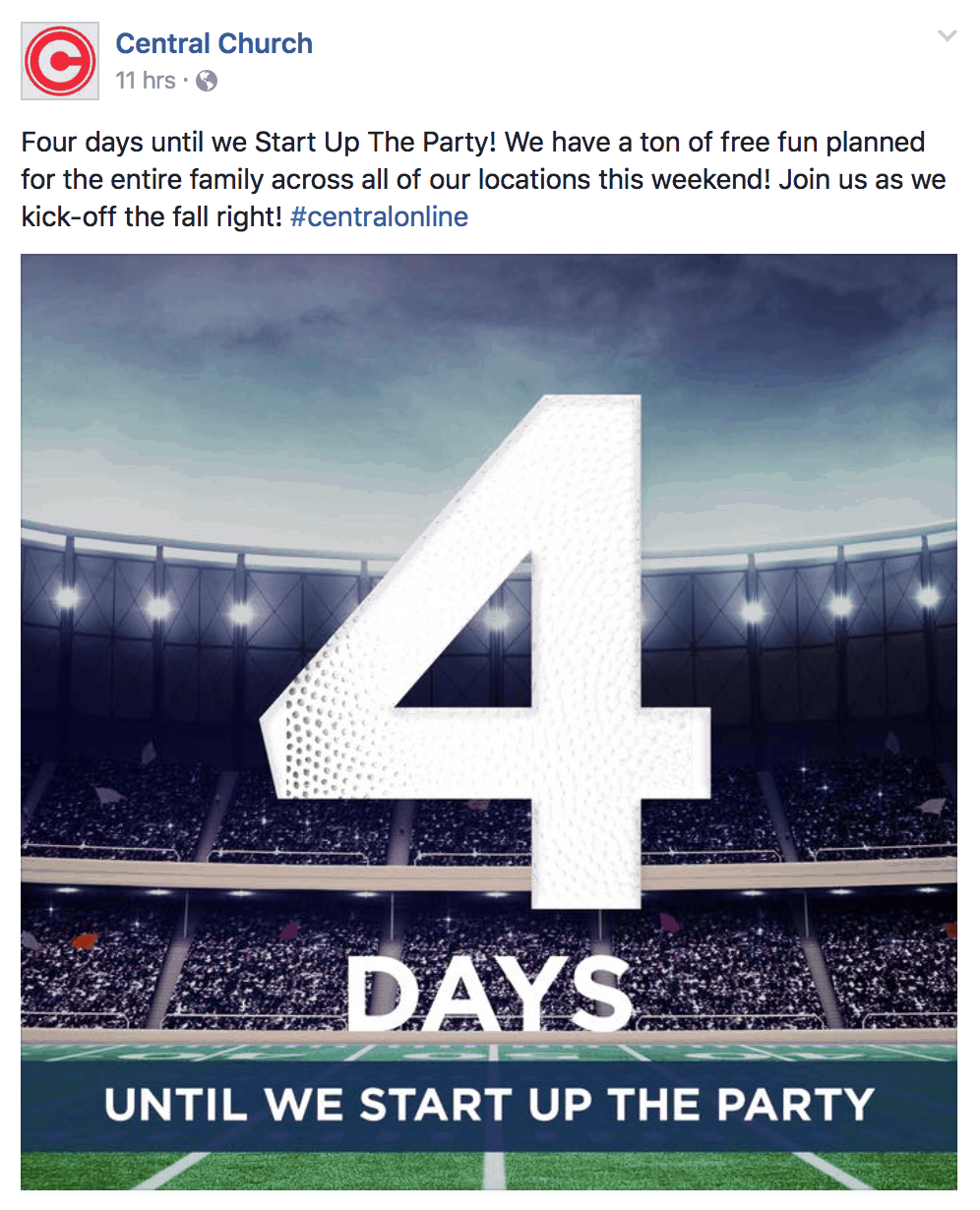 An example of using a countdown timer to build hype.
Include shortened links to the live stream: Audience engagement is likely to improve if you include shortened links to the live stream along with the countdown posts. Your audience shouldn't be having to search up the event on google if they are interested. As we know, search engines aren't perfect and the results they show at times may not be accurate. Moreover, it just adds more steps before a person gets to what they desire. It's a minor inconvenience, but it can very much be the deciding factor on whether a person watches the live stream or not.
Use Hashtags to unify your audience and create buzz: In addition to the above points, add a catchy hashtag about the event in each of the posts something liked #Truc Tiep Bong Da. The hashtag has to be representative of the game while being catchy. Hashtags have almost become integral to live streams as it unifies your audience and lets them share the story quickly.You will be surprised how willing the audience is to spread the word, and it also makes it easier for your audience to interact with you/event.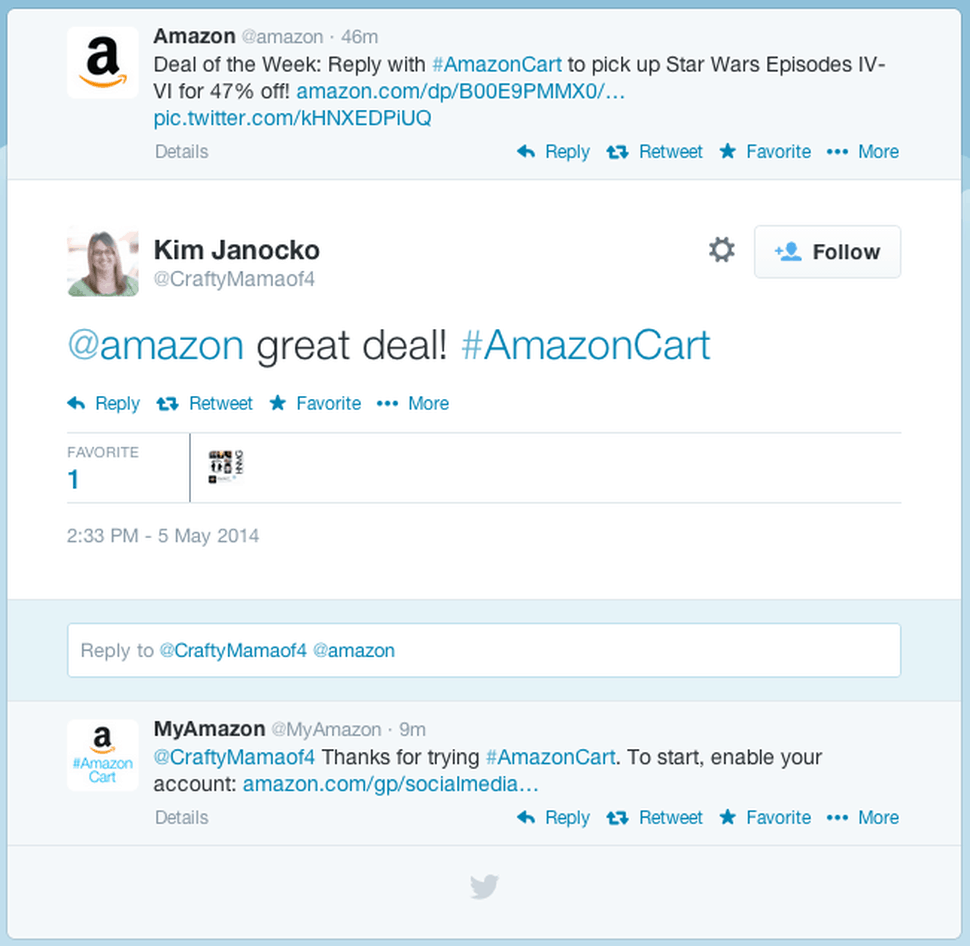 An example of online shopping website Amazon using hashtags to reach out to audience.
Make the players engage with the audience: When it comes to marketing; the more people put out the word, the merrier it is. The playing team members are an asset of their own. Each of them will probably have various social media accounts with a decent number of friends and followers.They can be used effectively to market the event. Make each of the members post something related to the game. It doesn't need to be fancy, and just something simple is enough.Such as a post saying that they are excited about the upcoming event with a related pic and the chosen hashtag. However, it's up to the management to decide how professional they want their marketing to be. Often, being more professional means, more steps will be added.
Get all the other members to engage as well: Similar to the last point, all the members of the group are an asset of their own. Get all of them to market the event as well. Tell them to do all the things stated in the previous points. Please don't go overboard on them though.
As the game goes live
Hope the lads perform: This point is not really in your hands and has just been added to illustrate a point. People enjoy it immensely to see a person try their best on the field. So one of the ways you can unofficially increase audience engagement is by helping the players. Motivate them and keep them in a comfortable zone. It's sport, you win some, and you lose some but as long as they are giving their all; they will always enjoy supportive and dedicated fans.
Post regular updates about the match situation on social media: This is a little thing that will help you to build a dedicated fanbase. People often aren't able to view the live stream even if they want to because they may be busy. However, they will probably be able to check the score if you post it on social media platforms. They can also check the live stream if they want to know the score, but that's inconvenient, and things like these go a long way in building a dedicated fanbase. It also lets anyone of the match if they had missed the prior posts or forgot.
After the streaming of the event
Keep the engagement going: The human mind is genuinely fascinating, as it likes to look back and talk about things long after they have happened. One can leverage this feature of the human mind to build a dedicated audience that will keep coming back to them. Post about the critical moments of the match, the standouts and ask your audience for their opinion. Keep the conversation going.
Conclusion
The most important part to remember is that you have to be consistent about the things we have mentioned. Being professional is not as important as being regular. Consistency is the most crucial part of building an audience. You can always increase the quality later.