Basic Information
Full Name: Rafael Nadal Parera
Date of Birth: 3rd June 1986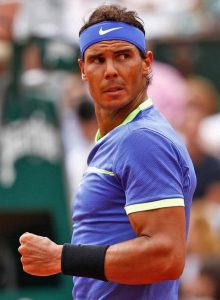 Place of Birth: Mancor, Balearic Islands, Spain
Height: 6 ft 1 in (1.85 m)
Style: Left handed
Pro since: 2001
Career titles: 62
Highest ATP Ranking: 1 (First in August 2008)
Grand Slam Statistics
Australian Open: 2009
French Open: 2005, 2006, 2007, 2008, 2010, 2011, 2012, 2013, 2014
Wimbledon: 2008, 2010
US Open: 2010, 2013
Other Achievements
ATP Tour Finals: Runner Up -2010, 2013
Olympics: Gold Medal (2008)
Davis Cup: 2004, 2008, 2009, 2011 for Spain
Brief Information
Rafael Nadal was born to Sabastian Nadal and Anna Marie Parera in Manacor, Balearic Islands. He has a younger sister named Maria Isabel. At the age of 8, Nadal won an under 12 regional championship in Spain but he was also a promising football player at the same time. But his coach and uncle Toni Nadal inspired him to play Tennis as he has great ability to play forehand shots with both hands. At the age of 14, the Spanish tennis federation requested to the Nadal family that he should be moved to Barcelona but his family turned down the offer and thus Nadal's father barred all the cost to make him a tennis player and turned Nadal into a professional at the age of 15.
Professional Life
Nadal turned pro at the age of 15 years and 10 months in April 2002. His first ATP ranking was 762. He defeated Ramon Delgado and became the ninth player to do so in his first match.
In 2004 he first defeated the World No. 1 Roger Federer in the Miami Masters.
On his 19th Birthday in 2005, he defeated Roger Federer again, but this time in the French Open semi-final and two days later he defeated Mariano Puerta in the final and became the second male player after Mats Wilander to win the French Open in the first try.
Since then he has won 8 French Open titles every year except in 2009. Apart from this, he has also won the Australian Open ones and Wimbledon and the US Open twice.
One of the best matches of Nadal has to be the one played against Djokovic in 2012. It was the Australian Open final which lasted nearly 6 hours. This match was considered to be a nail-biting match with all kinds of twists and turns. In 2013, He became the first man to win the same Grand Slam singles event eight times. Post that, In 2014 he claimed the ninth French Open championship.
In the same year, Nadal faced a lot of injuries and struggled to recover from it even in 2015. In that year, he lost a lot in terms of his career like, he failed to win a Grand Slam title. After three years in 2017, Nadal played a Grand Slam final but lost it to Federer in a five-set match. But, this defeat didn't affect him and three months later he won his third U.S. Open singles title.
In 2018, Nadal was forced to withdraw from the Australian Open in the quarterfinals due to an injury. But, he recovered in time and won the French Open championship, which was his 17th Grand Slam title.
Talking about 2019, Nadal was amazing at the Roland Garros as he won his 2th career French Open singles championship. But he also lost at the Australian Open final. Later in the year, he won the 2019 U.S. Open singles title, which was his 19th career Grand Slam championship
Commercial endorsements
Rafel Nadal has endorsed Kia Motors, Nike Shoes, Lanvin's perfumes, Quely, Richard Mille wrist watches, and  Emporio Armani Underwear