A 23 year old native Jamaican named Winfried Weinbeer played tennis for 24 hours to raise a charity. After finishing this marathon tennis round Weinbeer just dived in to a plate of fresh papaya, scrambled eggs, becon and pineapple. This was just amazing stuff but Weinbeer explains how he could manage to play a game of tennis for continuous period of time i.e. 24 hours. He says that it is all because of storage of carbohydrates and protein. When asked what was the need for doing this? Winfried Weinbeer explains that he did it to enlighten his community and to raise charity for the Tryall Summer Sports Camp.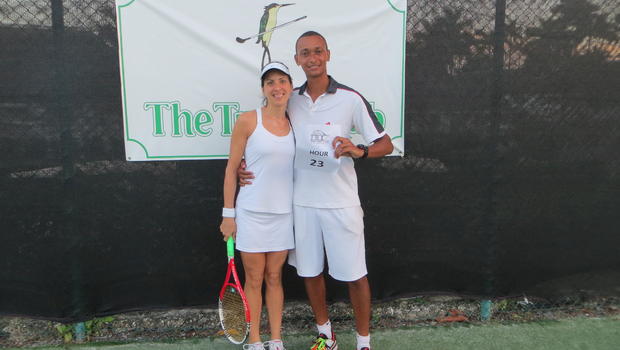 During every summer for six weeks the Jamaican kids get an opportunity to participate in the Tryall Sports Summer Camp. Over hear kids from 5 years get a try on learning tennis, golf and swimming. Not only sports but some tutors also come from the New York City and help them to strengthen their math and English. For those students whom the charity sees a promise are allowed to play tournaments throughout the year as per the Tryall's director Richard Ferdinand.
Back to 24 hours marathon tennis, Winfried Weinbeer is also a product of Tryall. He learned his tennis from Ferdinand and he was so good at it that he got a tennis scholarship which allowed him to travel to the United States and now he is doing his masters in Sports Science and Tourism Management from the University of Constance in Germany. For Weinbeer this is only a 24 hour tennis lesson for the kids of Tryall. Weinbeer was back to Jamaica to meet his friends and family and he wanted this clinic to be a 24 hour running clinic.
Two weeks before the event Weinbeer approached Ferdinand and gave this 24 hour tennis lesion idea. They took 100 dollars from each participant for an hour's game of tennis and at the end of 24 hours the Tryall Academy raised 3000 dollars for the next years summer camp. But, Weinbeer is still not satisfied with the amount his charity generated but he feels good that at least it will show that he came back to where he  belongs to. He also credited the friendly and supportive participants for this little success and also the Gatorade and few plates of pastas!