This is a player profile of Marin Cilic the Croatia born professional tennis player, who has created history by winning the US Open grand slam.
Brief Information about Marin Cilic
Full Name: Marin Cilic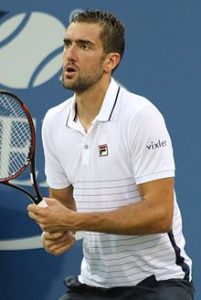 Date of Birth: 28th September 1988
Place of Birth: Medugorje, Bosnia and Herzegovina (Former Yugoslavia)
Residence: Monte Carlo, Monaco
Height: 6ft 6in (1.98m)
Professional Career Details of Marin Cilic
Turned Pro in: 2005
Playing Style: Right Handed
Highest ATP Ranking: 3 (Achieved on 29 January, 2018)
Current Ranking: 36 (24 February, 2020)
Records of Marin Cilic
Grand Slam
Australian Open – F (2018)
French Open – QF (2017, 2018)
Wimbledon – F (2017)
US Open – Winner (2014)
Other Tournaments
Olympics – 3R (2016)
Tour Finals – RR (2014, 2016, 2017, 2018)
Team Competition
Davis Cup – W (2018)
Early and Personal Life of Marin Cilic
Born to Croatian parents Marin Cilic grew up in Medugorje a small town in Bosnia and Herzegovina. Marin Cilic is a Roman Catholic. His father Zdenko Cilic had already made up his mind that all his three sons will be sports persons. When the first tennis courts were built up in the town, Marin and his friends enrolled first in the year 1991. The former Croatian tennis star Goran Ivanisevic found a raw talent in him and he advised Marin Cilic's father to send Marin to San Remo in Italy to take further training from his former coach, Bob Brett. So at the age of 15 he was shifted to Italy. Because of this background Marin Cilic is a big supporter of A. C. Milan the Italian Serie A side. Marin Cilic married to his life long girlfriend Kristina Milkovic on April 28, 2018.
Professional Career of Marin Cilic
After turning pro in the year 2004 Marin Cilic started playing in the ATP Circuit and won 12 ATP singles titles till 2014. This consistent show took him to the top 10 players in the ATP Rankings and he became world No. 9 player. Marin Cilic first came into the limelight when he defeated Andy Murray in the fourth round of 2009 and then he reached Australian Open semi finals in the year 2010. In 2014 he reached in quarterfinals of Wimbledon as well. But the biggest of them all came on 8th September, 2014 when he defeated Japan's Kei Nishikori in the finals of the US Open in straight sets by 6-3.6-3, 6-3. In the semi finals Marin Cilic even upset Roger Federer.
Looking at Cilic's graph, He has won a total of 18 singles titles including one grand slam – 2014 US open. Besides this, he has also won one ATP Masters 1000 title, a record four PBZ Zagreb Indoors titles, and several others.
Focusing on the Summer Olympics, Cilic has reached up to 3rd round in Rio 2016. Moving on to his earnings, he earned a whopping $26,881,324 from the ATP Tour. In a year, He earns almost $4.5 million.
Cilic works towards various charitable activities like the Marin Cilic foundation. He founded this organization in 2016 to provide space and financial support to underprivileged children and youth.
While he was the main founder, several other players did their bit and helped in setting up the foundation. The players are Goran Ivanisevic, David Goffin, Ivan Ljubicic, Tim Henman, etc.
Endorsements
Line Head
Fila
Li Ning
Head Graphene XT Prestige Rev Pro
Drug Controversy Related to Marin Cilic
In September 2013, he received a backdated ban for nine months as he was found using incautious usage of glucose. Although the tribunal also found that it was unintentional, but all his prize money and ATP ranking points were stripped off since the date of drug test was found positive. Upon the appeal the Court of Arbitration for Sport reduced the ban from nine months to four months.
The Marin Cilic Quote
My team have brought something special to me, especially Goran (Ivanisevic). The most important thing he brought to me is joy in tennis, having fun. I think I played the best tennis in my life. For all the other players who work hard, this is a sign that it is going to pay off.

– After winning the US Open 2014