The Football Association Challenge Cup which is known worldwide as the FA Cup is a knockout cup competition in English football held every year. It is the oldest association football competition in the world. The FA Cup is organized by & named after the Football Association. A simultaneous women's tournament is also played which is known as the FA Women's Cup.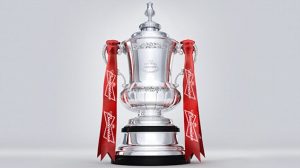 The FA Cup was first held in 1871-72. Believe it or not, the FA Cup is now over 145 years old! Entry is open to all teams who compete in the Premier League popularly known as EPL (English Premier League), the Football League & in Steps 1 to 5 of the FA National League System, as well as selected teams in Step 6. Combining them all, a whopping 736 teams take part in this competition annually.
This means that clubs of all standards compete, from the largest clubs in England and Wales down to amateur village teams. The tournament is known for the possibility for "minnows" from the lower divisions to become "giant-killers" by eliminating top clubs from the tournament & even winning the Cup, even though lower division teams rarely progress beyond the early stages. But this certainly makes for an interesting watch since we all know how unpredictable sports can be. The qualification rounds & a system of byes mean that the very smallest & very biggest teams almost never meet.
Arsenal are the current holders, having beaten Chelsea 2–1 in the 2017 final held at Wembley Stadium on 27th May which was the 138th Final of the FA Cup. The FA Cup Final is being held at the newly built Wembley Stadium every year since 2007. With their 13th FA Cup title, Arsenal are ahead of Manchester United for the greatest number of title victories in the history of the competition.
Chelsea made their twelfth appearance in an FA Cup Final, while Arsenal beat Man Utd's record of 18 final appearances. It was the first time since 2010 that the FA Cup Final took place after the end of the Premier League season.
When it comes to television coverage, the FA Cup is shown on BBC Sport & BT sport in English while Star Sports have the broadcast rights for this traditional tournament in India, having won back the broadcast rights from Sony for South Asia in 2012 which also includes Sri Lanka, Bangladesh, Pakistan, the Maldives, Bhutan and Nepal.