This is the player profile of Dylan Hartley, who is one of the most important players of the England Rugby Union Team. In this profile you will get all the important information you want to know about Dylan Hartley.
Basic Information about Dylan Hartley
Full Name: Dylan Michael Hartley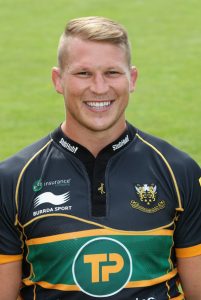 Date of Birth: 24th March, 1986
Place of Birth: Rotorua, New Zealand
Height: 6ft 1in (1.85m)
Weight: 110 kg (17 st 5 lb)
Schooling: Rotorua Boys' High School and Beacon Community Collage
Professional Career Details of Dylan Hartley
Position: Hooker
Turned Pro: 2003
Club Teams: 2003-05 Worcester | Since 2005 Northampton
National Teams: England Saxons (2007) and England (Since 2008)
Early Career of Dylan Hartley
Dylan Hartley was born in New Zealand, but his mother was an English hence he was qualified to play for England as well and that is what he chose to do when he decided to play rugby. He moved to Crowborough in the East Sussex in 2002 and started playing or the local rugby union team like Beacon Rugby Academy team. His performance in these matches earned him the place in the Sussex and later in the divisional English schoolboy's team.
Professional Career of Dylan Hartley
After turning pro in 2003 Dylan Hartley started playing for the Worcester Warriors and even represented the team in the European Challenge Cup of 2004-05. In the next summer Hartley joined the Northampton Saints team. Next season his team was relegated from the Premiership but regained its place the following year. Hartley's contribution in the European Challenge Cup of 2008-09 earned him the captaincy of the Northampton Saints team.
Hartley's international career went underway in 2005 when he represented the England U21 Rugby team in the Under 21 Rugby World Championship that year. Two years later in 2007 Hartley made his debut for the England Saxons, the England A team against Italy A. Dylan Hartley got his first time to represent the main England Rugby team in 2008 when he played for them in the 'end of the year rugby tests' against Pacific Islanders. His full international debut was made in June 2009 against Argentina at Old Trafford.
Controversy Related to Dylan Hartley
Dylan Hartley is known for not having a control over his anger and it has cost his rugby union career a great deal. He has been suspended for four times because of his anger till now. First in 2007 for 26 weeks for eye gouging, then in 2012 for 8 weeks for biting and Irish forward Stephen Ferris then in 2012 for two weeks for punching and then in 2013 for 11 weeks for abusing a match official.
Although Dylan on the other hand is also known for his charity work and he is an ambassador of the Matt Hampson Foundation and he has also raised GBP 44, 000 for men's health charities too.