This is the Player Profile of Jim Furyk, the US professional golfer.
Player Profile – Jim Furyk
Basic Details about Jim Furyk
Full Name: James Michael Furyk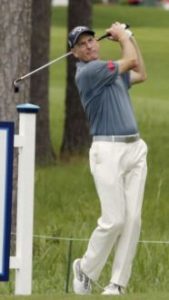 Date of Birth: 12th May, 1970
Place of Birth: West Chester, Pennsylvania
Height: 6ft 2in (1.88m)
Residence: Ponte Vedra Beach, Florida, Jacksonville, USA
Nationality: United States
Professional Details about Jim Furyk
Turned Pro: in 1992
Current Tours: PGA Tour
Previous Tours: Nike Tour
Jim Furyk's Performances in the Majors
The Masters Tournament: 4

th

– 1998, 2003
The Open Championship: 4

th

/T4: 1997, 1998, 2006, 2014
US Open: Winner – 2003
PGA Championship – 2

nd

– 2013
Other Tournament Wins and Achievements by Jim Furyk
Vardon Trophy in 2006
FedEx Cup Champion in 2010
PGA Player of the year in 2010
PGA Tour Player of the year in 2010
Early Life of Jim Furyk
Furyk was born in West Chester in Pennsylvania, his father, Mike was an assistant pro at the Edgmont Country Club and then he became pro at the West Chester Golf and Country Club. Jim Furyk learnt his golf from his father and graduated from the Manheim Township High School in the Lancaster County in 1988. He played his junior golf at the Meadia Heights Golf Club just south of the Lancaster County and then he played golf at the University of Arizona which is in Tucson. He won the All American tournament twice and also lead the Wildcats to win their only NCAA title in the year 1992.
Professional Career of Jim Furyk
After turning pro in the year 1992, Jim Furyk joined the Nike Tour and won the Nike Mississippi Gulf Coast Classic in the year 1993. Next year he joined the PGA tour and won at least one PGA Tournament every year between 1998 and 2003. This was the second best streak of winning tournaments which was broken by Tiger Woods later. But this streak helped him gain his place in the top 10 Golfers in the PGA Rankings.
Jim Furyk biggest and the best moment of the career cam on 16th June, 2003 when he won the US Open which was his first and till date the only Major tournament win. In 2004 Jim Furyk had to undergo a surgery for the repair of the cartilage damage in his wrist. He returned to the top 10 golfers list in 2005 and finished the year 2006 with his highest earning money in a year.
2010 would be called the best year for Jim Furyk as he won three tournaments in that year like The Transitions Championship, The Verizon Heritage and Tour Championship. The win in the Tour Championship gave him the one stroke lead in the 2010 FedEx Cup and hence winning it. These achievements by Jim Furyk also won him the PGA Player of the Year and the PGA Tour Player of the Year 2010 awards.