Basic Information Of Juan Martin Hernandez
Full Name: Juan Martin Hernandez
Nick Name: El Mago (The Magician) and The Maradona of Rugby
Date of Birth: 7th August 198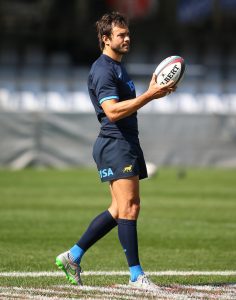 Place of Birth: Buenos Aires
Country: Argentina
Height: 6 ft 2 in
Position: Fly-Half and Fullback
Current Team and Club: Argentina and Racing Metro
Career Details:
Turned Pro: 2002-03
Amateur Team: Deportiva Francesa
Senior Career:
Stade Francais from 2003 to 2009
Natal Sharks in 2009
Racing Mero since 2010
National and other duties:
Argentina U19 from 1999 to 2001
Argentina U21 from 2000 to 2002
Pumas Sevens in 2002
Argentina A in 2002
Argentina National Rugby Union since 2003
Personal Life
Juan Martin Hernandez is from a sporting family in Argentina. Although his parents were not involved in any sporting events, his uncle Patricio Hernandez was a professional football player and was also part of the Argentine football team for the 1982 FIFA World Cup. His sister Maria de la Paz 'Maripi' Hernandez is a hockey player and she was part of the 2002 Silver medal-winning Argentine Hockey team and 2004 and 2008 Olympics Bronze medal-winning team also.
Professional Career
Juan Martin Hernandez had begun his professional career in 2003 with the Club Stade Francaise. Currently, he is part of Paris-based club Racing Metro which is a part of the Top 14 Rugby teams in France. He was bought by the Racing Metro in 2010 from the Stade Francais. He also played in the South African Rugby League the Currie Cup with the Natal Sharks and then went on to play for the same team in the 2010 Super Rugby. But then he faced a back injury and he couldn't play further.
Hernandez is called a utility player by his teams as he can play at center, fly-half or fullback. Personally, Hernandez likes to play fly-half.
His first international game was an easy ride for his team as Argentina beat Paraguay by 114-0 win in April 2003. Following this he also got a chance to play in the IRB World Cup of 2003 and he played against the Wallabies and against Namibia and Romania as well. He has won IRB's International Player of the year in the year 2007. Currently he is considered as one of the top 5 best Rugby players who are playing the game.