Basic Information
Full Name: Li Na
Date of Birth: 26th February, 1982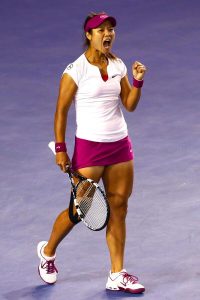 Place of Birth: Wuhan, Hubei, China
Height: 5 ft 8 in (1.72 meters)
Playing Style: Right Handed
Turned Pro: 1999
Career Titles:
WTA 9, ITF 19
Highest WTA Ranking: 2 (First time on 17th February, 2014)
Li Na Retired on 18th Spetember 2014
Grand Slam Performances
Australian: Winner – 2014
French Open: Winner – 2011
Wimbledon: Quarter Final – 2006, 2010, 2013
US Open: Semi Final – 2013
Other Achievements
WTA Championships: Runners Up – 2013
Olympics: 4th – 2008
Doubles Record
Australian Open: 2R – 2006, 2007
French Open: 2R – 2006, 2007
Wimbledon: 2R – 2006
US Open: 3R – 2005
Olympics: 2R – 2012
Early Life:
Li Na was on the path of her father Li Shengpeng who was a professional badminton player. But he died when Li Na was just 14. When Li Na was 8 her coach Xia Xiyao convinced her parents to make a transition for her from Badminton to Tennis as that was the right time to do so. In 1997 Li Na joined that China's National Tennis Team. She was then sent to John Nowcombe Academy in Texas to further study and training in Tennis. She turned professional at the age of 16 in the year 1999.
Professional Career
After turning Pro in 1999 Li Na entered the ITF Circuit and played in two singles tournament in Shenzen and at Westende, Belgium. She won all of her first 7 ITF doubles tournaments she participated. By 2002 Li Na had won 52 singles matches on the ITF circuit and won eight tournaments in the process with two of US $ 25000 and US $ 50000 levels respectively. She did not play any professional matches between the years 2002 and 2004 hence she saw the fall in her WTA rankings. In the same year Li Na reached the finals of the WTA tournament in Guangzhou where she beat Martina Sucha and became the first ever Chinese tennis player to win a WTA event.
Gradually Li Na started to improve upon her WTA Rankings and after winning the Qatar Total Open this year she was virtually became No. 2 in the WTA and by defeating Serena Williams in the finals of the Australian Open 2014 by 7-5, 6-1, Li Na became the official No. 2 Women's Tennis Player of the world.
Endorsements
Nike
Mecedes-Benz

Taikang

Life Insurance
Kunlun Mountains
Haagen Dazs
Rolex
Samsung
Spider Tech
Crown Limited
Babolat
Visa

Yili

Group
The Li Na Quote 
I think because I was the first Chinese player to win a grand slam, people were thinking: 'She is not like normal people'.