World Wrestling Entertainment (WWE) is a global phenomenon that has captured the hearts of millions of fans worldwide. From its humble beginnings as a regional wrestling promotion, WWE has grown into one of the largest sports entertainment companies in the world. With its larger-than-life characters, high-flying action, and gripping storylines, WWE has created a world unlike any other.
In this article, we will be exploring some of the most interesting and lesser-known facts about WWE and the incredible superstars that have graced its ring. From surprising family connections to historic achievements and record-breaking moments, these facts will give you a deeper appreciation for the art of professional wrestling. So sit back, relax, and prepare to be entertained as we delve into the fascinating world of WWE!
Some Real & Interesting Facts About WWE
WWE Wrestling Facts
WWE was founded as Capitol Wrestling Corporation (CWC) in 1952 by Jess McMahon and Toots Mondt.
The first-ever WWE pay-per-view event was 'The Wrestling Classic' in 1985.
WWE is the largest wrestling promotion in the world and broadcasts to over 150 countries.
WWE is a publicly-traded company and its stocks are traded on the New York Stock Exchange (NYSE).
WWE has its own training facility known as the WWE Performance Center, located in Orlando, Florida.
WWE Wrestler Facts
John Cena is a 16-time world champion and has won the WWE championship 13 times.
Kane is a former WWE world champion and is known for his signature 'Chokeslam' move.
Roman Reigns is a four-time world champion and is currently the Universal Champion.
The Undertaker is a seven-time world champion and has had a career spanning over three decades.
Stone Cold Steve Austin is a six-time world champion and is known for his rebellious 'Stone Cold Stunner' move.
WWE Interesting Facts:
WWE Superstars often have alter egos or stage names, such as The Rock, The Undertaker, and Stone Cold Steve Austin.
WWE matches are scripted and choreographed, but the wrestlers still perform stunts and take real hits.
WWE has a Hall of Fame where legendary wrestlers are inducted each year.
WWE has its own language and terminology, such as 'heel' (a villainous wrestler) and 'face' (a heroic wrestler).
WWE has had several crossover events with other forms of entertainment, such as movies and music.
WWE Facts and Records:
The longest-reigning WWE Champion is Bruno Sammartino, who held the title for 2,803 days.
The fastest match in WWE history lasted only 1.9 seconds and was won by Santino Marella.
The most Royal Rumble wins belong to Stone Cold Steve Austin, Hulk Hogan, and John Cena, who each have two wins.
The most WWE championships belong to John Cena, who has won the title 13 times.
The most WrestleMania wins belong to The Undertaker, who has an undefeated streak of 23-0 at the event.
WWE Superstar Facts:
The Rock's real name is Dwayne Johnson and he is a former WWE world champion.
Randy Orton is a third-generation wrestler and is known for his signature 'RKO' move.
Bret Hart is a two-time WWE Hall of Famer and is known for his signature 'Sharpshooter' move.
Eddie Guerrero was a former WWE world champion and is known for his catchphrase 'Lie, Cheat, and Steal'.
Mick Foley is a multi-time world champion and is known for his hardcore matches and persona as 'Mankind'.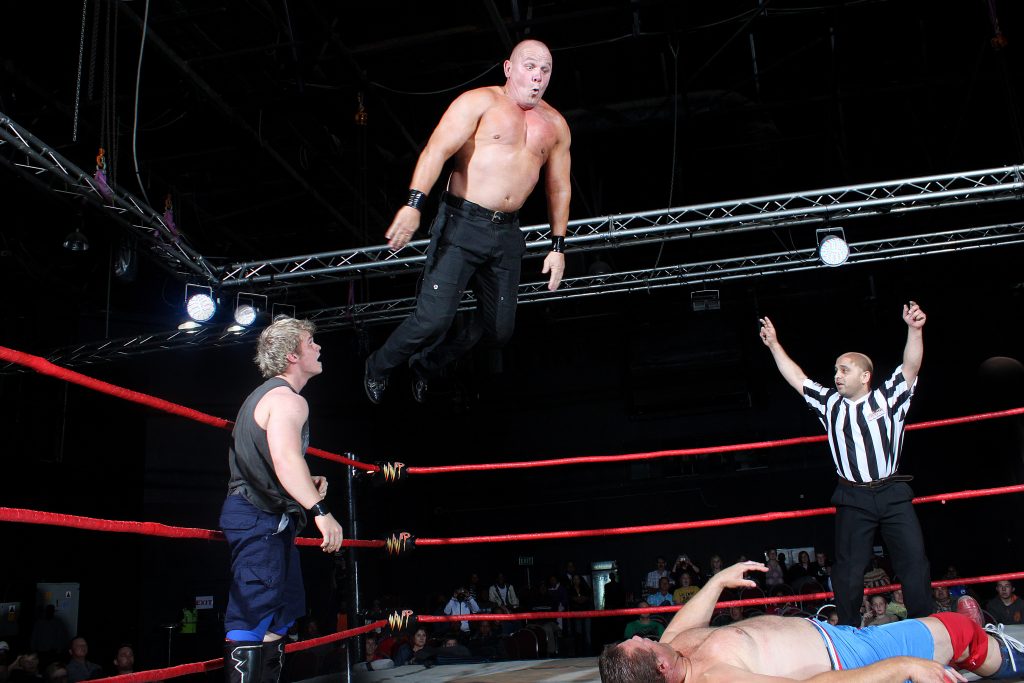 WWE Unknown Facts:
The Undertaker's original gimmick was 'Mean Mark Callous', a heel character who wore a purple mask.
Stone Cold Steve Austin's original gimmick was 'The Ringmaster', a wrestler managed by Ted DiBiase.
The Hardy Boyz were originally known as 'The Suicide Blondes' and were managed by Michael Hayes.
Edge's original tag team partner was Christian, and they were known as 'The Brood'.
The Bella Twins, Nikki and Brie, are twin sisters who both became WWE Divas and have appeared on reality TV shows.
Crazy WWE Facts:
The Undertaker once defeated the 'The Great Khali' in a singles match in 2006 at WWE's 'Judgment Day' PPV event.
WWE wrestler Triple H used to work in a gym as a personal trainer before he was signed by the WWE.
WWE Superstar Big Show was a basketball player before he started his wrestling career.
WWE wrestler Sheamus was a bodyguard for Bono, the lead singer of U2, before he joined the wrestling world.
WWE wrestler Mankind once competed in a match where he was handcuffed and thrown off the top of a 16-foot-high cell.
Random WWE Facts:
The Rock was the first third-generation wrestler in WWE.
WWE Superstar John Cena's father is of Italian descent, and his mother is of French-Canadian and English ancestry.
WWE wrestler Sting never competed in a WWE match until 2014, despite being one of the most popular wrestlers in the world.
WWE wrestler Goldberg's streak of 173 consecutive wins was ended by Kevin Nash in 1998.
WWE wrestler Stone Cold Steve Austin's original ring name was 'Chilly McFreeze'.
Hidden Facts about WWE:
WWE wrestlers are not allowed to bleed during a match unless it is accidental.
WWE has its own film production studio called WWE Studios that produces movies starring WWE Superstars.
WWE's ring announcer, Howard Finkel, was inducted into the WWE Hall of Fame in 2009.
The WWE Performance Center in Florida serves as a training facility for WWE wrestlers.
WWE has its own streaming service called WWE Network, which provides access to live events, original programming, and a vast library of matches.
WWE Kane Facts:
Kane made his WWE debut in 1997 at 'In Your House: Badd Blood' as the younger brother of the Undertaker.
Kane has won 18 championships in WWE, including the WWE Championship, Intercontinental Championship, and Tag Team Championship.
Kane is a former mayor of Knox County, Tennessee, and was elected in 2018.
Kane has appeared in several movies, including 'See No Evil' and 'See No Evil 2', where he played the lead role. Kane's real name is Glenn Thomas Jacobs.
WWE Roman Reigns Facts:
Roman Reigns' real name is Leati Joseph Anoaʻi.
Reigns is a four-time WWE World Heavyweight Champion.
Reigns is a former professional football player and played for the Minnesota Vikings and Jacksonville Jaguars.
Reigns is a member of the famous Anoa'i wrestling family, which includes wrestlers like Yokozuna, Rikishi, and The Rock.
Reigns were diagnosed with leukaemia in 2018, but he announced in 2019 that he was in remission and would return to WWE.
WWE Undertaker Facts
The Undertaker made his WWE debut in 1990 at 'Survivor Series'.
The Undertaker has won seven WWE Championships, six Tag Team Championships, and a Royal Rumble.
The Undertaker's real name is Mark William Calaway.
The Undertaker retired from WWE in 2020 after a 30-year career in the company.
The Undertaker is known for his WrestleMania winning streak, where he won 23 consecutive matches before losing to Brock Lesnar in 2014.
WWE Weird Facts
At the Great American Bash in 2004, The Undertaker actually set Paul Bearer's 'body' on fire in the ring. It was actually a mannequin that had been dressed up as Paul Bearer.
At WrestleMania III, Andre the Giant drank 119 beers in a single sitting.
The wrestler known as The Boogeyman actually eats worms as part of his gimmick.
During an episode of Monday Night Raw in 1996, Stone Cold Steve Austin actually drove a beer truck into the arena and sprayed beer all over Vince McMahon and his associates.
The wrestler known as Papa Shango was once responsible for making The Ultimate Warrior puke on live television by using a 'voodoo curse' on him.
John Cena WWE Facts:
John Cena's first WWE match was against Kurt Angle on June 27, 2002.
Cena has held the WWE Championship 13 times, tied with Ric Flair for the most all-time.
Cena is known for his charitable work and has granted over 500 Make-A-Wish Foundation wishes, more than any other celebrity in history.
Cena has been involved in some of the most memorable feuds in WWE history, including with The Rock and CM Punk.
Cena is also an accomplished actor, having appeared in movies like 'Trainwreck' and 'Bumblebee'.
WWE is a rich tapestry of history, drama, and action that continues to captivate fans of all ages. From the legendary performers of yesteryear to the modern-day superstars, WWE has a wealth of fascinating stories to tell. The unique and often surprising facts about WWE serve as a testament to the creativity, athleticism, and entertainment value that this incredible sport provides.
Whether you are a lifelong fan or just discovering WWE for the first time, these interesting facts are sure to leave you with a deeper appreciation for the world of professional wrestling. So keep cheering for your favorite superstars and join us in celebrating the rich history and exciting future of WWE!
In conclusion, the world of WWE is filled with fascinating and incredible facts that make it an enthralling experience for fans. From the legendary career of The Undertaker to the impressive championship records of wrestlers like Ric Flair and John Cena, the world of WWE wrestling is an endless source of interesting facts and stories. The unknown facts about WWE, the hidden records and the unique quirks of the superstars create a crazy and weird but ultimately captivating universe for fans. The unpredictable nature of WWE wrestling makes it a sport that fans can't resist, as they continue to watch in awe and wonder at the incredible feats performed by these superstar athletes. Whether you're a fan of Kane, Roman Reigns, or The Undertaker, there's no denying that the world of WWE is full of incredible and intriguing facts that keep fans hooked year after year.