Basic Information
Full Name: Novak Djokovic
Nick Name: Djoker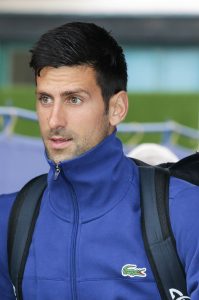 Country: Serbia and Montenegro
Date of Birth: 22nd May 1987
Place of Birth: Belgrade, SFR Yugoslavia
Height: 6 ft 2 inches (188 cm)
Style: Right Handed
Pro Since: 2003
Coaches: Marian Vajda & Boris Becker
Highest ATP Ranking: No. 1 (4th July 2011)
Grand Slam Titles:
Australian Open: 2008, 2011, 2012, 2013
Wimbledon: 2011
US Open: 2011
Other Achievements:
French Open Finals: 2012
ATP Tour Title: 2008, 2012, 2013, 2014
Olympics: Bronze Medal (2008)
Davis Cup: 2010
Hopman Cup: Finalists – 2008, 2013
Brief Information
Novak Djokovic was born to Srdjan and Dijana Djokovic. Sports were running in the blood of the Djokovics as they owned three restaurants and a tennis academy. All the uncles and aunts of Djokovic are professional skiers. Djokovic's father Srdjan was also a professional footballer but Novak preferred to play tennis. In the year 1993 when Djokovic was just 6 he was spotted by the Yugoslavian tennis legend Jelena Gencic. They used to practice to gather for hours for the next six years, even when Yugoslavia faced civil war and Belgrade was bombed, they used to practice at least for few hours in the basement. Today Novak Djokovic admits that such hardships he faced during the war drove him to chase his dream of becoming a successful tennis player even more.
Professional Life
At the age of 13 Djokovic was sent to the Pilic Academy in Munich, Germany. A year later he completed a triple European championship by winning a single, double and team competition. In 2003 he was among the top 40 best junior tennis players of the world. Following year he qualified for Wimbledon and reached the third round and entered in the Top 100 players in the ATP Rankings.
In 2007, Djokovic reached the semi finals of the French Open and Wimbledon and won the Masters title for the second time in Montreal by beating top 3 players like Roger Federer, Rafael Nadal and, Andy Roddick. That helped him reach at No. 3 in the ATP Rankings. He was part of the Serbian Tennis team, which clinched the Davis Cup in the year 2010.
2011 was perhaps the best year for Novak Djokovic as he won 43 matches in a row, which includes his first and only Wimbledon title. He has won three Australian Opens in a row in the years 2011, 2012 and in 2013.
Endorsements
Telekom Srbija

FitLine

Adidas
Sergio Tacchini

Uniqio

Konzum

DIS Trgovina
Audemars Piguet

Marcedez

-Benz
Learjet
CAA Sports
The Novak Djokovic Quote
I always try to remember those days, during the war, in a positive, in a very bright way that we did not need to go to school and we could play more tennis.